Sylvia Melián had previously worked as a stylist and collaborator of renown interior design magazines before joining forces with her sister Victoria (who had been working as an interior designer since 1988) Melián-Randolph was founded in 2000 and since then, this successful interior design duo have been synonymous of colourful, comfortable and sophisticated interiors. Based in Madrid and with an international clientele, Sylvia and Victoria have been leaving their unique mark in every project they do.
Discover Sylvia Melián inspiration, childhood memories, thoughts on what's like to work with her sister and more in today's conversation.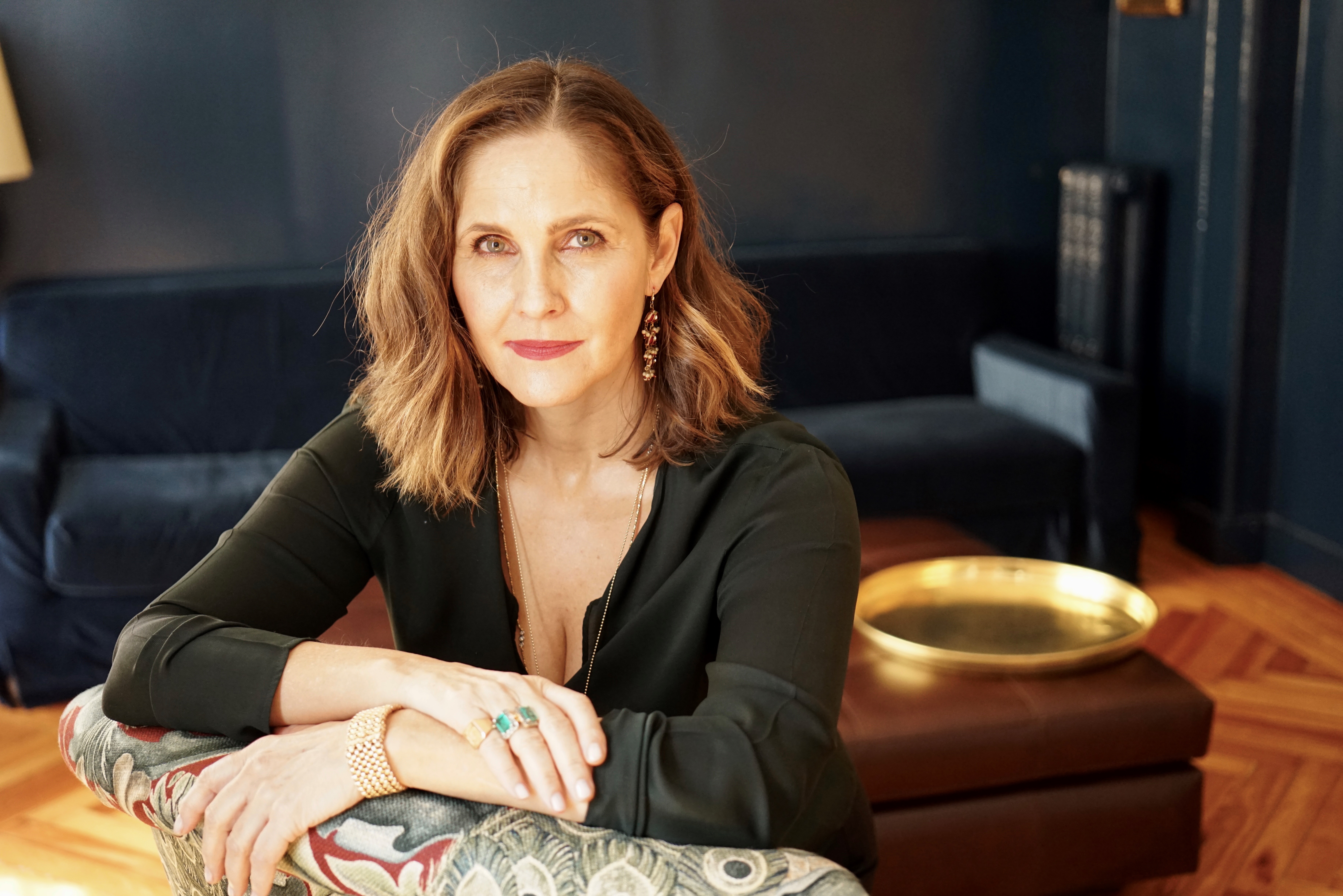 Sylvia Melián Randolph. Photography Clara Urquijo 
Dear Sylvia, how would you define your style?
It is: intuitive, reflective, flexible, eclectic, spontaneous, humorous, unpredictable.
It is not: trendy, gimmicky, unattainable, over-thought, complicated, rigid, over-referenced, flashy.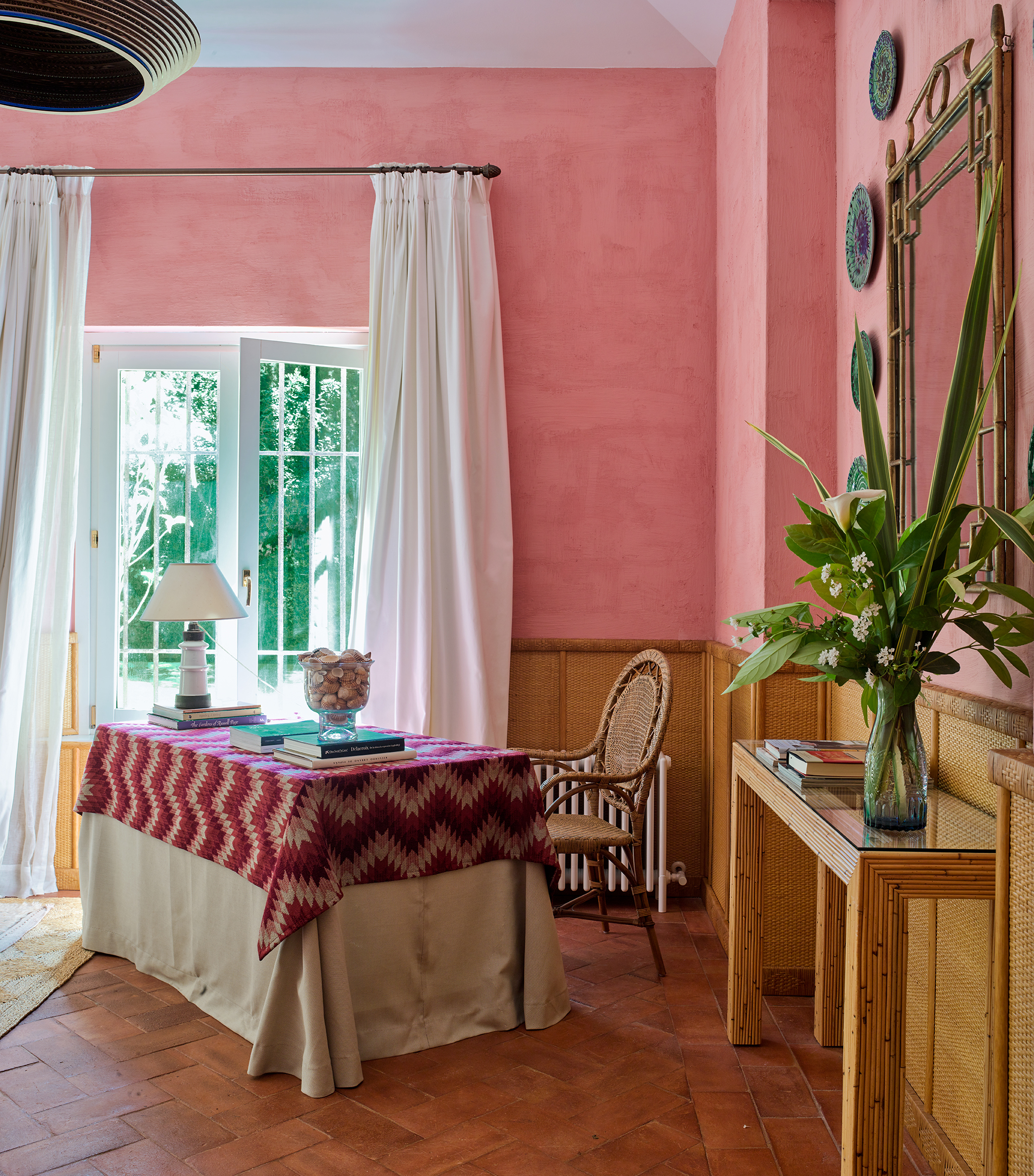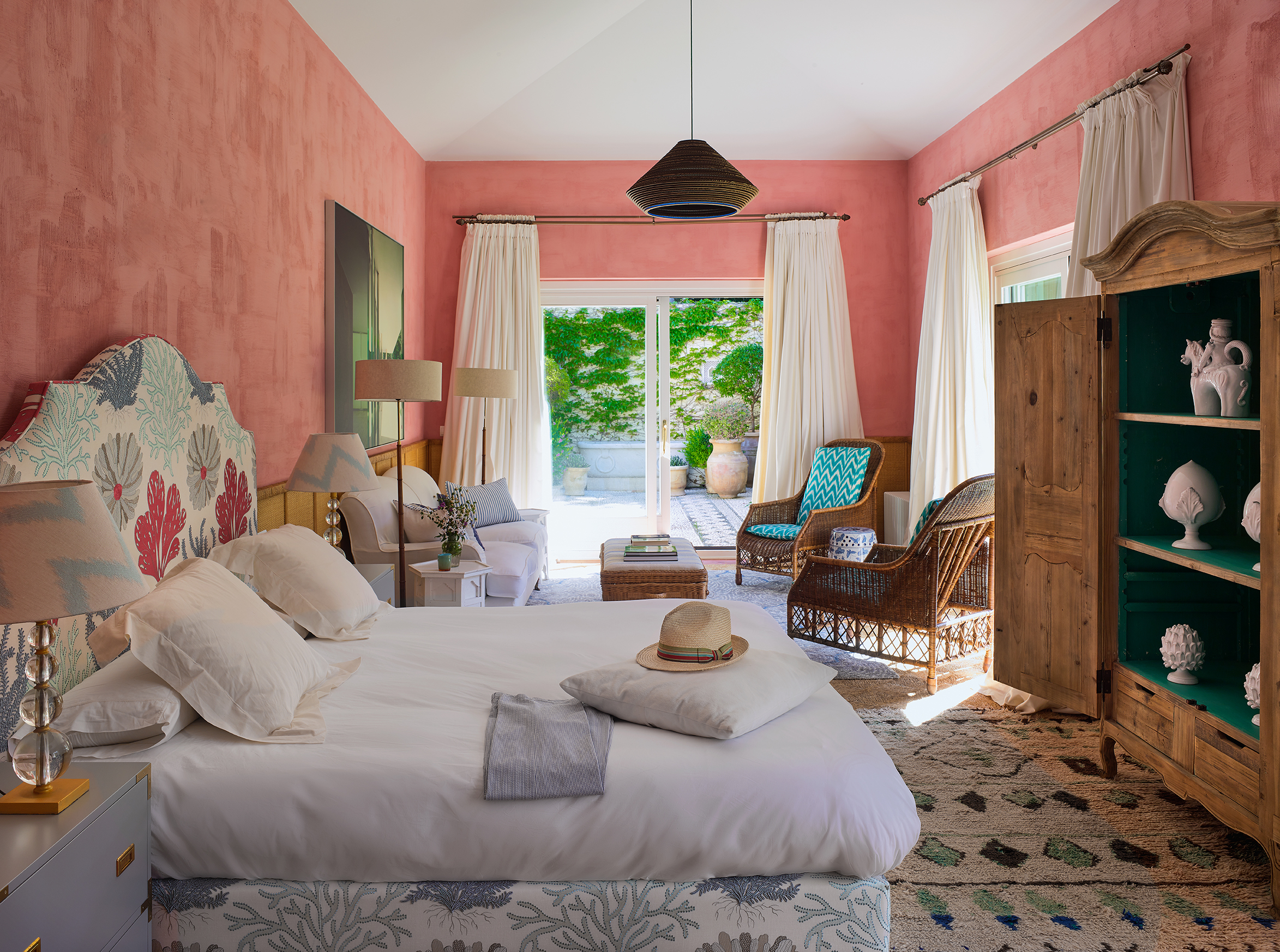 A project in Sotogrande. Photograpy Martín García Perez
What's the most inspiring interior that you have ever visited?
I am inspired by all interiors that are personal and that reflect the personality and needs of the owner. I am drawn to interiors that enhance the culture and traditions of the place where it sits, be it a humble family home in a village in Andalusia, a modern loft in an American city or an artist's studio on a Mexican beach. I am inspired when I am transported into an environment that has soul and therefore is daring, whimsical or even austere…interiors can be simple too! Everything inspires me and makes me curious, even the simplest things. Finding beauty in that is what becomes interesting; like a great catch, like an "aha" moment. With the abundance of visuals on the internet everyone tends to have the same easy references. "Good taste" is everywhere; I find that predictable, boring. I like character, it's like owning a big nose and not wanting surgery to fix it.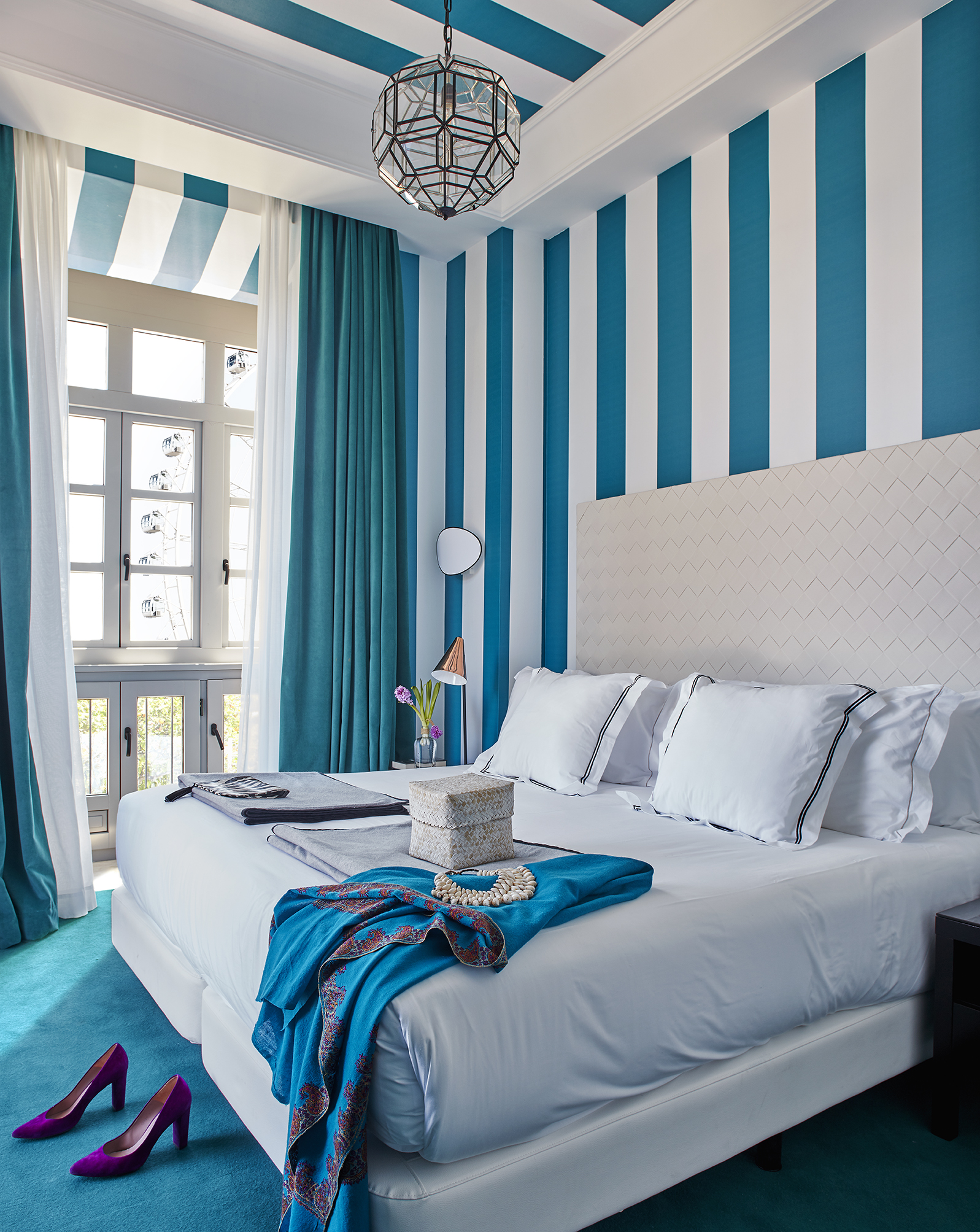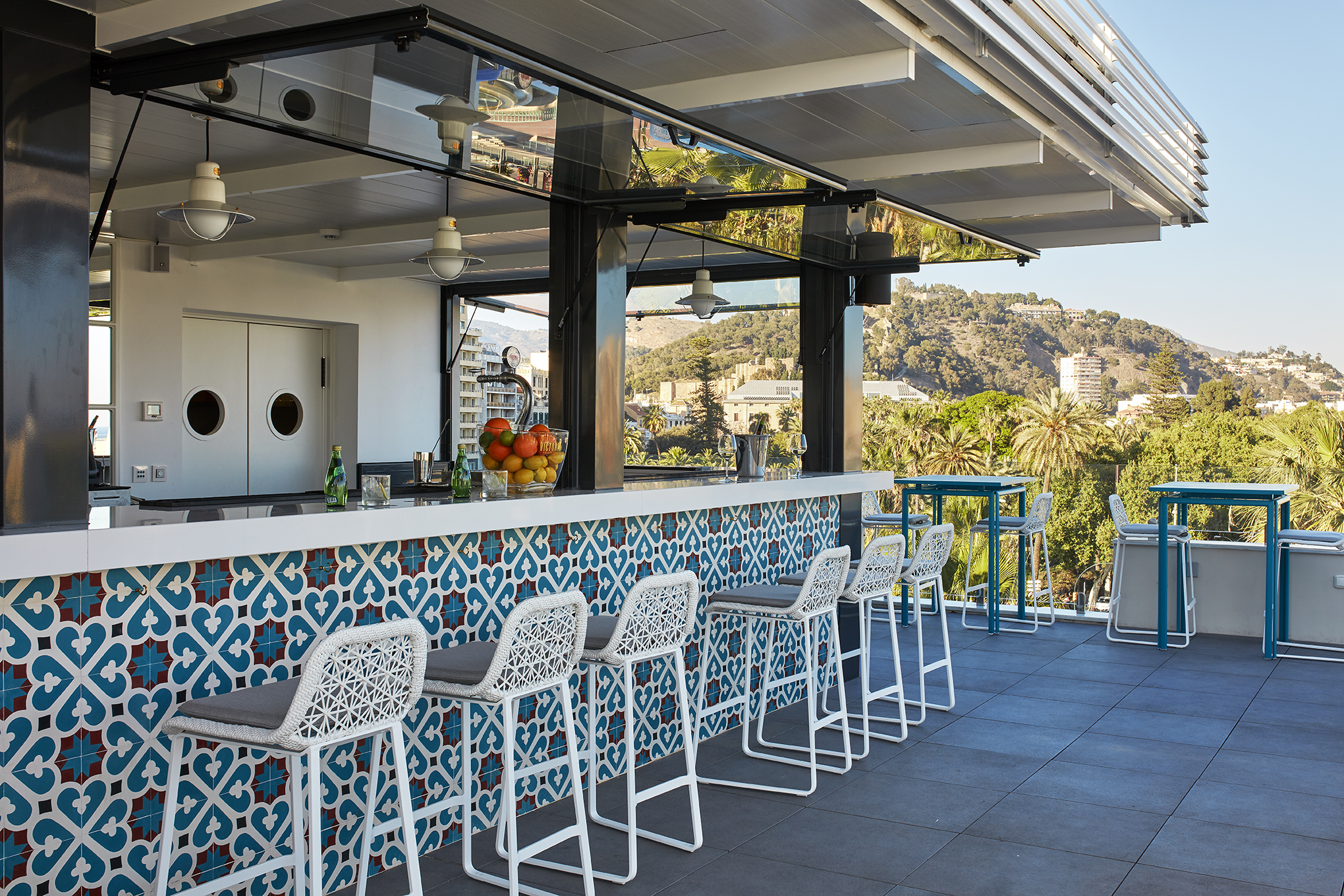 Hotel Roommate Valeria  in Málaga designed by Melián Randolph. Photography Martín García Perez
What's the most challenging part of working with your sister Victoria? And the most rewarding?
What is important in every partnership is to understand where your partner's strength lies. My sister Victoria has the capacity of anticipating the possibilities as soon as she walks into a space that needs renovation. She can look at floor plans, immediately seeing the potential and she can imagine the layouts according the client's requirements. She is very good with volumes and wise with spaces so that that the client will always have what he needs to live comfortably. This job requires the knowledge to be able to adapt the sensible with the wow factor; in other words: to live comfortably but in a unique space. My sister Victoria is very good also at solving complex technical requirements, it's a challenge that she thrives on. Contractors love her!  Our work as a team is crucial and must be coherent so that the container my sister builds can live with the content that I want to propose for the client. The resulting interior that is harmonious and flows visually is the challenge and the reward.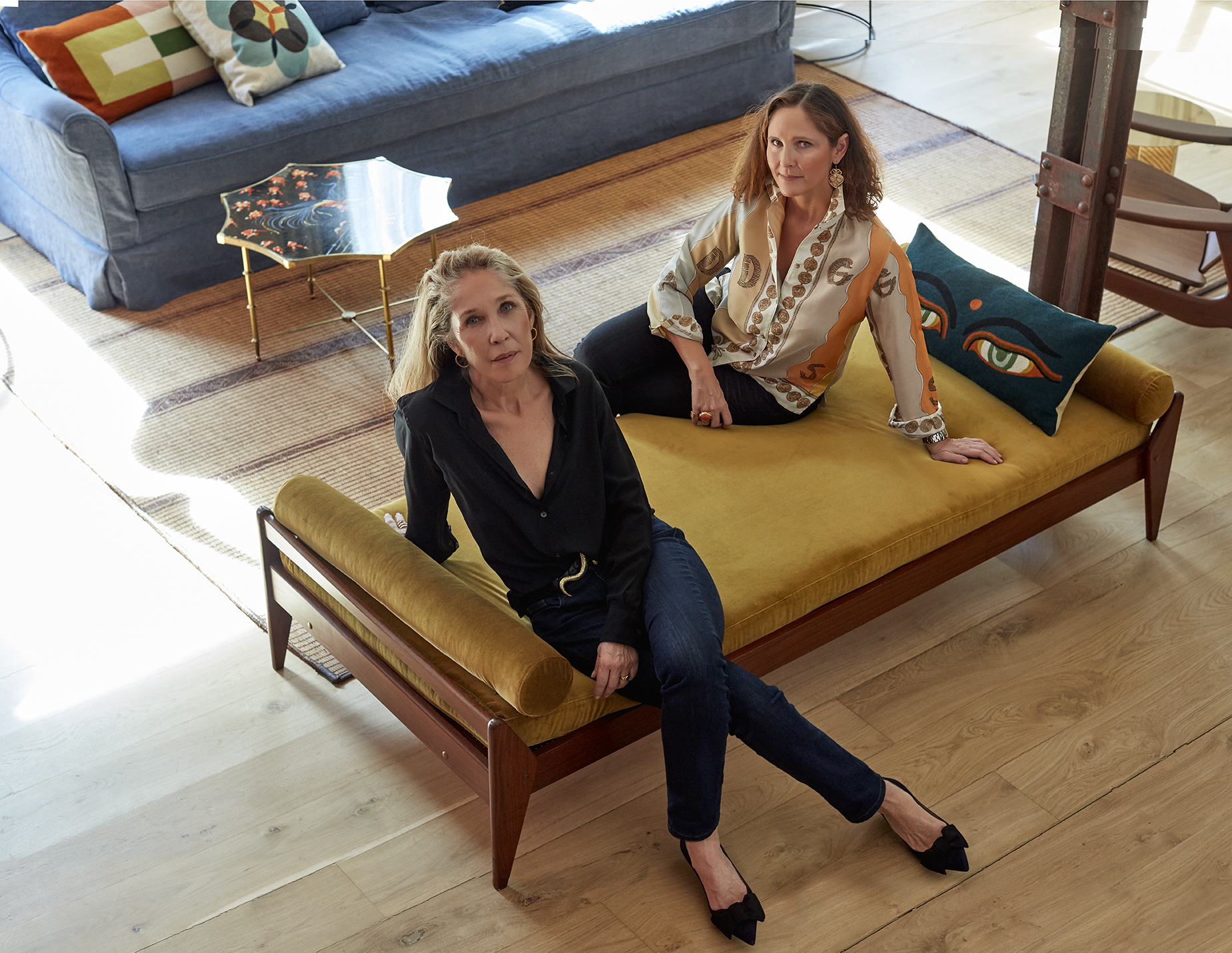 Sylvia with her sister, Victoria Melián. Photograpy Martín García Perez
In terms of decorating, what was the most valuable lesson that you have learnt from your mother, Mary Melián?
The elegant mix of textures, cultures, origins, colors, proportions. She also brought nature into the house: palm leaves flat on the tables, branches in simple vases, dramatic shells, corals. She could make the most rustic objects appear chic. She had that flair and the panache to carry it off. I always remember her love of wrought irons and elaborate adorned tiles set against stark white walls, empty unadorned spaces, heavy earthenware, white canvas sofas, exotic fabrics….That mix between masculine and feminine elements was very poetic.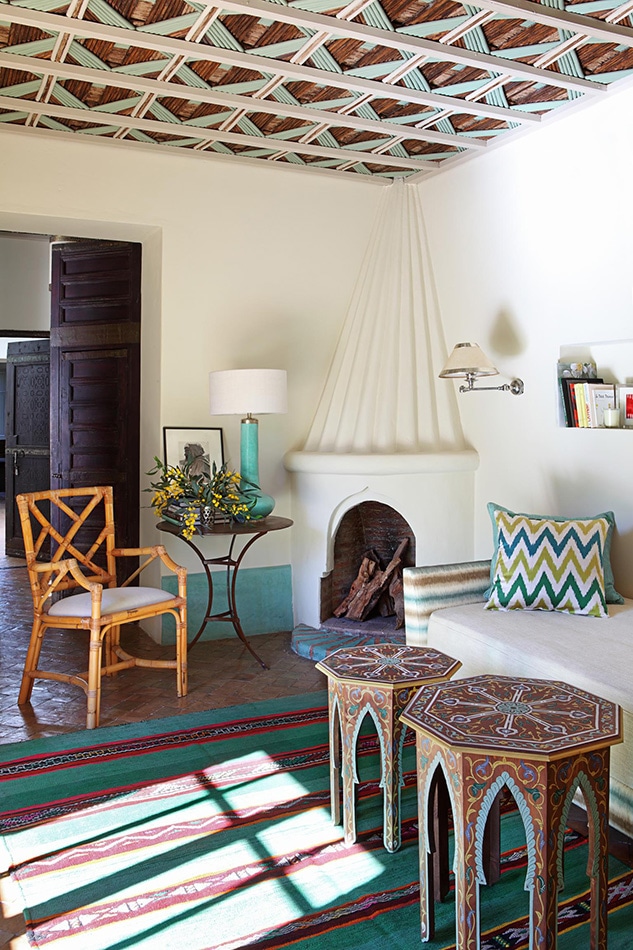 A project in Marrakech. Photography Asier Rua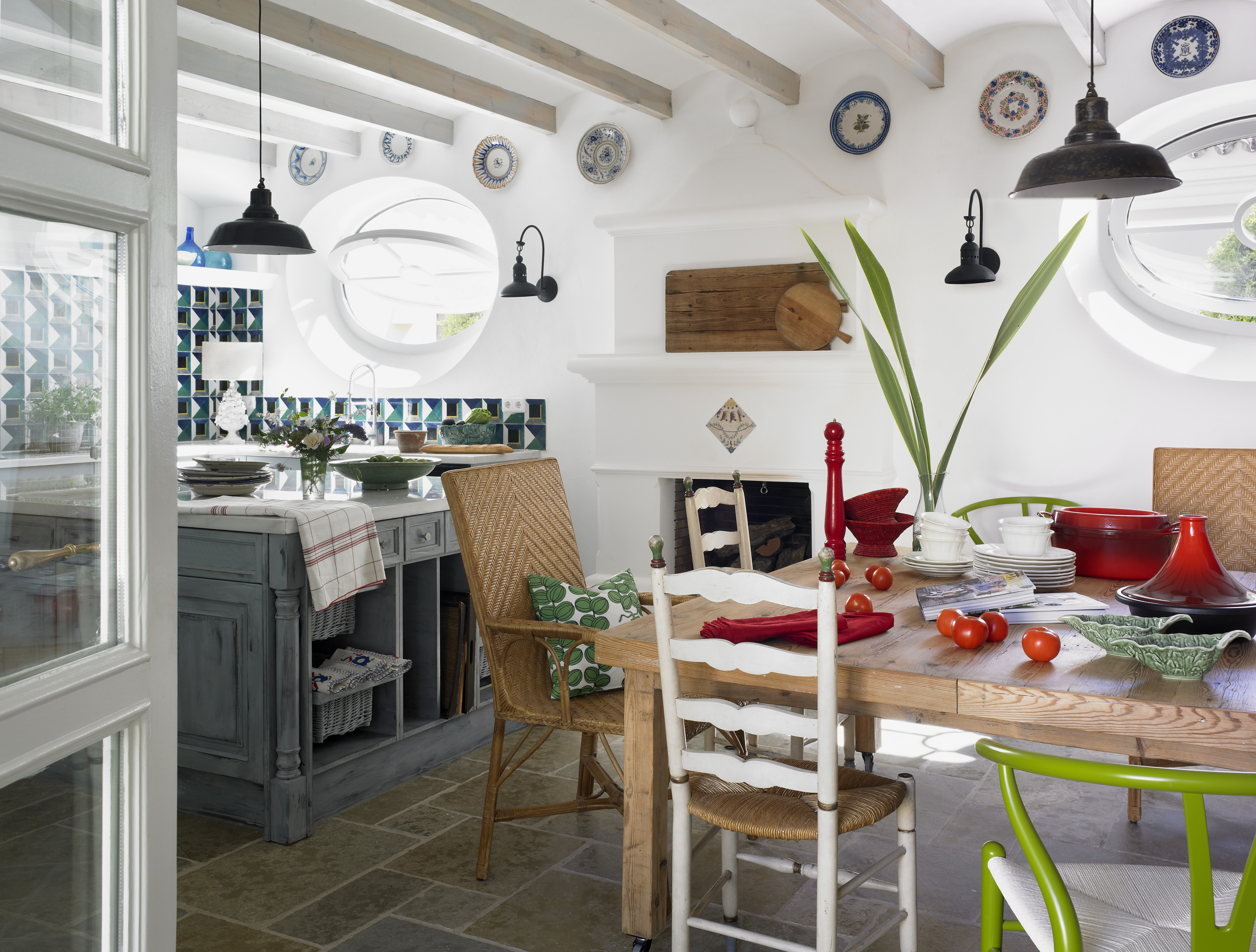 A kitchen in Sotogrande. Photography Martín García Perez
I adore the photo of you and your sister Eugenia in your home in Sotogrande by Slim Aarons. How was the experience of being in front of Slim's camera? How do you remember Sotogrande in the 70s?
Slim was a good friend of my mother, Mary Melián. They met in Andalusia, Spain, in the late 60's when he was on assignment for Holiday magazine in Marbella and Alfonso Hohenlohe, the founder of the Marbella Club, introduced him to my mother and Sotogrande. Sotogrande was a new resort that was being built in the province of Cadiz and already attracting interesting people escaping the bling crowds because of its rural feel and the fantastic golf and polo facilities, a first in Spain.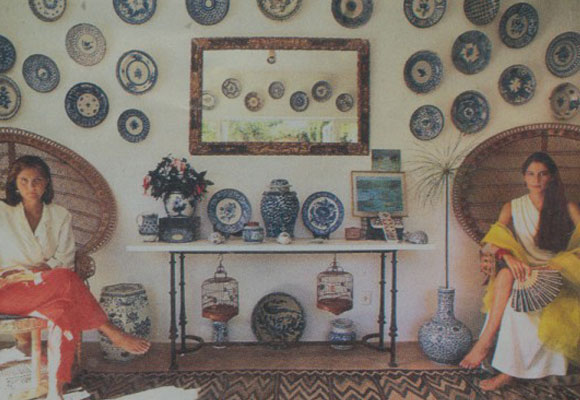 Sylvia with her sister Eugenia photographed by Slim Aarons at their Sotogrande home. Eugenia Melián, who works in the fashion industry, is the author of  must-read blog Fashion Sphinx (she has a very interesting article about Slim Aarons) and she has recently published her first novel 'Wildchilds'
Both my mother and Slim had strong personalities, very firm visual codes and bold narratives. The only small difference was that my mother only wanted to be surrounded by hues of blues, whites and greens. And Slim was the opposite.
My mother and Slim instantly became good friends and she also helped Slim for many years, introducing him to the Sotogrande families: she would take him to the golf club, have a cocktail party for him, take him in the afternoons to the polo matches, introduce and introduce. If he was missing a shot, he would shoot it at our sunny and spacious home.
I remember him very cheerful, charming, tall and slim but after a bit of chitchat he was down to business…'who is in Sotogrande, who is playing polo, who is having a party, any Americans, any Maharanees?'
Slim LOVED color, and my mother always said, "Slim, this is not Palm Beach! He just reiterated: "I want more color!"
Our Mother enjoyed Slim's company, as fellow Americans, but it was also hard work, and Slim was very much a demanding photojournalist. Finally, after many years of friendship, he asked Mother if she would like a family picture as a gift and she said she would love a picture to use as the family Christmas card. I remember she set up the shot, and he asked her to remove her white shirt and wear pink AND worst of all, to put colorful flowers in the shot…when she prepared a vase with white oleanders or something even more discreet, he made her change them for bright pink ones and rust-colored bougainvillaea! She almost had a heart attack, never, ever, did she wear pink nor put out bright bougainvillaea anywhere. Slim won that battle.
I personally remember that shoot as excruciating. In it are my 2 sisters Victoria and Eugenia, my brother Arturo and my parents. Even our dog Jackie looks grumpy and uncomfortable. We probably had to sit there FOR HOURS while Slim moved things around and reorganized the props as he always did. And we were surely told to change clothes ten times because Slim did the styling and had to control everything.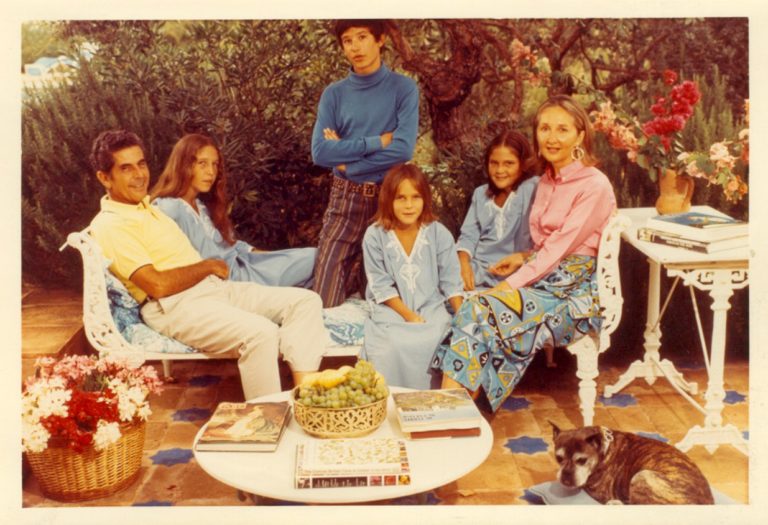 Sylvia with her parents, brother and sisters and their dog Jackie in Sotogrande photographed by Aarons
As you probably know, I have worked styling shoots for interior design magazines for eleven years. I posed for Slim four times. He was a hyperactive and extremely hardworking man. He had a clear idea in his head of what the shot would or should look like and he made it happen at any cost, working on it for hours and hours until the shot was perfect, and this is something that you can see in his photos. Nothing was left to chance, every vase, every plant, dog or person was placed and replaced and replaced until it found its place and the photo was well balanced out. I can understand his obsession with having color…one thing is what you, the person posing, likes, and another is what looks best in the magazine. He wanted color because the resulting photographs would be more appealing, festive and attractive. I have lived this myself as an interiors stylist for so many years. Photos that have color in them are more desirable and have more impact.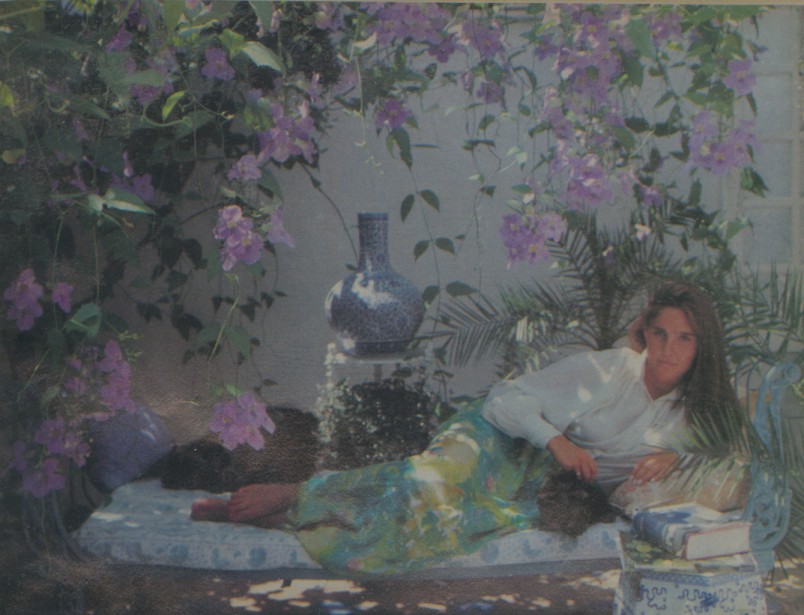 Sylvia at her family home in Sotogrande photographed by Slim Aarons
I remember once he shot us in front of the house for Holiday magazine when we were small kids, in 1970. He wanted us on horseback and at the time there were no horse vans in the area so the horses had to be ridden all the way to the house which took two hours and was a huge hassle, and then he wanted the grooms that were riding those horses to pose in full  "traje corto" garb with "Cordobés" hats and all. I have no idea where they got those outfits then because at that time in the Spain of the 60's and early 70's no village sold those because there was no money for such frivolity, but what Slim wanted Slim obtained, like the iron bench in another shot he took of me in the guest room patio at home, where he had me pose lying on a solid wrought iron bed which weighed hundreds of pounds and had to be carried over the rooftop of my house from one patio to another because it could not fit through the doors….that operation took all day, with long ropes and lots of strong men pulling and hauling…just for one shot, but that was how it was with Slim.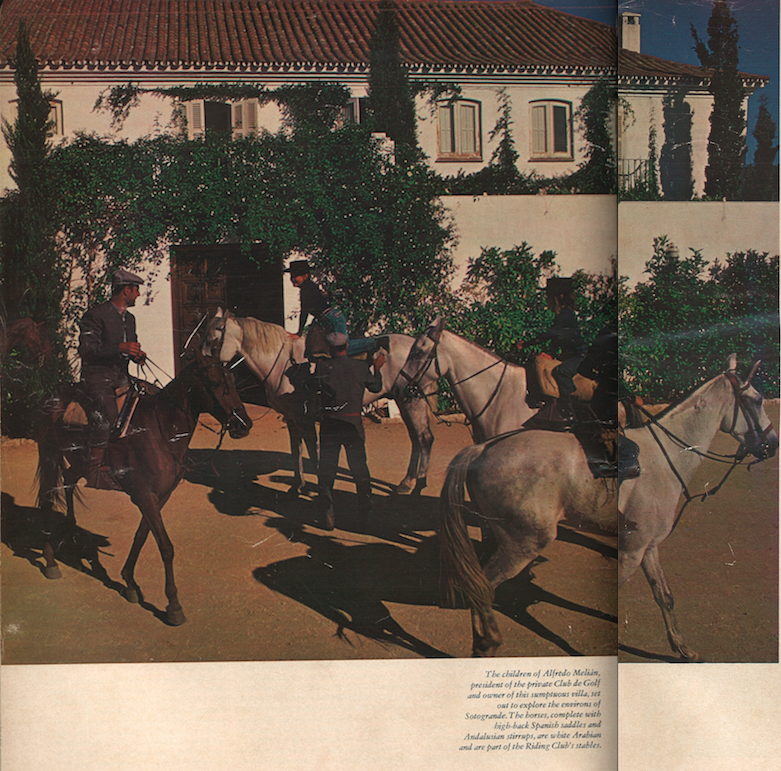 Slim Aarons for Holiday Magazine
Last week you presented your first fabric collection for Güell-Lamadrid at Paris Deco Off,  how did this collaboration come to be?
Güell-LaMadrid has supplied us with wonderful fabrics and wallpapers for nearly two decades. They are part of most of our projects and we can rely on them year after year to provide us with a wide array of their well-known basics as well as their seasonal releases. They asked us for this collaboration because they appreciated our "eclectic and sophisticated outlook." The collection we designed for them is called Bloomsbury and includes linens, linen sheers, velvets, jacquards, cotton in four colorways that range from blues and greens to terracotta and ochres. The idea comes from the Bloomsbury Group, the unconventional close-knit circle of artists, writers and intellectuals in Britain during the first half of the XX Century and who were influenced by a great variety of styles and arts from abroad…Italian Renaissance frescoes, Portuguese tiles, Cezanne's very modern paintings, the Fauvists wild colors, geometric forms of Islamic design, and of course, the motifs of English Arts and Crafts organic and botanical patterns.
The patterns of this collection range between the delicate and the bold. There is something in this collection for every interior. The collection also includes wallpapers in five colorways. We had a lot of fun working together.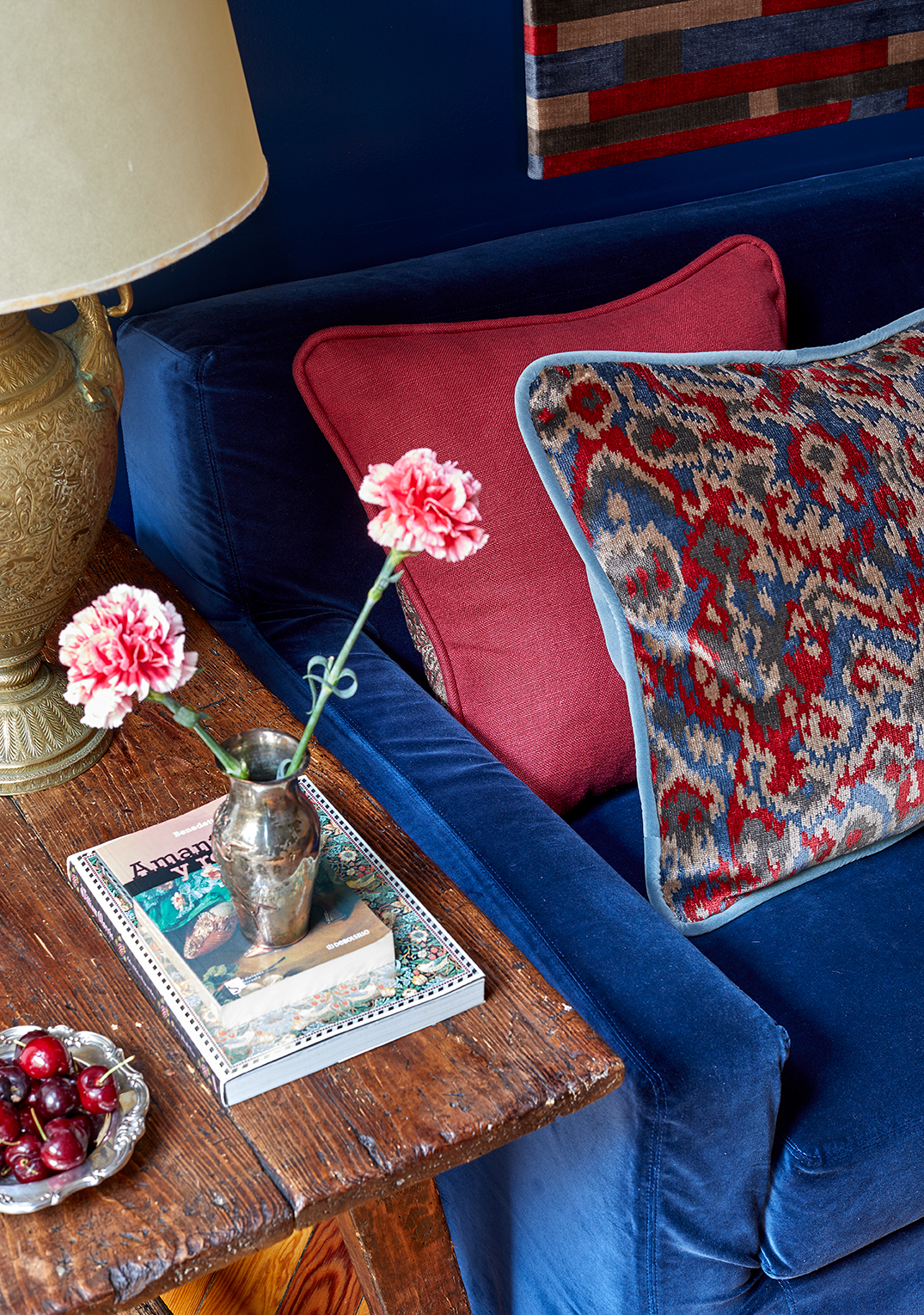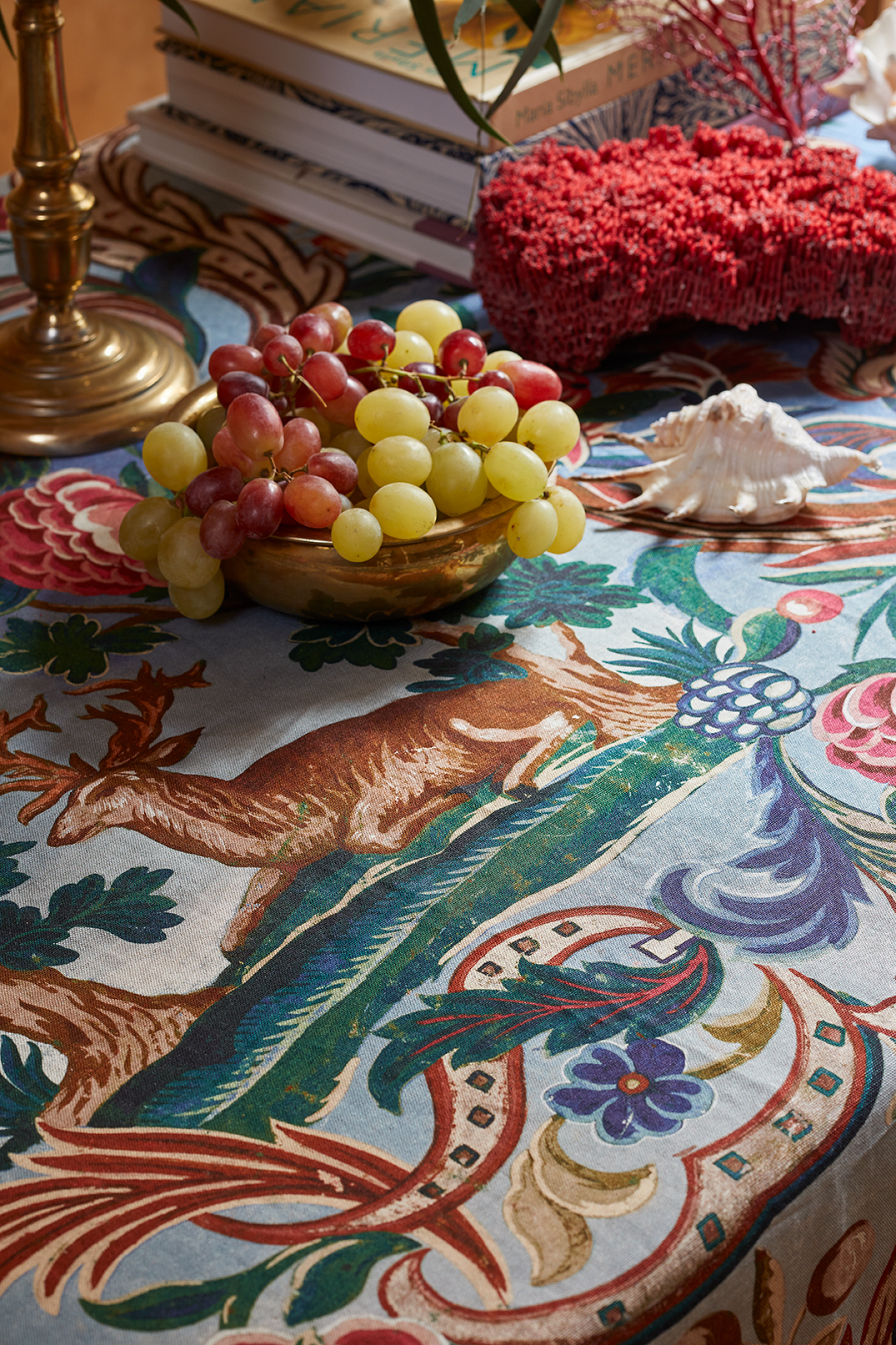 Photography Martín García Perez
Thank you so much, Sylvia!
For more information visit  http://www.melianrandolph.com