Annabelle Moehlmann was inspired to start Land of Belle after going through the wedding registry process. She realized there was not a destination where she could register for—or even shop—her favorite home accessories, many of which were discovered on travels.
With Land of Belle, she intends to showcase the world's leading boutique home accessories brands and artisans with others who share her passion for beautiful craftsmanship, love of unique pieces, and endless wanderlust.
Prior to starting the company, Moehlmann worked in the design world in different capacities before leading brand partnerships and business development at Indagare, a luxury travel company. Discover Annabelle's long life passion for beautiful and unique pieces, the tabletop pieces you should splurge on and why pop ups are key for her business in today's conversation.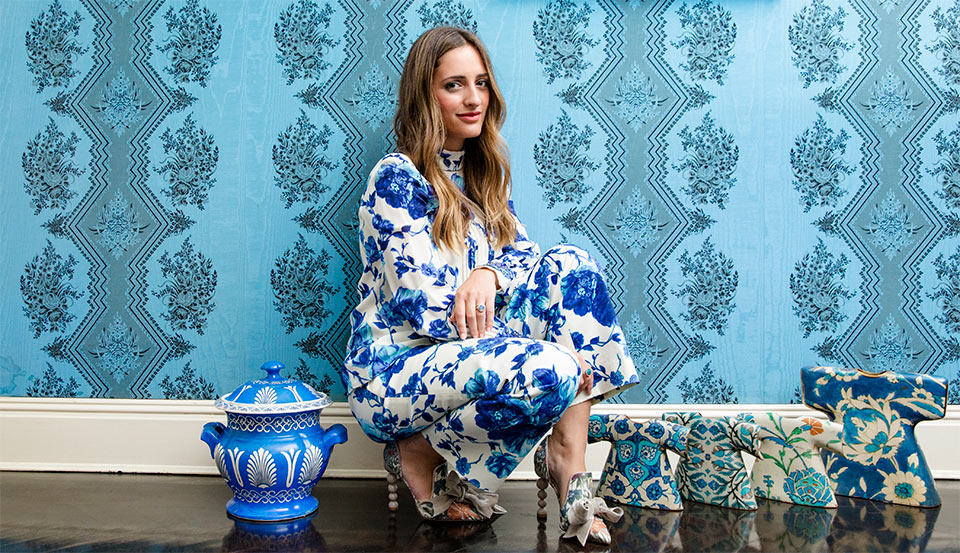 Dear Annabelle, first of all I would like to know what prompted you to launch 'Land of Belle'?
I was inspired to start Land of Belle because it merged my love of travel and passion for design. I realized that so much that I love about travel is discovering the design heritage of the places I visit and  after going through the wedding registry process. I realized there was not a destination where I could register for—or even shop—my favorite home accessories, many of which were discovered on travels. I decided to start with pop-ups to test the concept and see if people were interested in our aesthetic, and the items on offer. When our first pop-up was well-received, we decided the build the site which consists of an online store, a wedding registry platform, and a blog,  and we continue to put on seasonal pop-up stores so that our customers have a chance to meet us, understand the brand and shop the collection in person.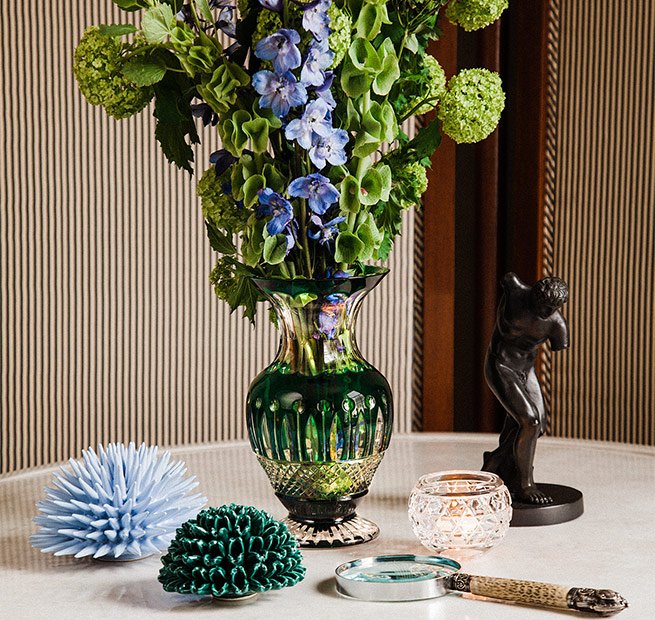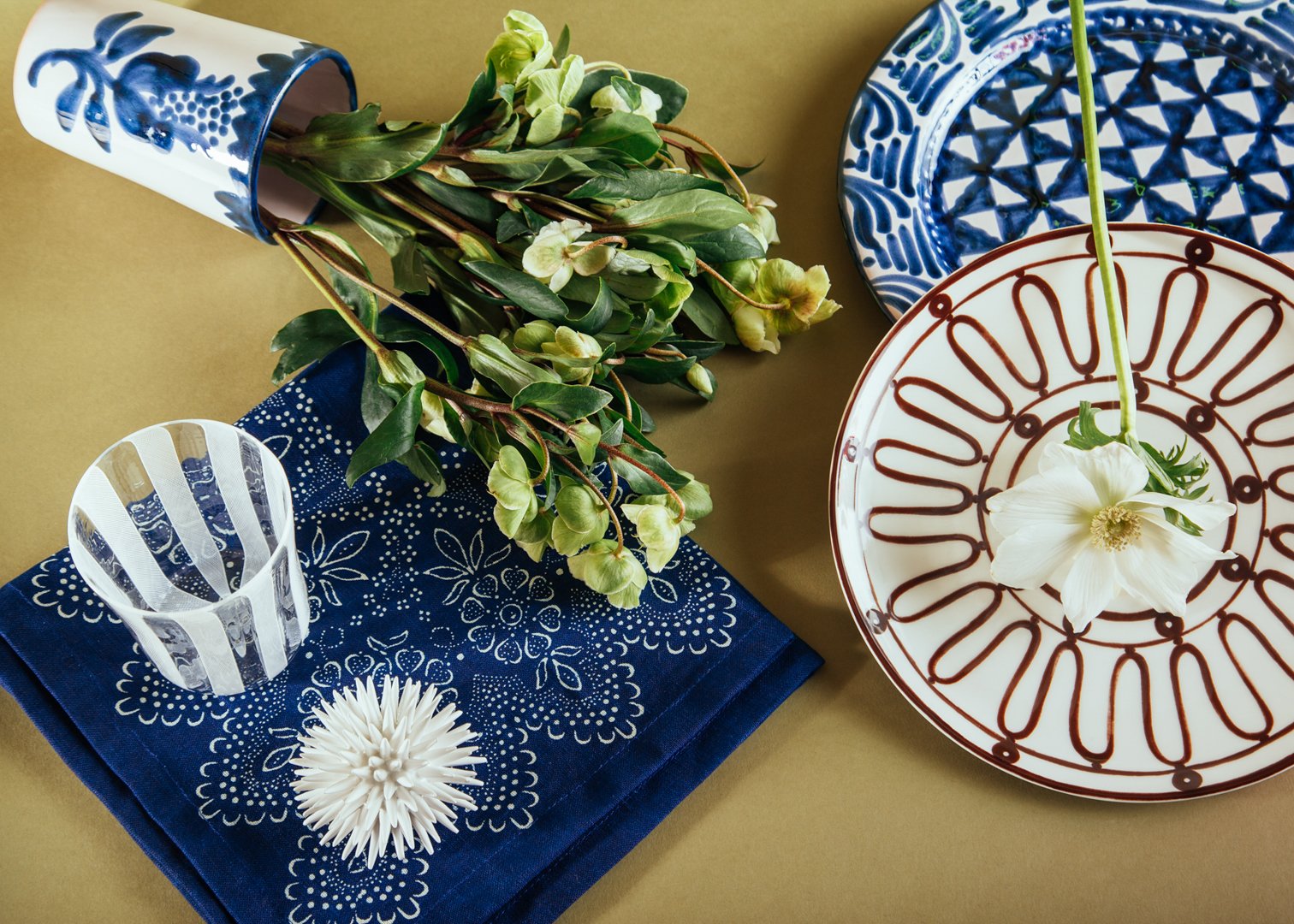 In terms of decorating, how would you define your style? 
I'm a firm believer in the idea that if you collect you love, they will always work together. I don't go in for the matchy-matchy, select every fabric and piece of furniture for a specific room look. I love contrast—a light, airy room filled deep hued, sumptuous velvets and romantic prints, or a jewel-toned room filled with gorgeous antiques upholstered in drop cloth white linen. I think spaces should always remind you of the places and things you love most, and so my favorite rooms tend to have something that evokes memories of the islands, summer and the sea, and always include a beautiful palm. I love a mix of beautiful antiques—Biedermeier, campaign and revival-style furniture paired with sleek, simple contemporary and midcentury pieces. Always an antique rug or a sisal, or both! I love the relaxed look of bamboo and wicker furniture, and almost anything with caning. It's all about the combination of textures: the cool feel of a marble topped table, beautifully carved wood, the softness of a plush velvet, the subtle dimension of seagrass etc.  I am drawn toward cool colors—pale aquas, warm olives, powder blues, crisp mint green—and adore a bold wallpaper or a room upholstered in a beautiful fabric. A romantic floral or botanical print, a Madeleine Castaing stripe, Fortuny, and fresh Indian block prints are definitely favorites. And I never say no to a classic, natural grasscloth. If I had to sum it up, I might say my style is old-world classic but a bit undone, well-lived in and never fully finished.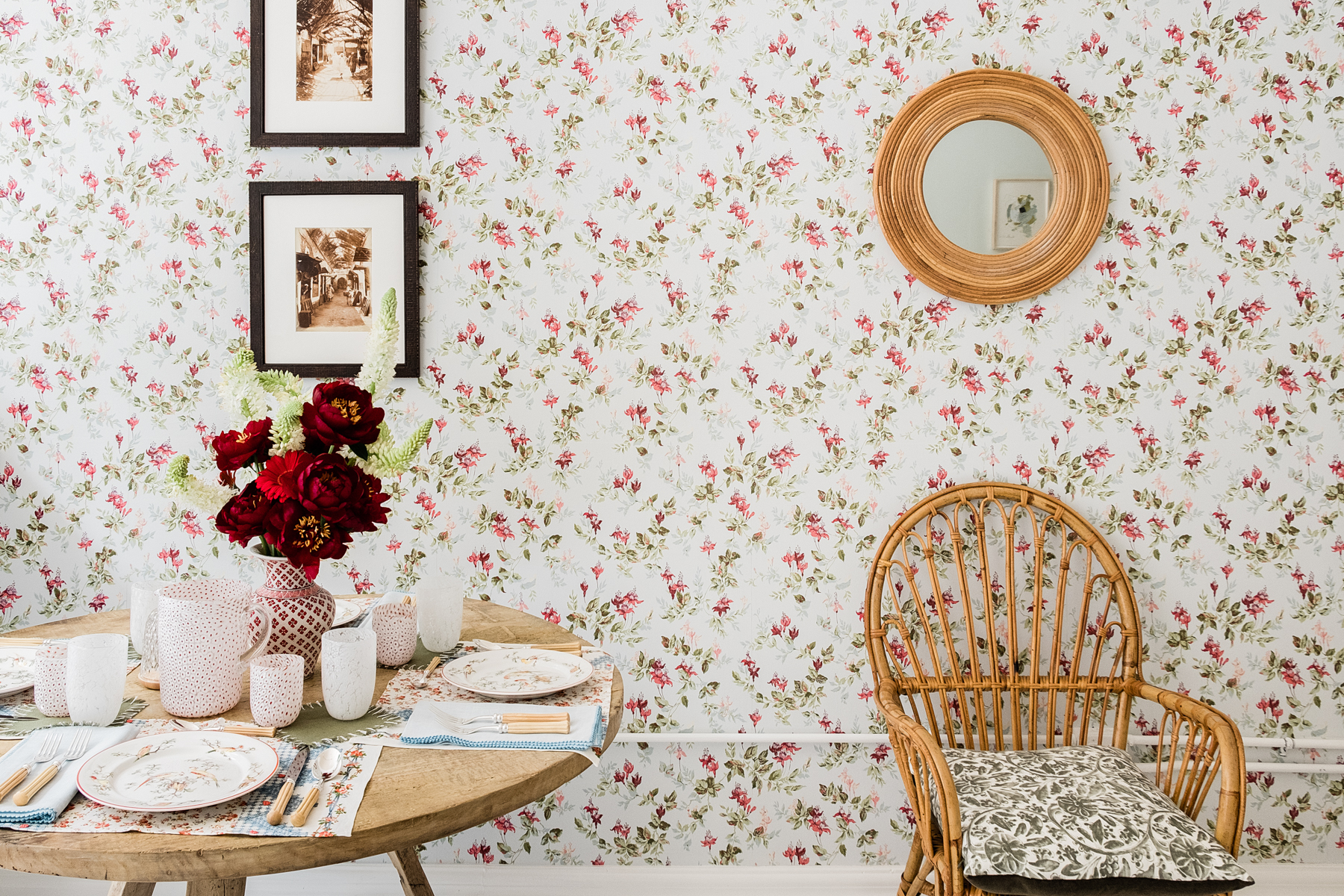 'Spring of Blecker' Land of Belle's latest Pop Up in New York
What are the 3 things you would recommend to splurge on when it comes to table top?
1.Beautiful glassware
2.Plates with personality
3.Refined flatware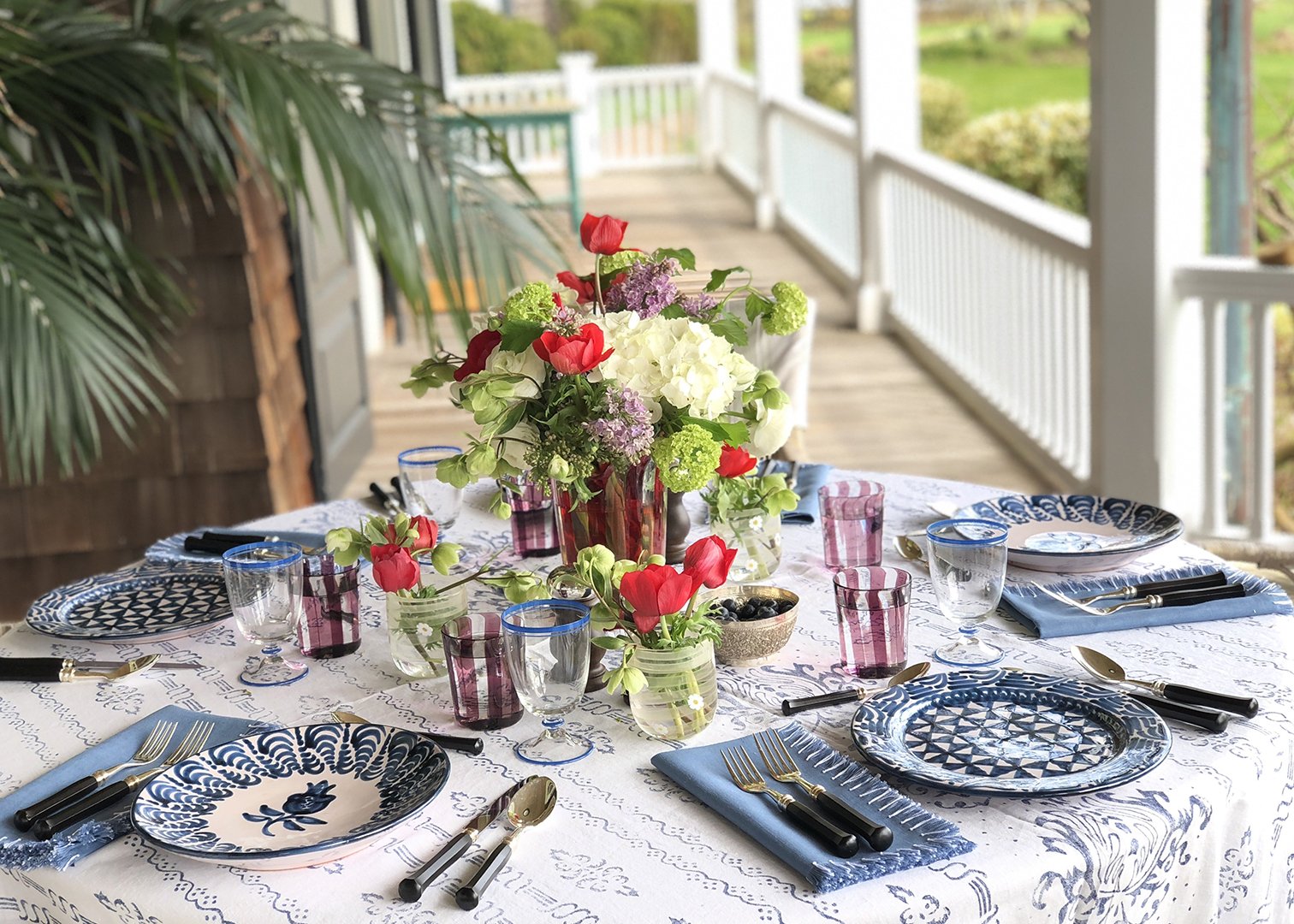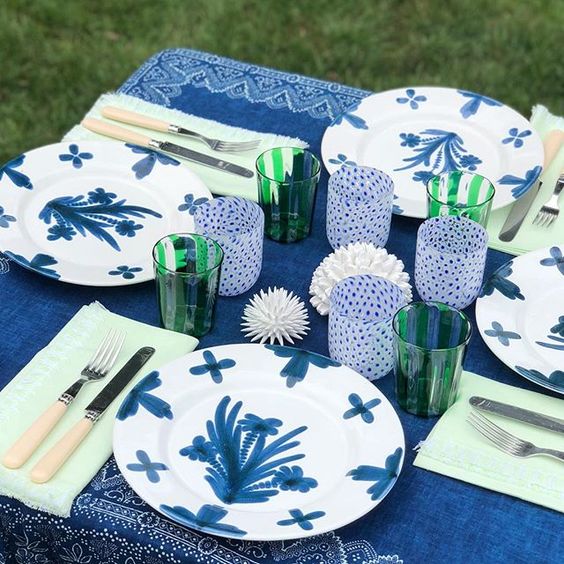 Your 'Spring on Bleecker' Pop Up alongside RAC and Marlo Laz just opened in Blecker Street filled with beautiful home décor, fashion and jewels. Do you think Pop Ups are key for online businesses? What are your favourite pieces from this new collection that you have just launched?
I do. Especially when you're selling items that are of a certain price point, it's really important for customers to be able to interact with them in person and understand the way they really look and feel. Photographs are helpful but they only show so much. It's hard to understand the quality of a handblown glass or a beautiful linen without holding it in your hand. We love introducing our audience to our collections in person, so that they can trust in our quality when shopping with us online and also so they can understand the feeling and identity of our brand.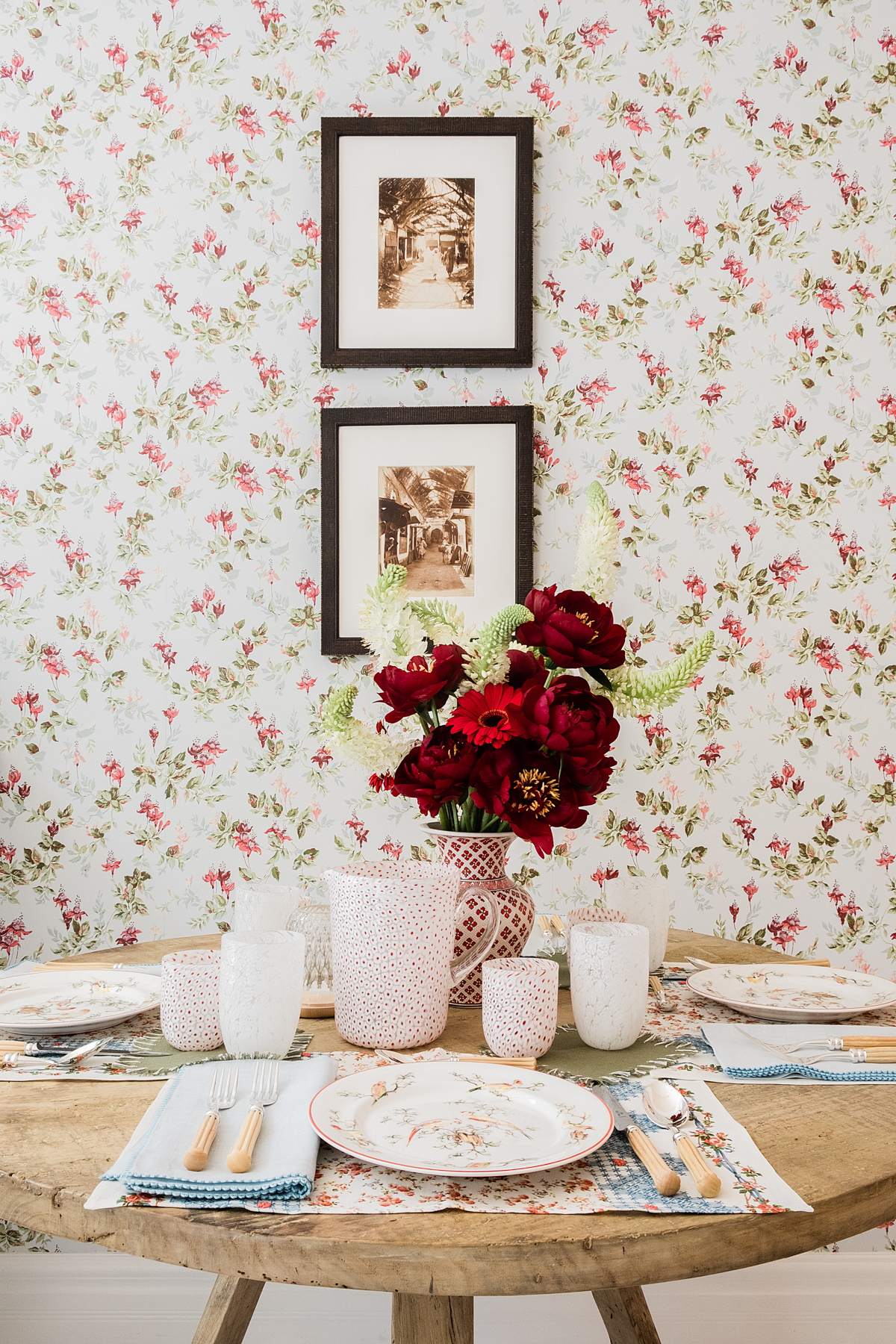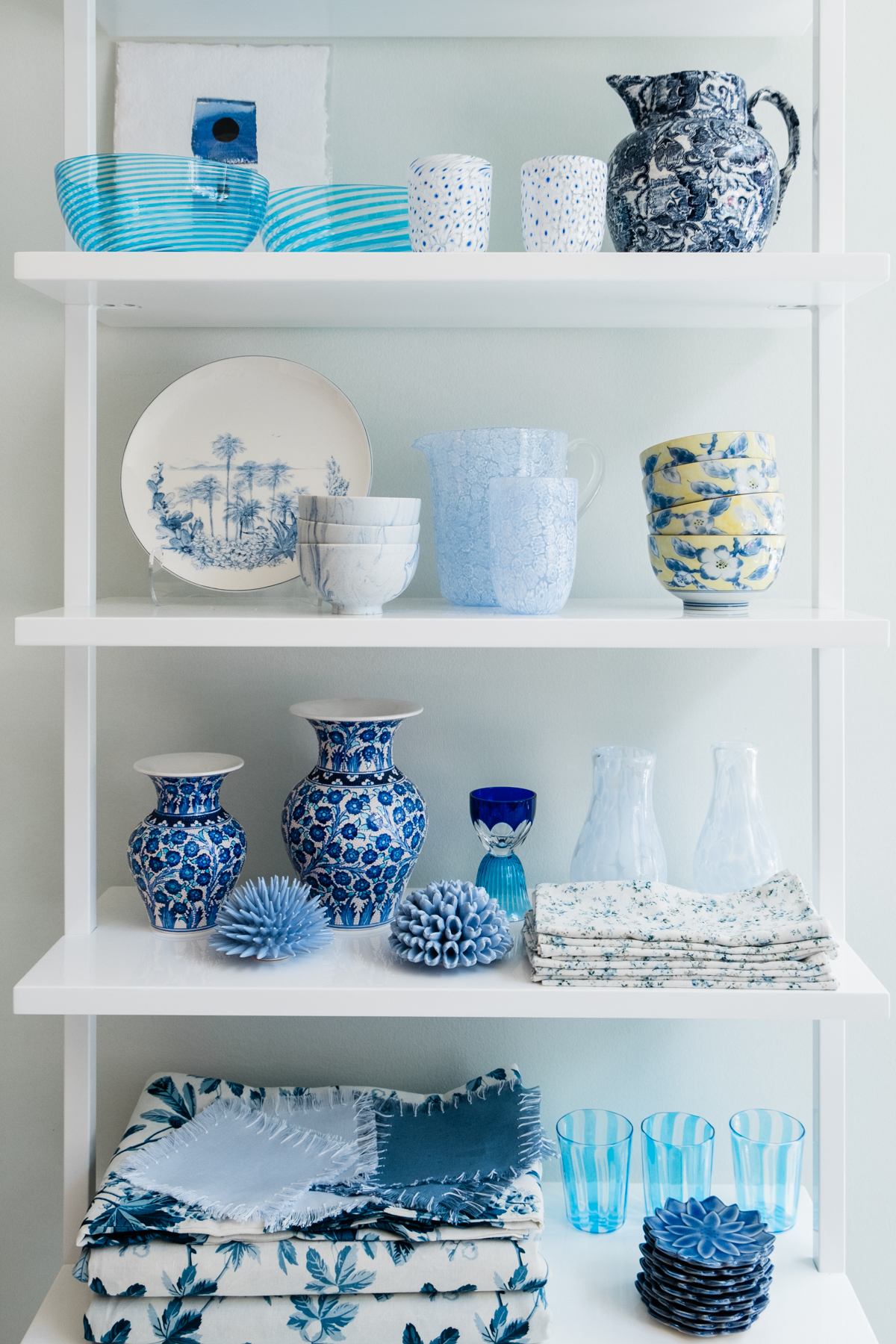 Some favorite new pieces include our White Daydream glasses made in collaboration with Laguna B, our new tablecloths by d'Ascoli (especially our exclusive olive colorway), new hand-painted Mexican trays and our parrot plates by Laboratorio Paravicini. We are also really excited about the beautiful abstract paintings that Renée Bouchon made for our shop, and the bamboo and rattan furniture we have on offer here at the pop-up.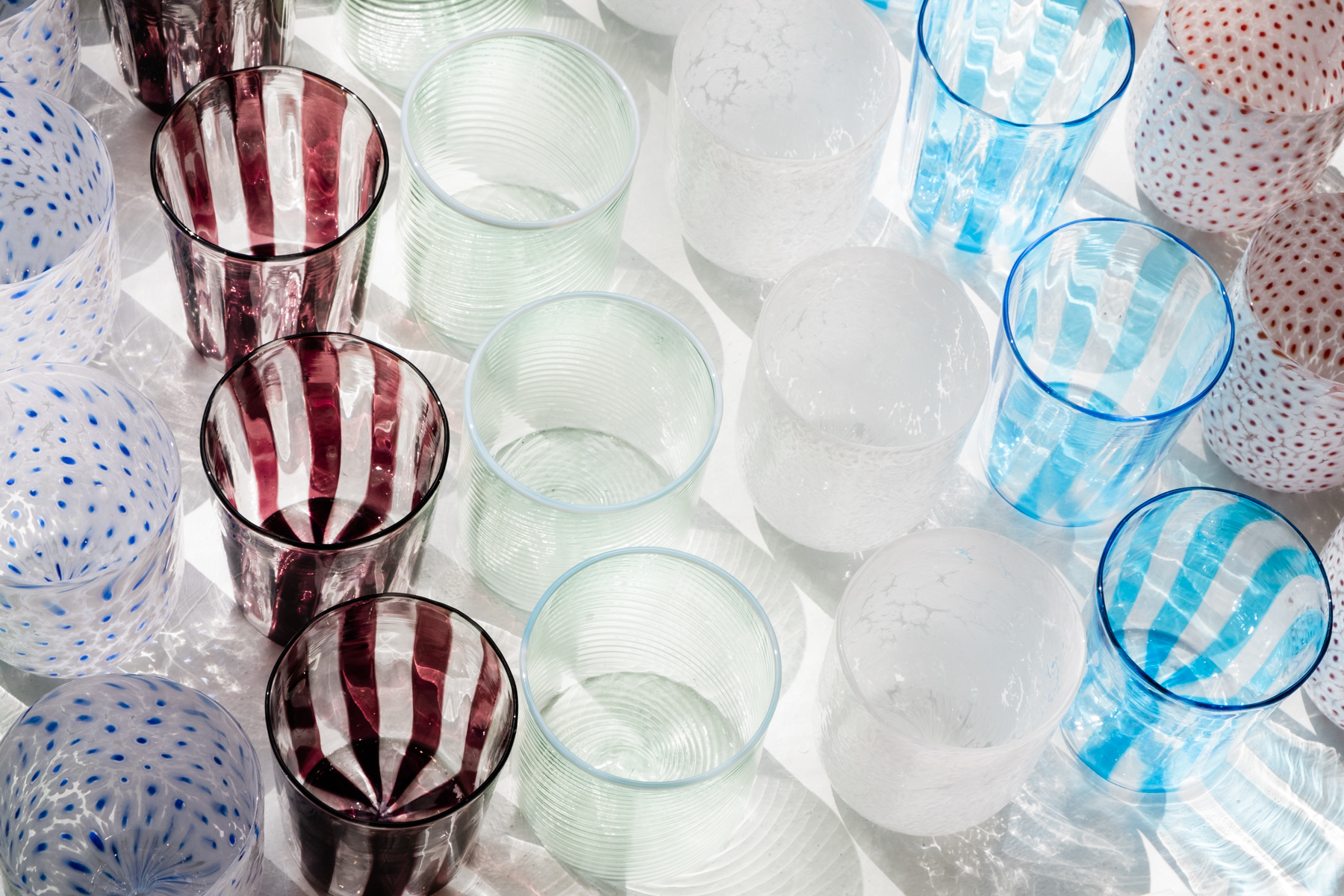 What was the process like designing the pop up space? Where did you find inspiration? 
The process was really about designing a space that celebrates the height of the spring season. For the front room where Land of Belle lives, I brought in some favorite design elements in that evoke my favorite places and loved seeing how they interplayed and came together to create a narrative. I wanted the store to feel feminine, charming and old-world but fresh and updated at the same time, and most importantly, to spark happiness for anyone who comes through our doors. We painted the walls in Farrow & Ball's Pavilion Blue, a forever favorite. It's an ethereal greenish blue that feels airy, fresh but still neutral depending on the light. The color is a small nod to island life while still feeling perfectly at home in the city. We painted the floors white to imbue the space with a light quality fitting for Spring. For the front room, I selected a romantic, floral wallpaper from Schumacher. It's on a pale, bluish white ground with vivid fuchsia and cranberry blooms, with leafy greens and hints of celadon. I adore it so much I think I'll find a spot for it in our apartment. For furniture, all of which is for sale, we sourced some wonderful bamboo and rattan furniture—both vintage and new–down in Palm Beach and also selected a couple of beautiful pieces from Demiurge New York: A textural and spare round dining table constructed from gorgeous 18th century chestnut, along with a pair of fun, sculptural white ceramic lamps. In addition to paintings by Renée Bouchon on offer, I pulled some small pieces from my person collection including a couple of Indian miniatures I picked up in Udaipur, a small Candida Höfer photograph, and some old prints of the souk in Marrakech.  In the end, I hope the front room of the shop feels like a stateside summer cottage of an Italian in the 60s: Dreamy, charming and inviting.
For the center nook of the store, Marlo Laz's founder Jesse Laskowski selected Schumacher's Chinois Palais in tangerine. She paired it with an Ultrafragola mirror by Ettore Sottsass and a few contemporary pieces including a bone inlay chair, and a lucite side table, for a look that is decidedly bold, fun, and whimsical with a dash of rock n' roll. The perfect spot to try on her stunning collection of fine jewelry (and to take a selfie, of course).
The third room of the shop, where RAC Lifestyle has taken up residence, is all about showcasing their eclectic assortment of fashion and accessories from unique brands. A large scale Renée Bouchon canvas in bold blues, black and white hangs over a seagrass console by Schumacher, and customers can make themselves at home on a pair Alky Chairs by Giancarlo Piretti newly upholstered in a sky blue silk velvet.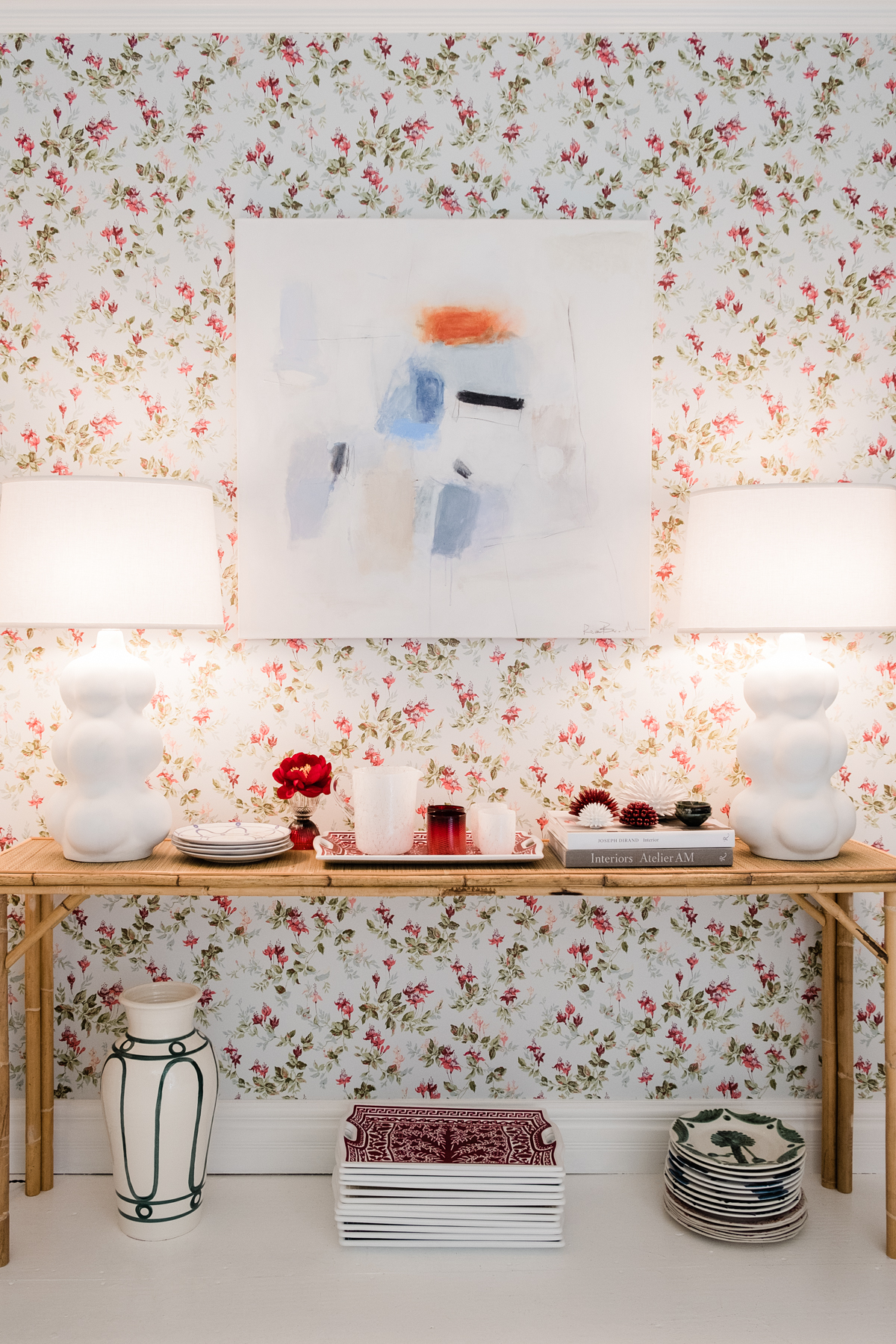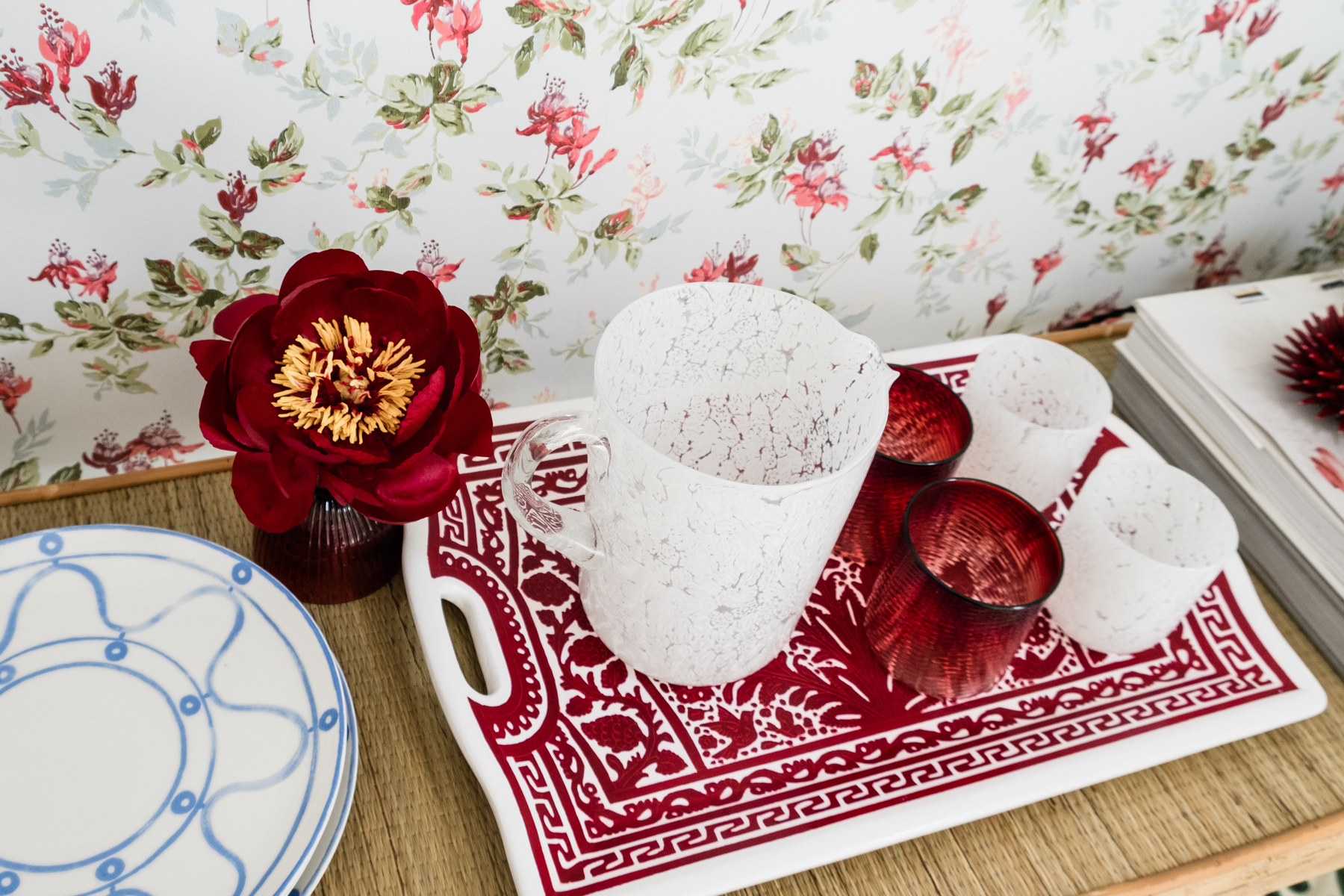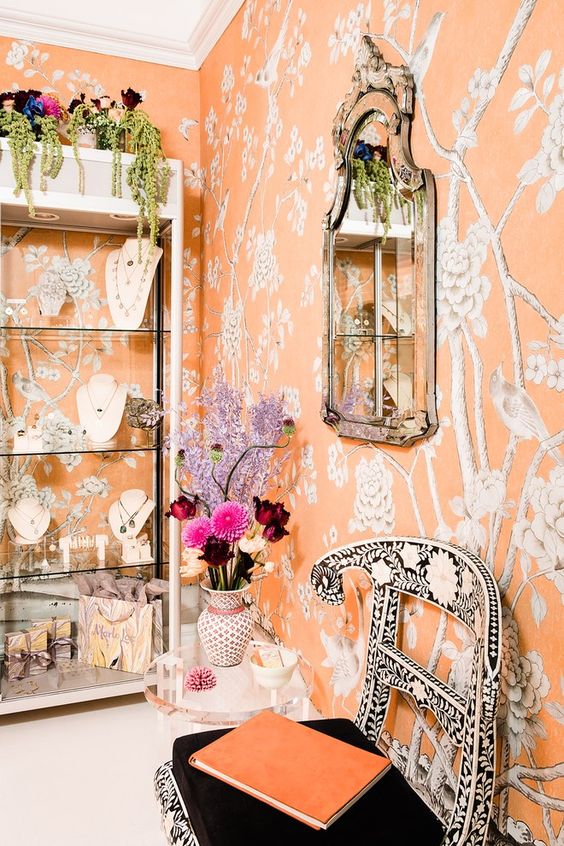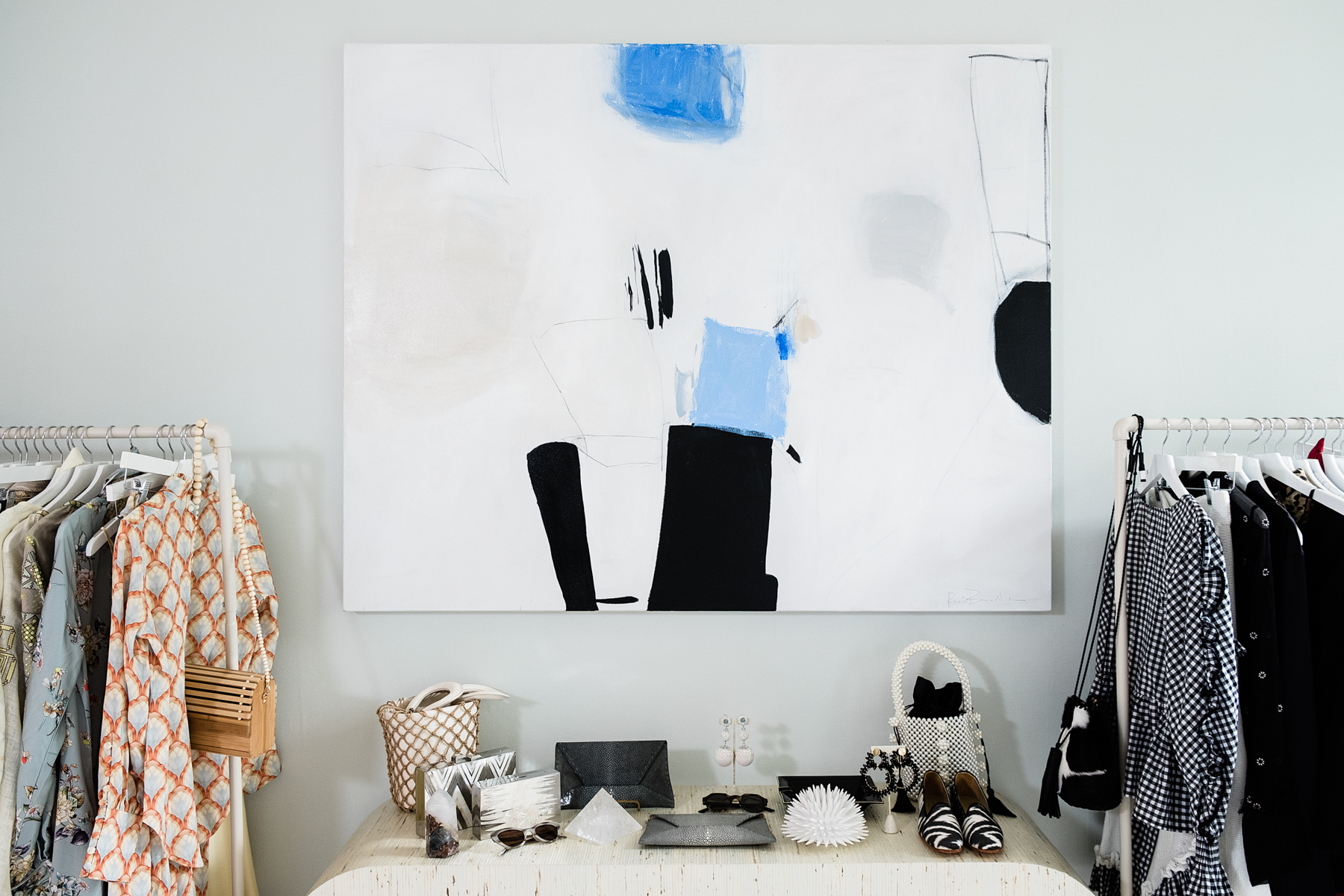 Spring on Blecker runs through May 30 – 373 Bleeker Street – Open daily 10 am- 7pm
For more information visit http://www.landofbelle.com                                                                         Images: Portrait: Nora Griffel for Tory Burch  |   Pop Up: Allaire Bartel