I first met Susan Deliss at her Notting Hill studio two years ago. I instantly felt inspired by her beautiful designs and how passionate she is about what she does. Her growing textile business offers her own range of fabrics as well as antique ikats, silk embroideries, kilims, velvets and linens—antique, vintage and new. One-off furniture is also available—both antique and made to order— upholstered in her fabrics and complemented by limited edition cushions and hand-made and lined silk lampshades, decorative objects and fine art. Deliss has also been working in interior design projects creating beautiful homes where the attention to detail is paramount.
Discover Susan sources of inspiration, passion for collecting textiles and more in today's conversation.
Dear Susan, when it comes to decorating, what are your main sources of inspiration?
Everywhere I go I look for ideas and inspiration.  My free time is often spent wandering through galleries and palaces, mosques and churches, museums and private house in the UK and abroad, looking for beautiful things and educating my eye.  l look occasionally at the work of other decorators who I really admire – such as Bill Willis, Jaime Parlade, Chester Jones, Francois Joseph-Graf – for pleasure and to try to understand their approach. Inspiration for a decorative scheme, though, can come from an antique textile fragment, a particular painting, a kilim, a wallpaper sample. There is always one thing in particular that everything else flows from, even if I may remove it during the design process.  But in the end one has to take a deep breath and proceed, relying on one's own taste and judgement.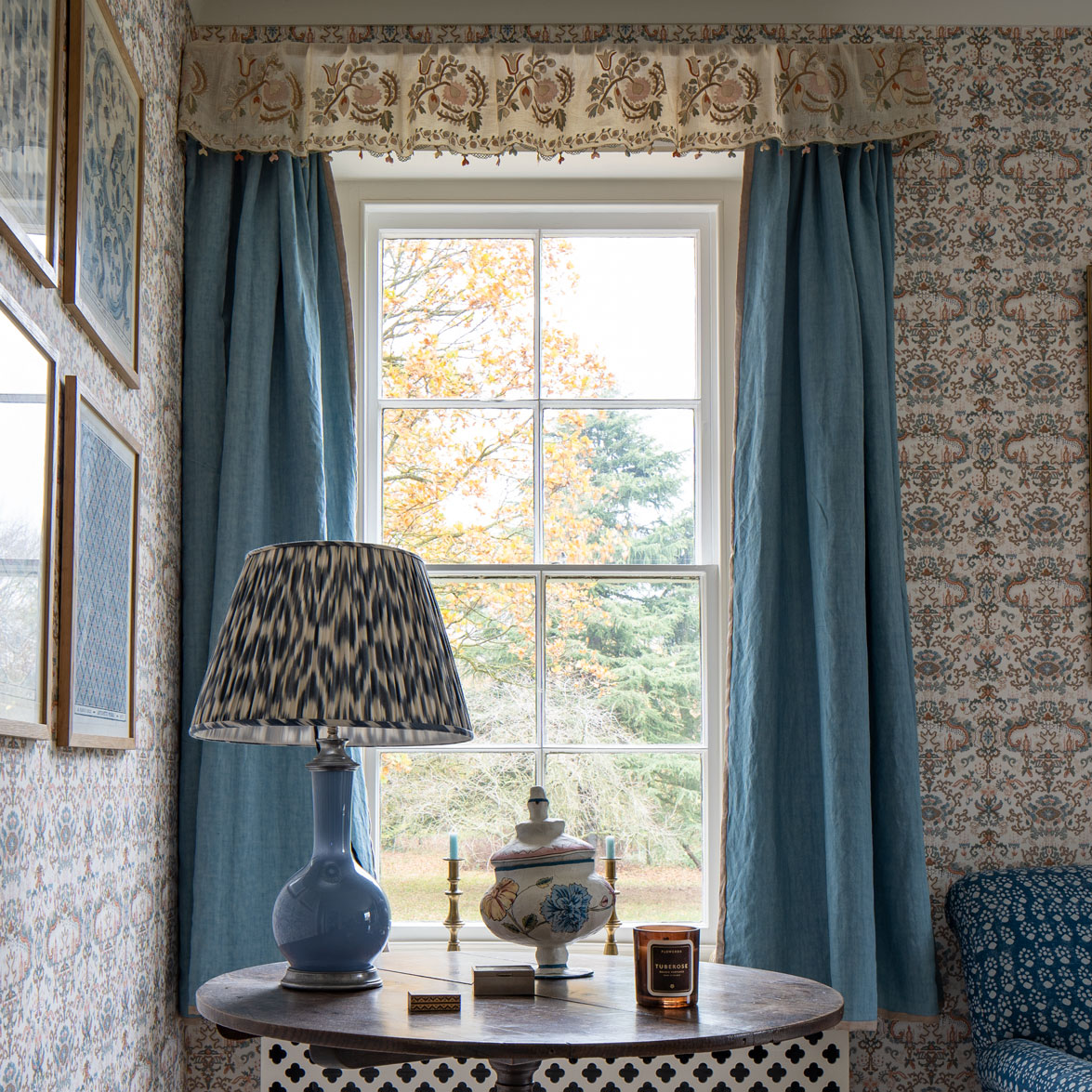 Detail of a bedroom in an English Georgian country house decorated by Deliss. Wallpaper is Robert Kime's St. Abbs; Susan sourced fine antique French linen and had it dyed blue with brown trim to tone with the paper. The curtain pelmet is an antique Ottoman bedcover. Lamp and shade by Susan Deliss.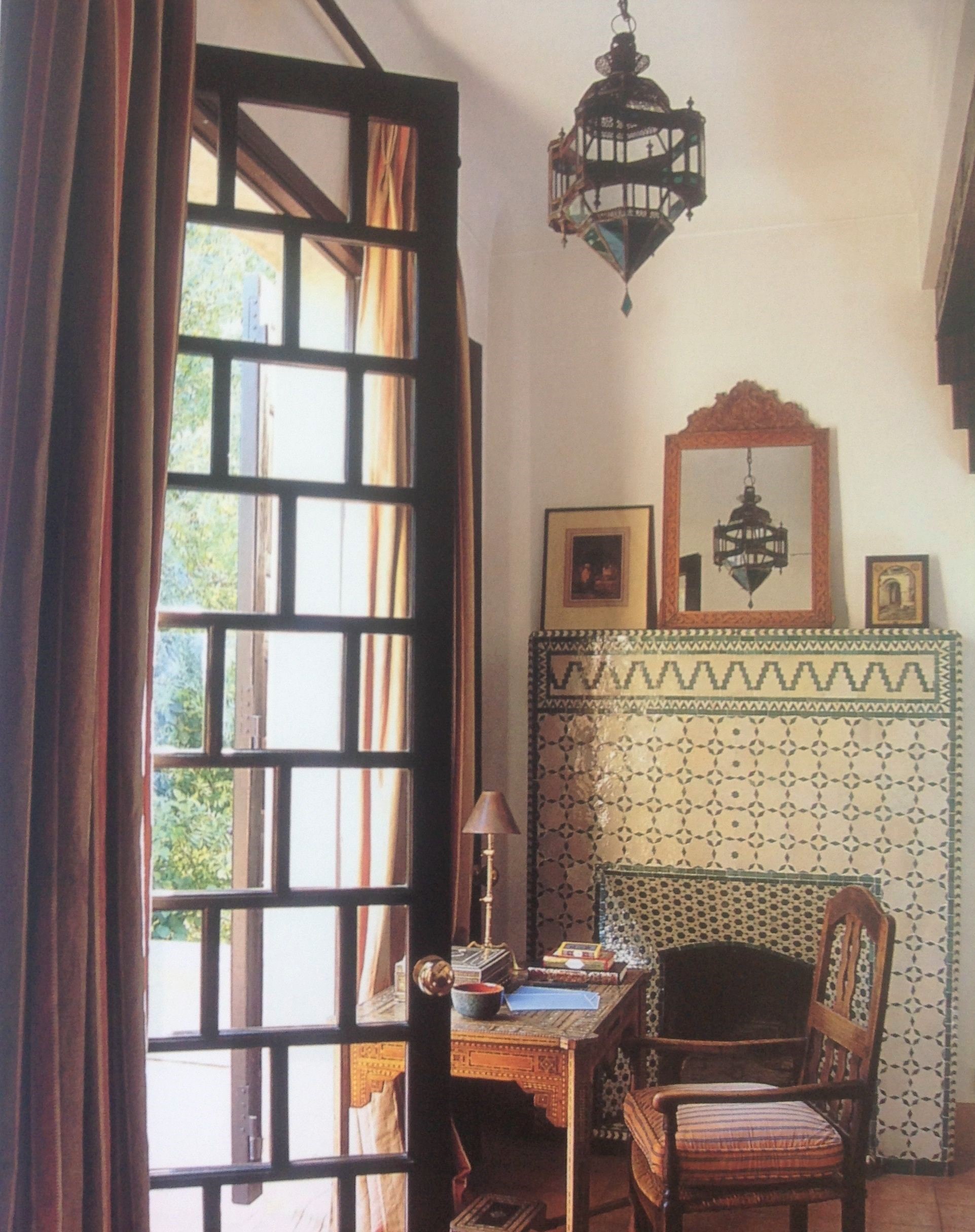 Statement green and white Zellij fireplace by Bill Willis in Dar Es Saada – the Marrakech home of Yves Saint Laurent and Pierre Berge.
One of the things I love the most about your work as an interior designer is how all your projects are quite different from one another – what would you say is the one thing that they all have in common?
The approach to each project is the same in that for each one, I talk to the client a lot about what they like and how they want to live and I look very carefully at the architecture, proportions, flow and light of each property.  Differing tastes of each half of a couple need to be understood.  I spend a lot of time before any physical changes are undertaken defining the eventual spirt and style of the house, it's zeitgeist.  That will inform all the decisions I make throughout the whole job.  Ideally, I will then work through every aspect of each room except for things which need to be added such as furniture or artwork, and do a comprehensive scheme for every surface in each room. I ask clients at different stages about key aspects of each scheme and move forward to the next element when they are happy.  I plan about 90% of the final outcome at this stage.   I am not interested in making everything match but every space should flow into the next.  I will always use colour and pattern to some degree.  I keep a close eye during work on each stage, working with tradesmen if necessary to refine ideas or colours, although generally relatively few amendments are ever needed.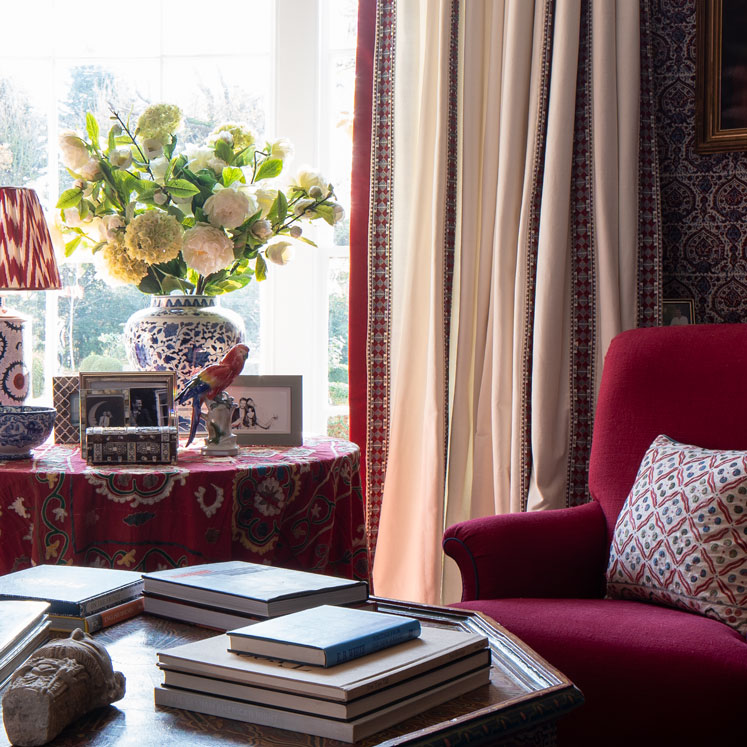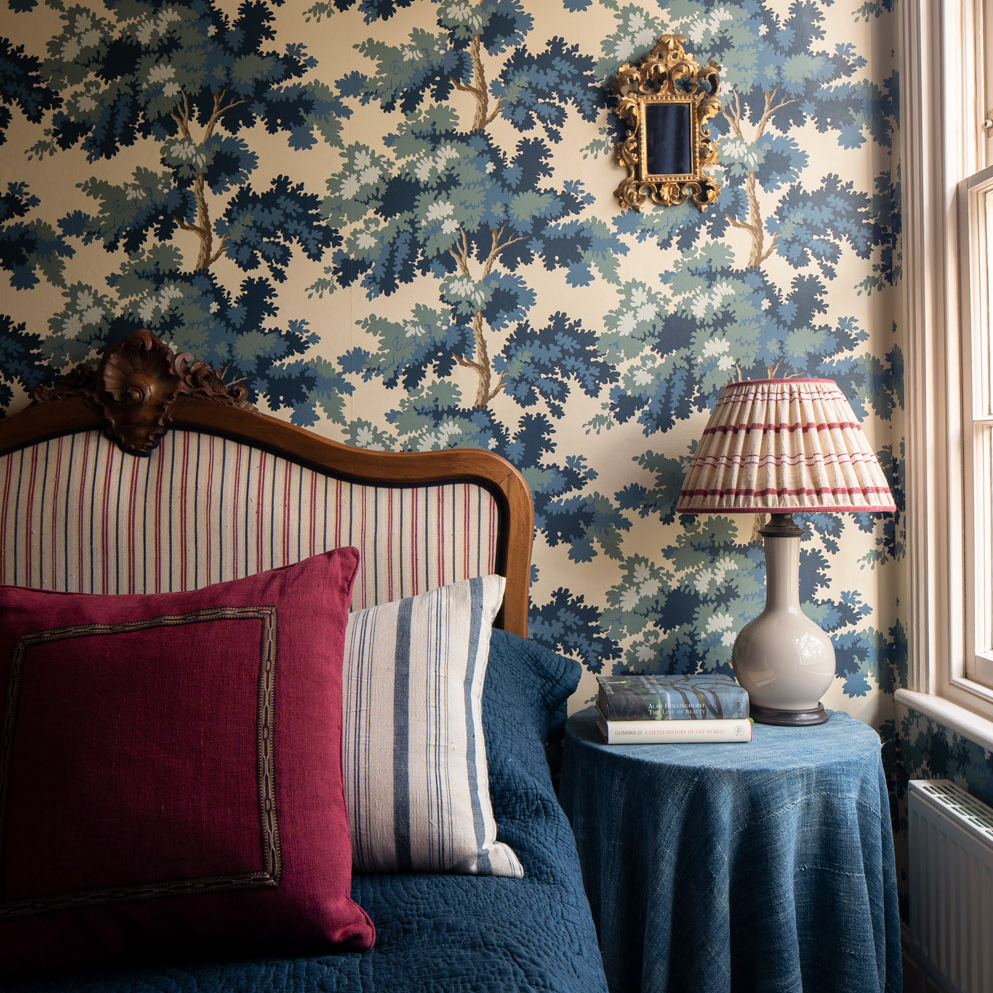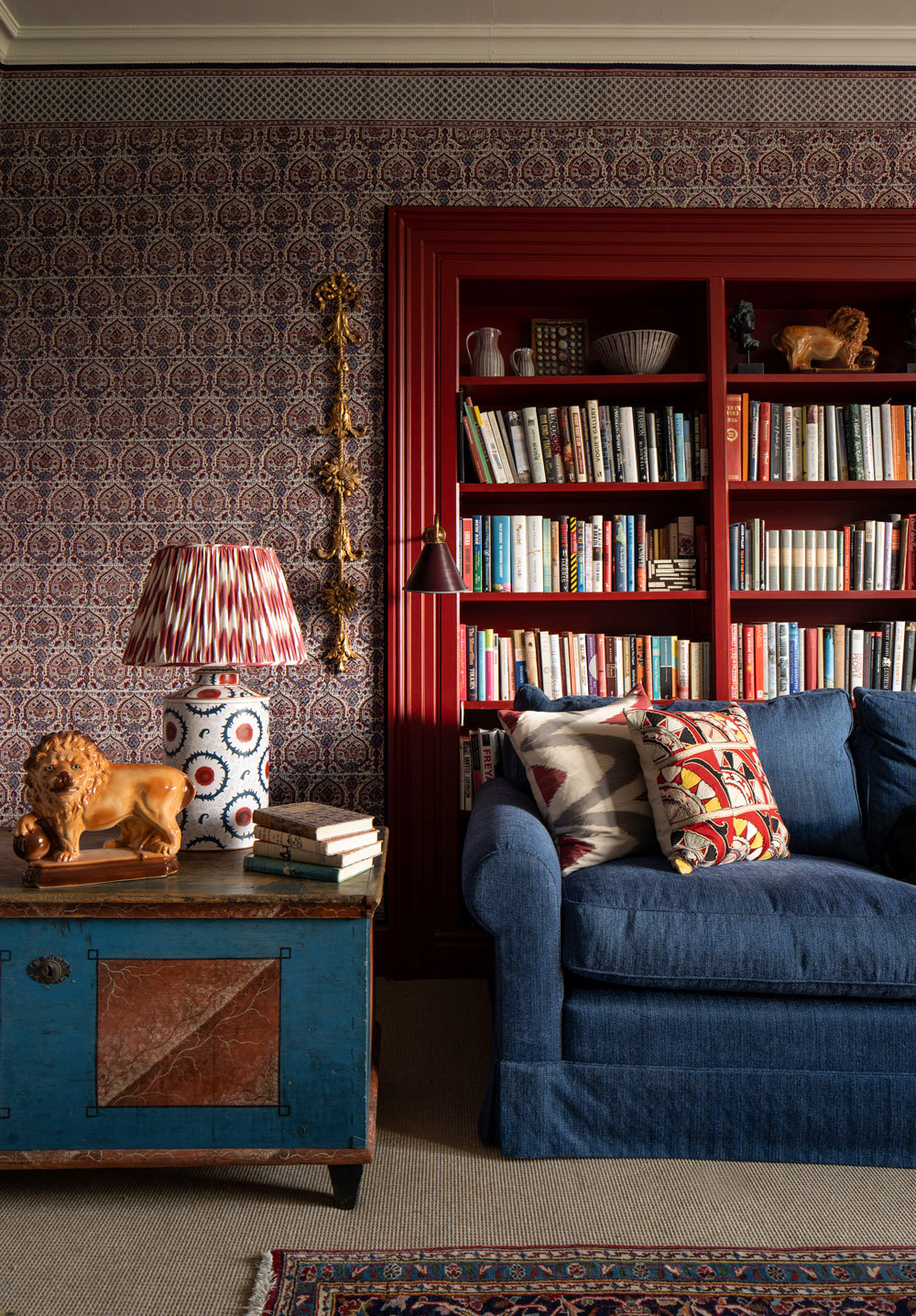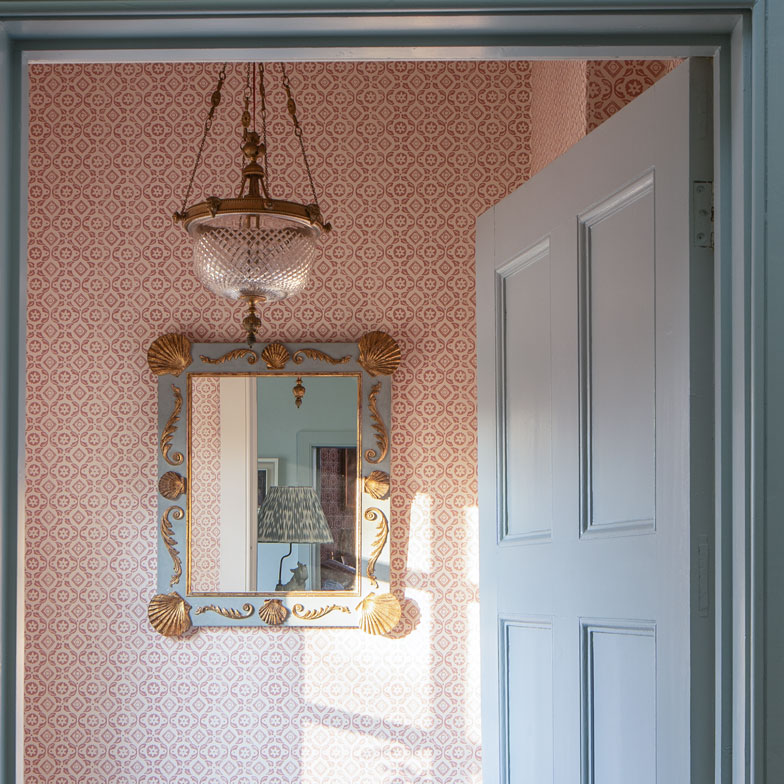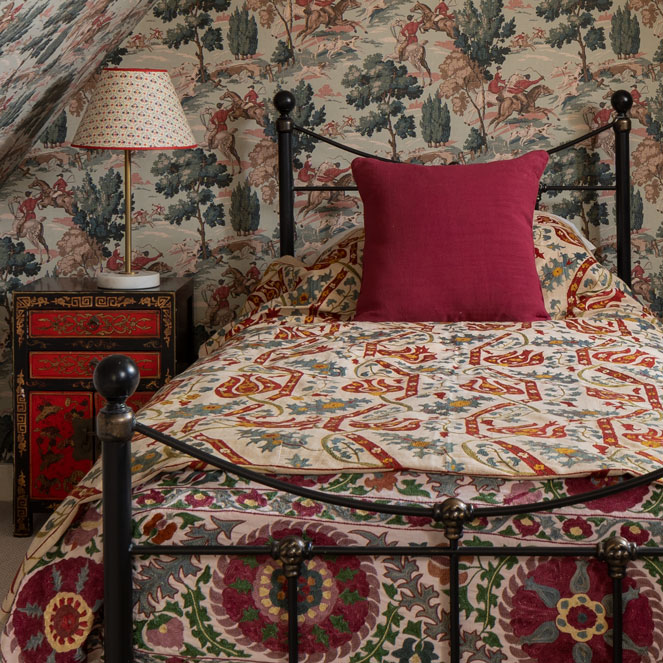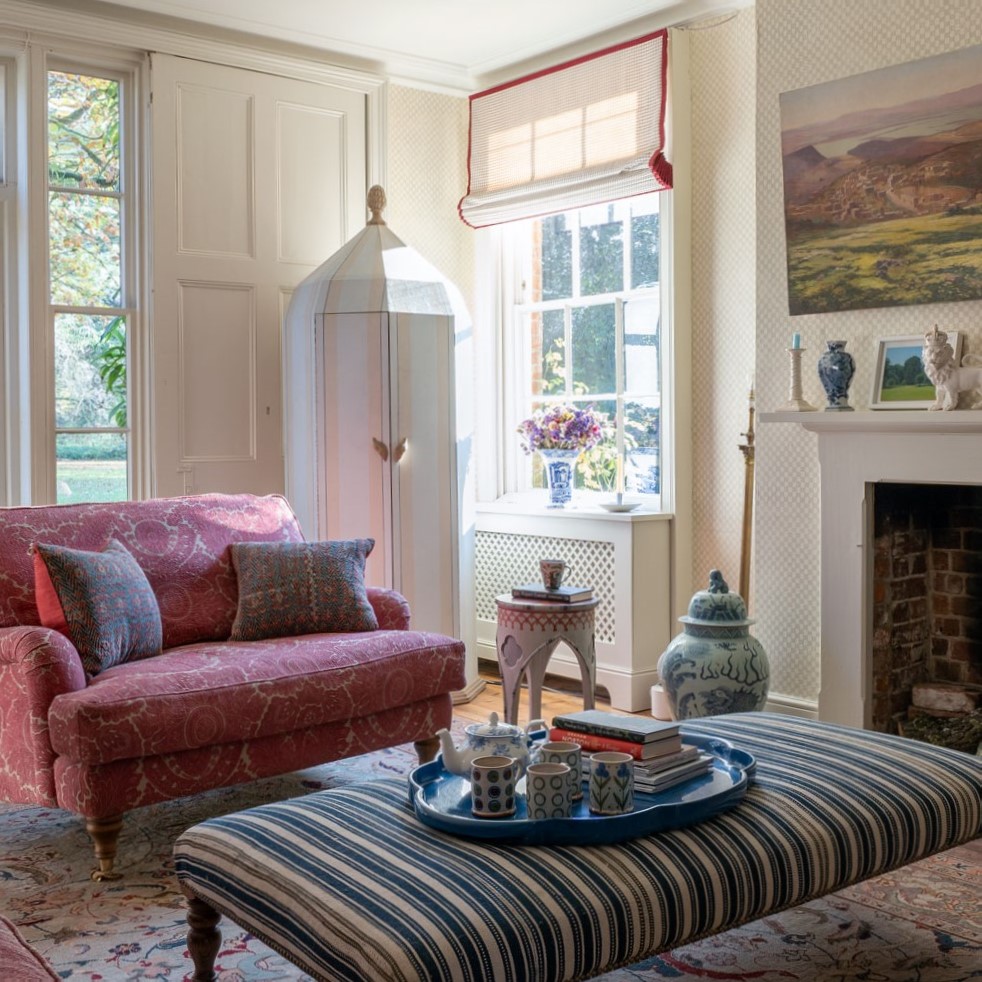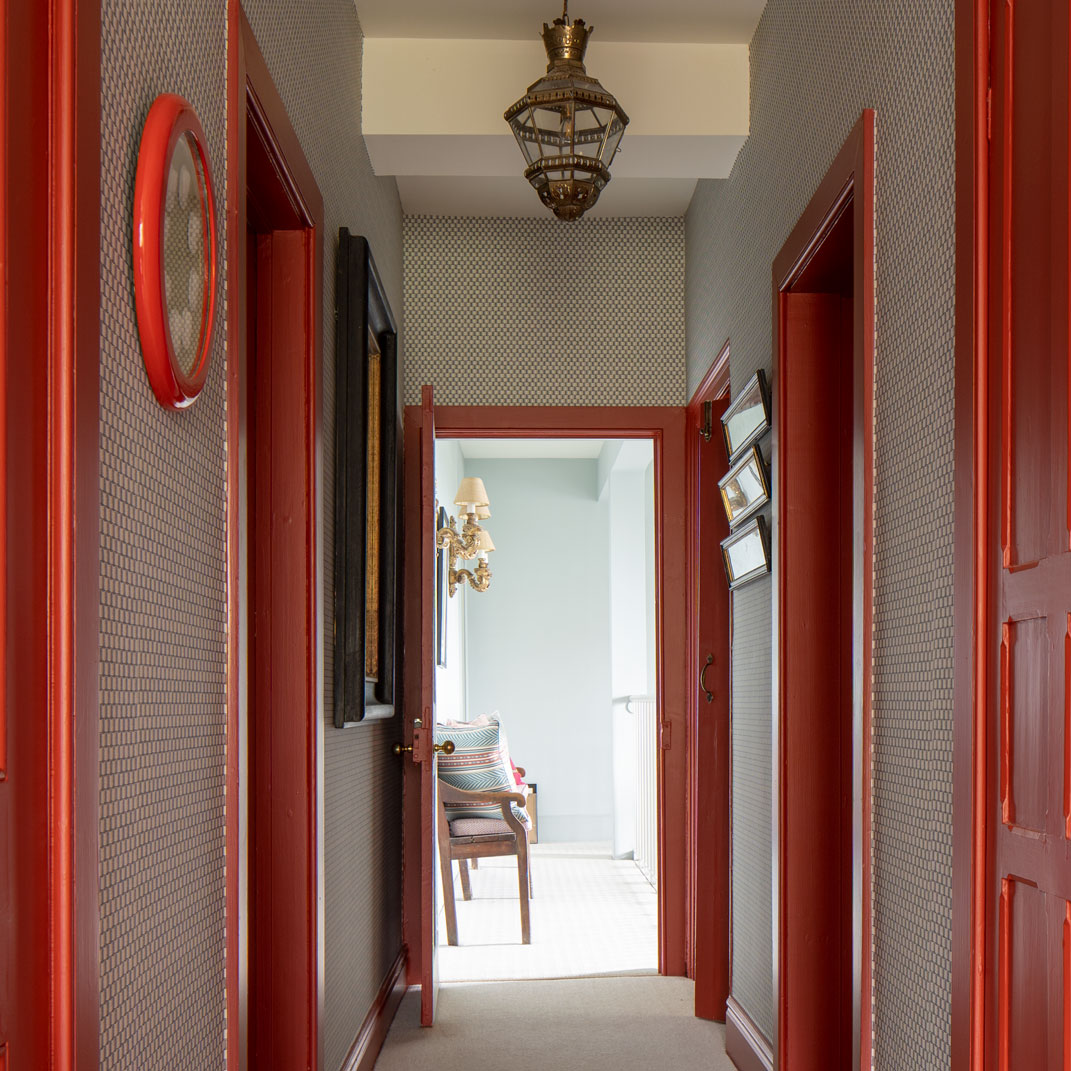 A Georgian English country home decorated by Susan Deliss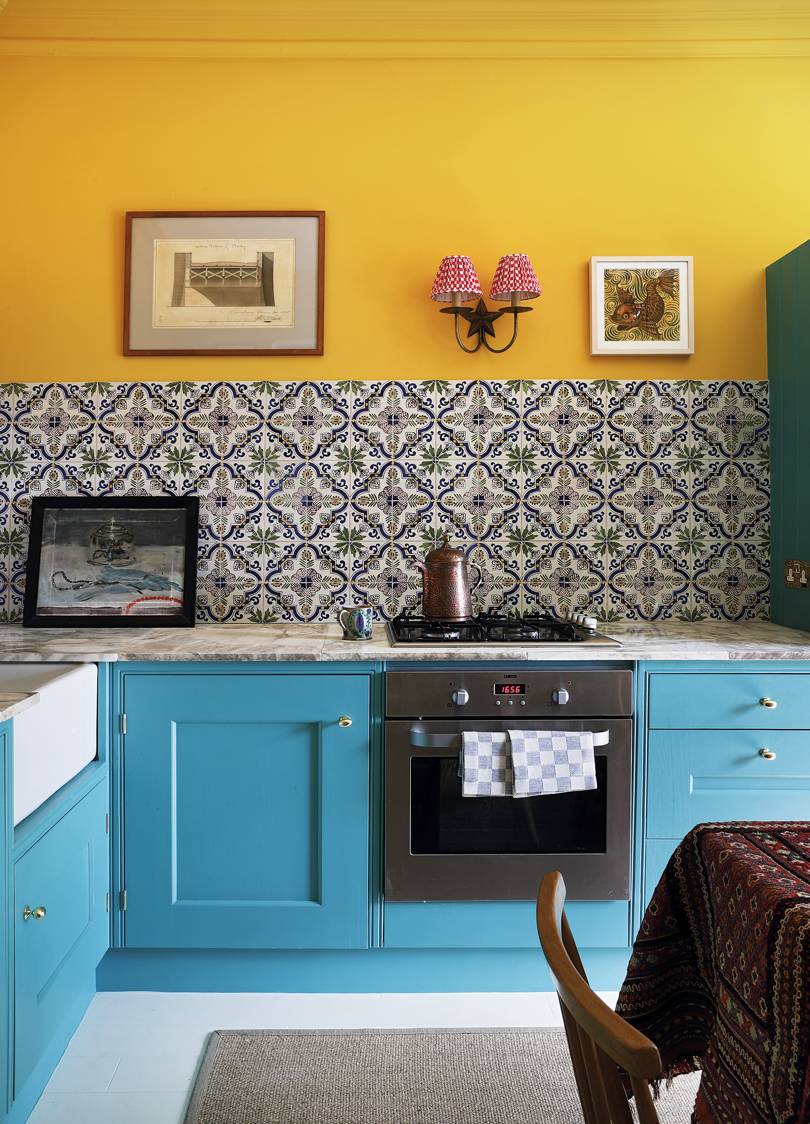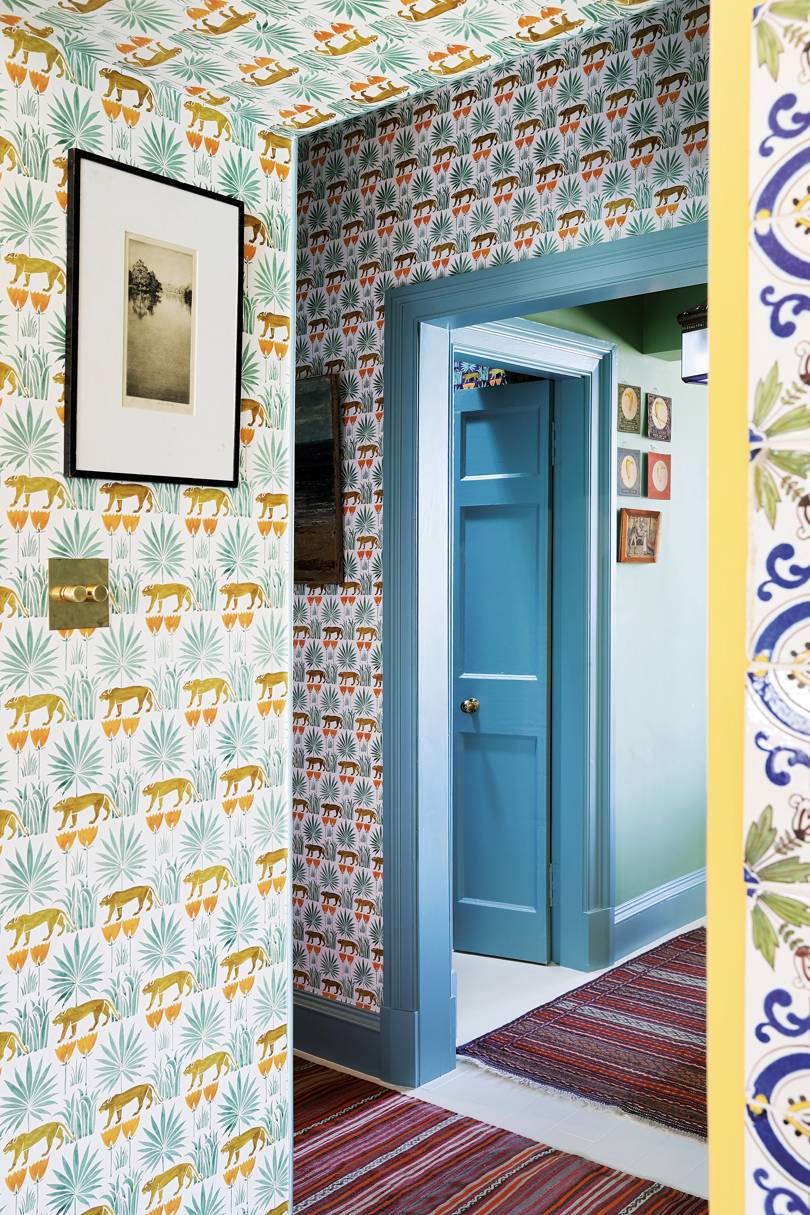 Edinburgh flat by Susan Deliss featured in House Garden. Photos by Elsa Young 
Which part of the process of creating a new fabric design do you enjoy the most? which one is the most challenging?
I love the beginning and the end of designing a textile.  The idea behind a new design is very exciting and there is a thrill at the end when something beautiful emerges but there is often a long and laborious process of developing the design.  With both weaves and prints, you start with the design and refining colour comes later.  Weaves are much more complicated technically to achieve than prints. The most challenging elements are working with the restrictions of particular types of loom – for example, I might only be able to use a maximum of 8 yarn colours, some of which will be combined to create a single new colour, which can be very frustrating when trying to create a complex colour or pattern.  The start-up costs of developing a print can also be quite off-putting.   I feel bad sometimes for pushing people who have already worked very hard on a new textile to go further and further until it really feels right.  Robert Kime came to see me in my studio and I said that I drove everyone mad trying to get things absolutely right.  His response was "you must"!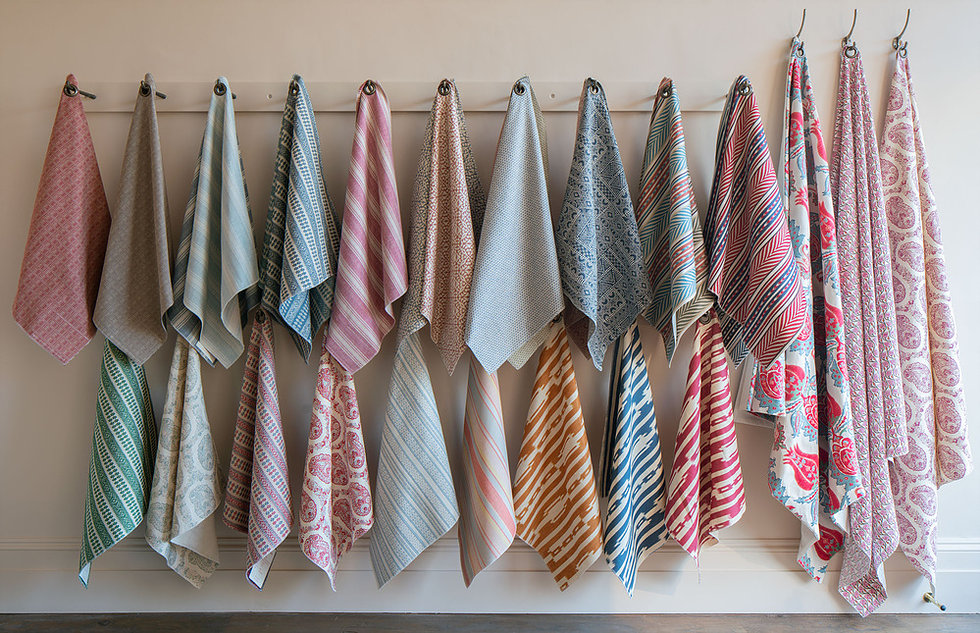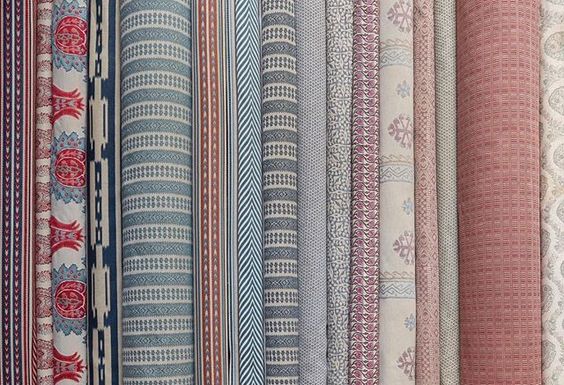 A selection of Susan Deliss fabrics available to buy by the metre.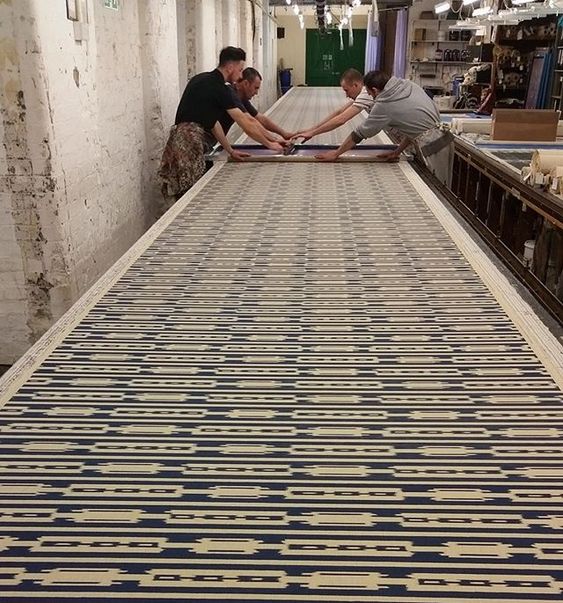 The 'Theodora' fabric in Indigo being hand printed in England.
Do you consider that social media has helped you to grow your business in any way?
It has helped enormously.  I started out not wanting to have a website but quickly realised that without a shop that would not be sustainable.  So I set up a rudimentary website and then a very kind client who found me very early on when they spotted one of my early products in "World of Interiors" looked at what I was doing (and not doing) and strongly encouraged me to develop an active social media presence. Since then, Instagram has emerged as an incredibly powerful way of reaching a wider audience, both directly and via reposts.  A small business can have relatively large leverage for a relatively low cost through social media compared to traditional media.  Having said that, a quality social media presence takes a lot of thought and time.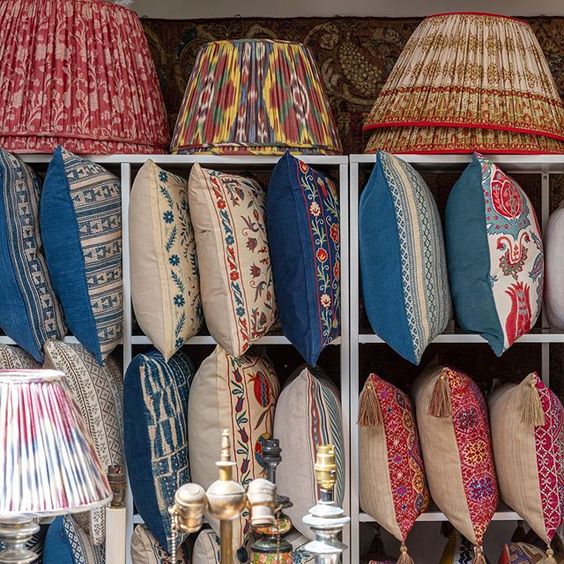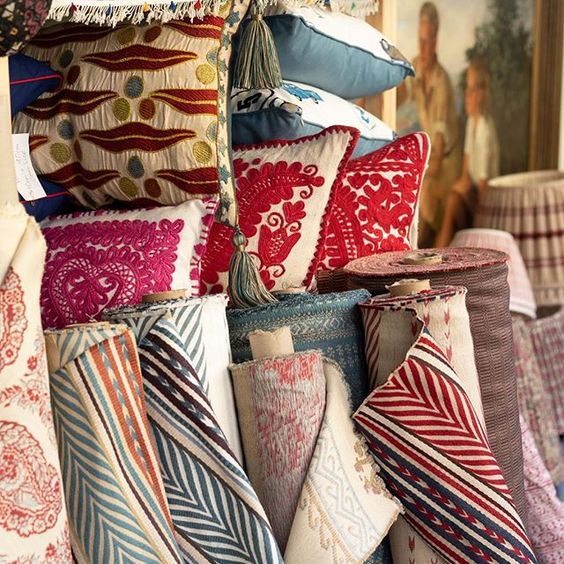 A selection of Deliss fabrics, bespoke cushions and lampshades available at her showroom in Notting Hill.
You have an incredible collection of antique textiles – do you follow any rules when it comes to acquiring new pieces or you just follow your heart?
I follow my heart – I buy what I love.  It's very easy to get carried away though when sitting drinking delicious coffee among piles of textiles in Istanbul in particular so one has to keep some degree of objectivity.  More generally, I can't resist buying quirky, unsaleable, often damaged but beautiful textiles for me that feel like they have travelled and have a bit of a past.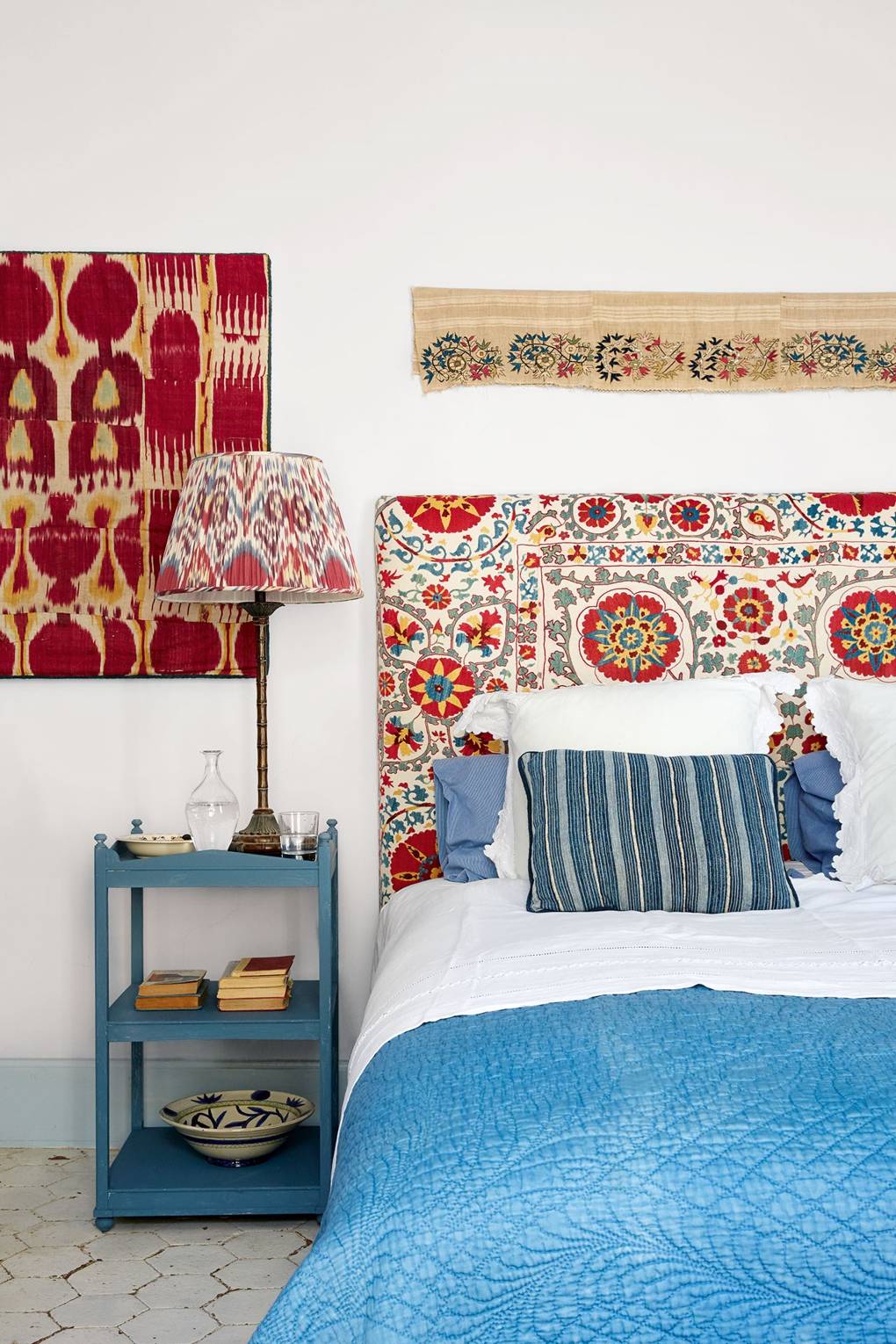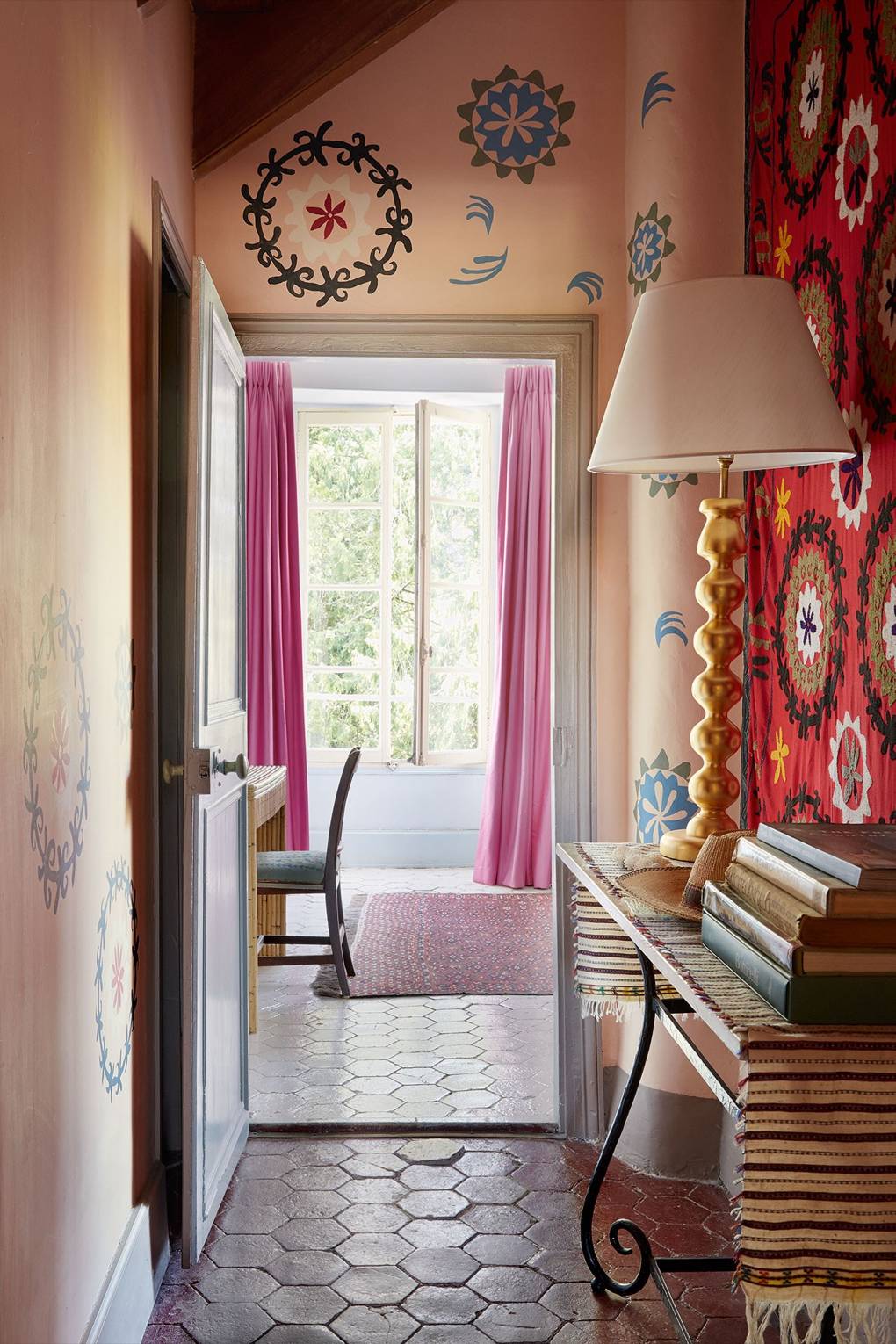 The main bedroom in Susan Deliss's home in France features a simple headboard in the made from an antique suzani. An antique Ikat textile has been mounted to a board form to create an artwork for the wall. The antique quilt has been hand-dyed with indigo. On the landing outside the main bedroom hangs an antique Suzani; a motif from this inspired the decoration around the doorway, which was painted by Susan husband Max. House & Garden. Photo by Paul Massey.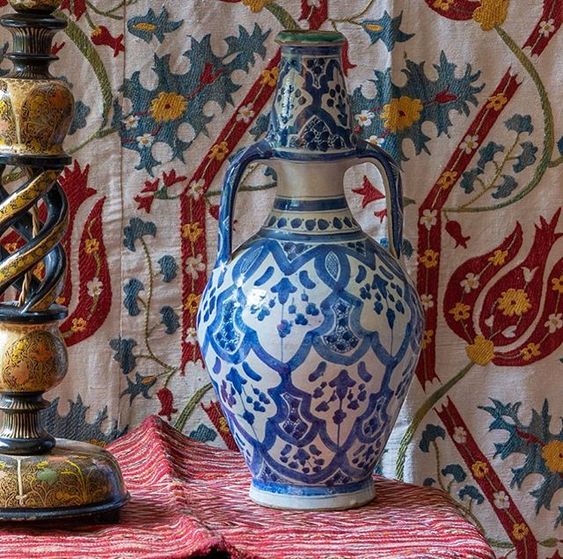 An antique Suzani and Moroccan vase sourced by Susan
Thank you so much, Susan!
For more information visit http://www.susandeliss.com