While I was researching about the home of Judie and Bennet Weinstock for my previous post dedicated to gingham, I stumbled across a book on google called 'Window Dressings: Beautiful Draperies & Curtains for the Home'  by Brian D. Coleman. Google allows you to browse online a few pages of the book and I thought that the fascinating world of window treatments would make a, hopefully, very interesting blog post!
When I started to write this piece I thought it would be useful to have some expert advice so I reached out to Emma Stewart, who specialises in bespoke curtain making, upholstery and soft furnishings to the trade. Since I found all the insightful info that Emma shared with me very helpful I will be dividing this post into two parts so I can share everything from our conversation as well as some images of my all-time favourite curtains.
How to choose the length of the curtains.
Curtains really do change the feel and style of a room and depending on what you would like the curtains to say about you and about your home there are numerous options!
Getting the correct length is certainly in the top three decisions you can get wrong in so far as what is the look you are aiming for. So when I talk about what lengths the curtains should be with my clients – we first, of course, assess the window: what's beneath it or indeed above it? are the curtains floor-to-ceiling? is there a radiator below? wall lights to the sides? a beam to navigate? With many period houses, especially cottages – we have to learn to love the irregular walls and sloping floors, so the length of the curtains can cleverly correct these characteristic – at least to the naked eye!
It's all of these things you need to take into consideration when thinking about the length. Then, when the practicalities are all watertight – you can have fun working with your selected fabric and decide what headings will look most beautiful.
For me, the ideal curtain would be long and full with soft undulating pleats helped by using a beautiful lining fabric from Nile and York and a good quality interlining.
The time of oodles of puddling fabric spilling over the floor beneath curtains may have passed but having a few centimetres so that the curtains 'break' on the floor will soften the feel and also add a little casual luxury.
As the pleats will not fall in a completely organised fashion the light and dark of the shadows in the pleats will add another texture and dimension to your fabric choice.
However,  if the curtains are in a high traffic area such as a garden door, you may wish to have them finishing just off the floor – one could even consider a deep border along the base of the curtains that can cope with a muddy Labrador's tail on a daily basis!
For a sleek tailored finish, I would suggest finishing just off the floor where possible and using a simple tailored hand pinch pleat or cartridge pleat. The type of fabric chosen will also affect the finished look greatly – large curtains need to be moved about a fair bit during the making process so make sure that it is alright to steam the creases out of the fabric – never steam a moiré!
For smaller windows that have a large amount of space above and below I would still go for the drama of a full length curtain but with a pelmet or valance above. I would be keen to avoid having a large amount of space on show between the top of the window recess and a curtain pole which can look unbalanced!
Short curtains in smaller rooms can look terribly sweet and suit a cottage style and work well with a hand gathered or dainty tape finish but I would say not to have short curtains if you are hoping to get a tailored neat finish as this can look quite un-evocative.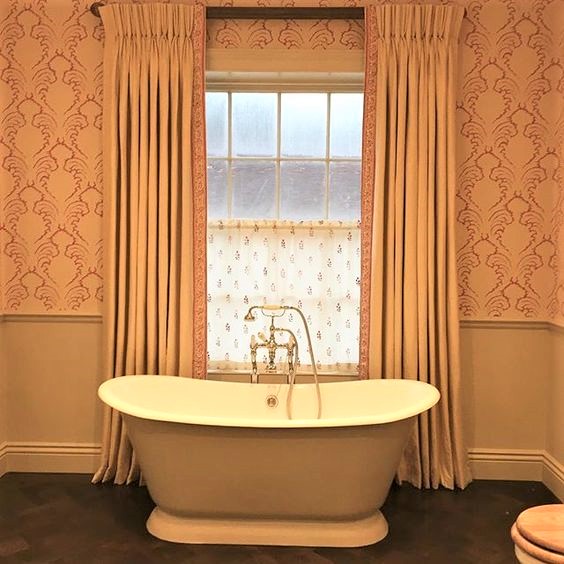 Curtains by Emma Stewart in two projects by VSP Interiors
Working for interior designers who have differing styles means that I need to ensure that I have understood the client's preferences and so I quite often will sketch out a window treatment to scale as a visual aid.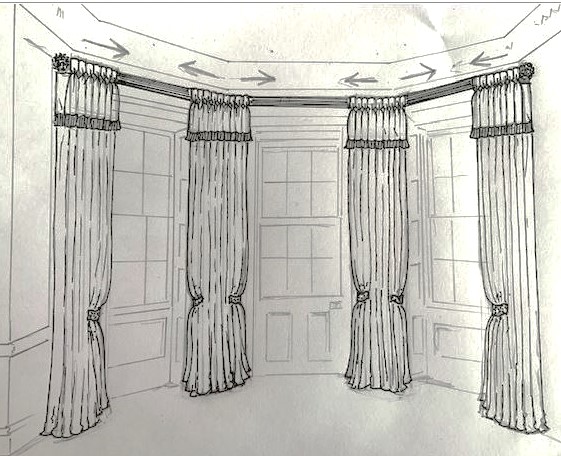 A series of cape headed curtains with bullion trimming reusing the original embraces. Sketch by Emma Stewart.
After speaking with Emma I wanted to also have an interior designer's point of view on window dressing. I wrote to Kate Aslangul, founder of Oakley Moore – an award-wining London based interior design practice. In the past, I've mentioned to Kate how much I loved the curtains in her projects and I wasn't surprised when she told me she used to be a curtain maker. Naturally, designing the window treatments in their projects is always amongst her favourite tasks.
I always start designing a room by looking at the sight lines from every angle – what will the client see on a daily basis? I create modern timeless interiors that feel elegant and comfortable, spaces to live in and enjoy and that will lift your spirits for years to come as I believe that where we live has a big influence on who we are and how we live – something we are all recognising during this lockdown. Windows are nearly always in a sight line as our gaze is drawn to the outside, drawn to the light.
How you dress a window can make or break a room. Curtains not only affect the appearance of the windows but they also alter our perceptions of the proportions of the room as a whole. Whether your style is pared back, sculptural, dramatic, formal, or easy-living the first most important thing to do is to stand back and assess the window, the architecture, the light, and the proportions. Window treatments should frame a view – never dress a window in such a way that it fights with a stunning view outside.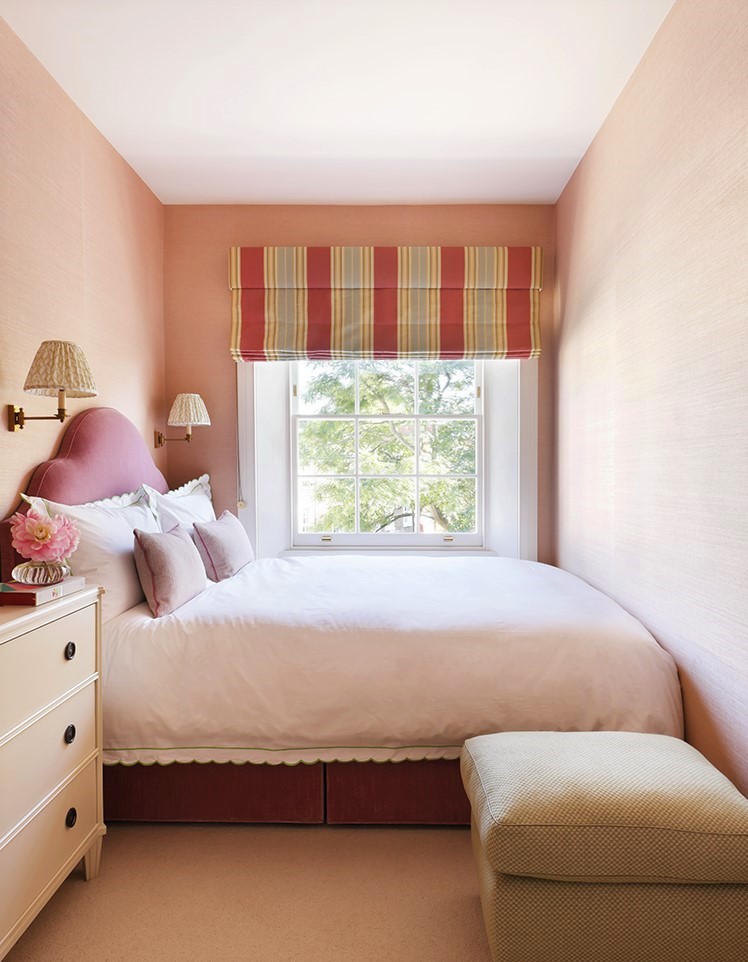 An Oakley Moore London project with  a tailored roman blind in a Schumacher fabric and an upholstered pelmet with the stripes aligned.  'Perfect and smart for this Georgian sash window.' says Kate.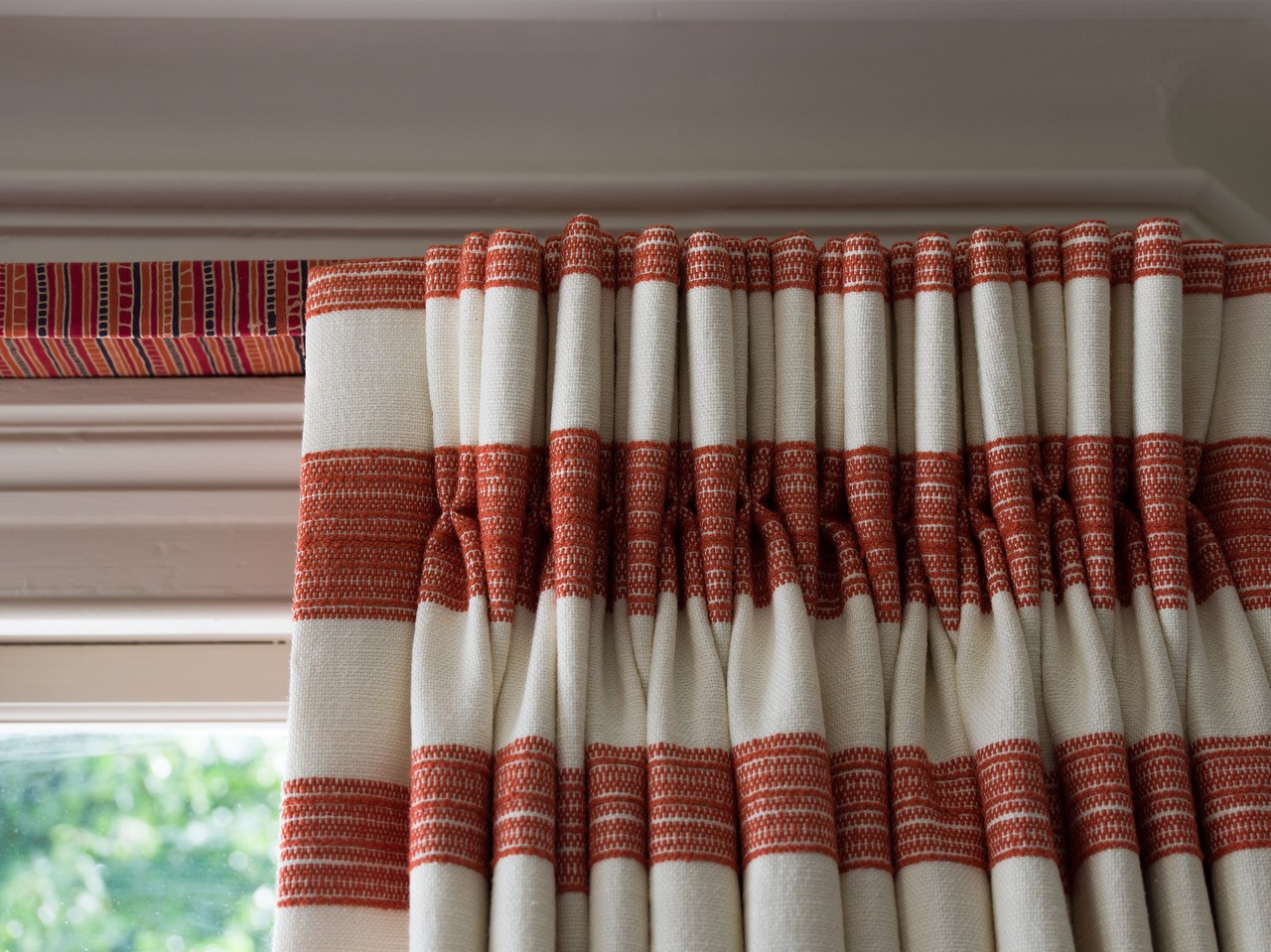 Christopher Farr & Objets Nomad stripe, a wonderful horizontal stripe, was used on this Victorian terraced house bay window by Oakley Moore to give the illusion of width. A horizontal stripe pulls the eye to the sides.  Paired with a covered lathe and fascia in an ethnic print from Warris Vianni
The chief ingredient in any successful window treatment is imagination. Often the best designs are those where a traditional idea is injected with a touch of originality – in the proportions, the detailing or the choice of fabric and trims.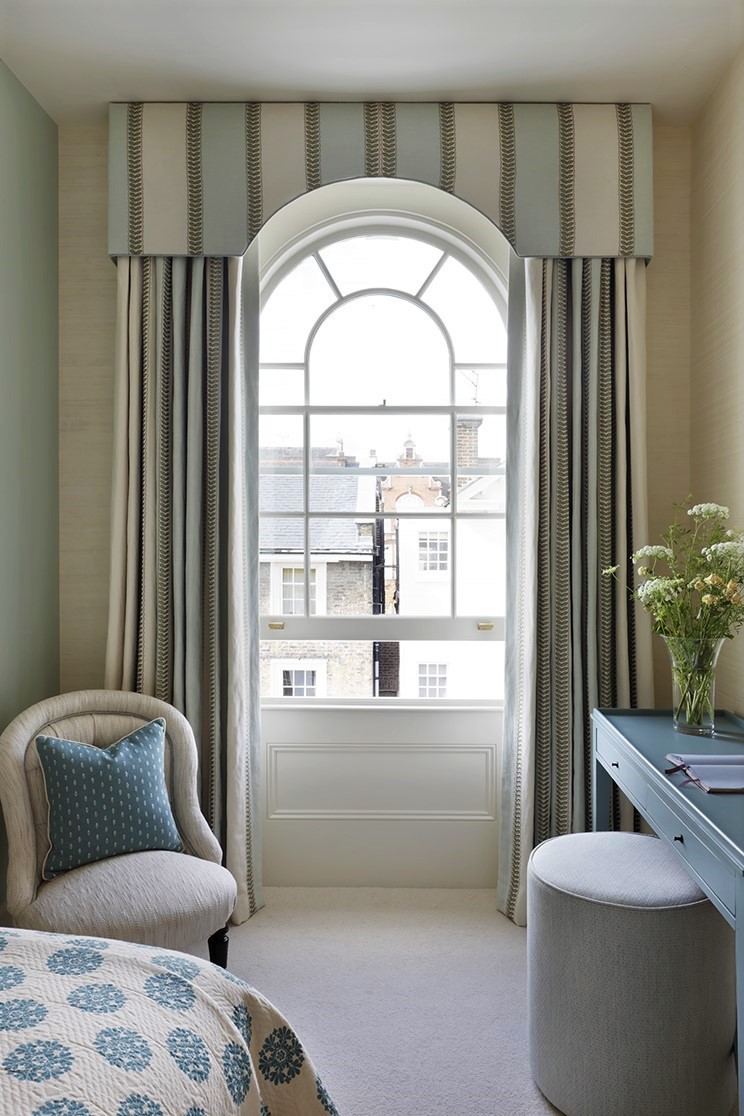 London Townhouse by Oakley Moore. The Colefax and Fowler fabric with Samuel and Sons piping around the edge of the upholstered shaped pelmet add definition. Designed and templated by Oakley Moore Interior Design, made up by Emma Stewart. 'We doubled the embroidery in the centre of the pelmet to ensure that the pattern repeat fanned out evenly across the width of the pelmet and accentuated the centre point of this gorgeous Georgian arched window in this London project near Regents Park'
After this super useful information by Kate and Emma (that I will be saving forever!) I wanted to share some of my favourite window treatments from past and present interior designers.
Veere Grenney always does wonderful window treatments in his projects and he often uses curtains to frame beds which I love!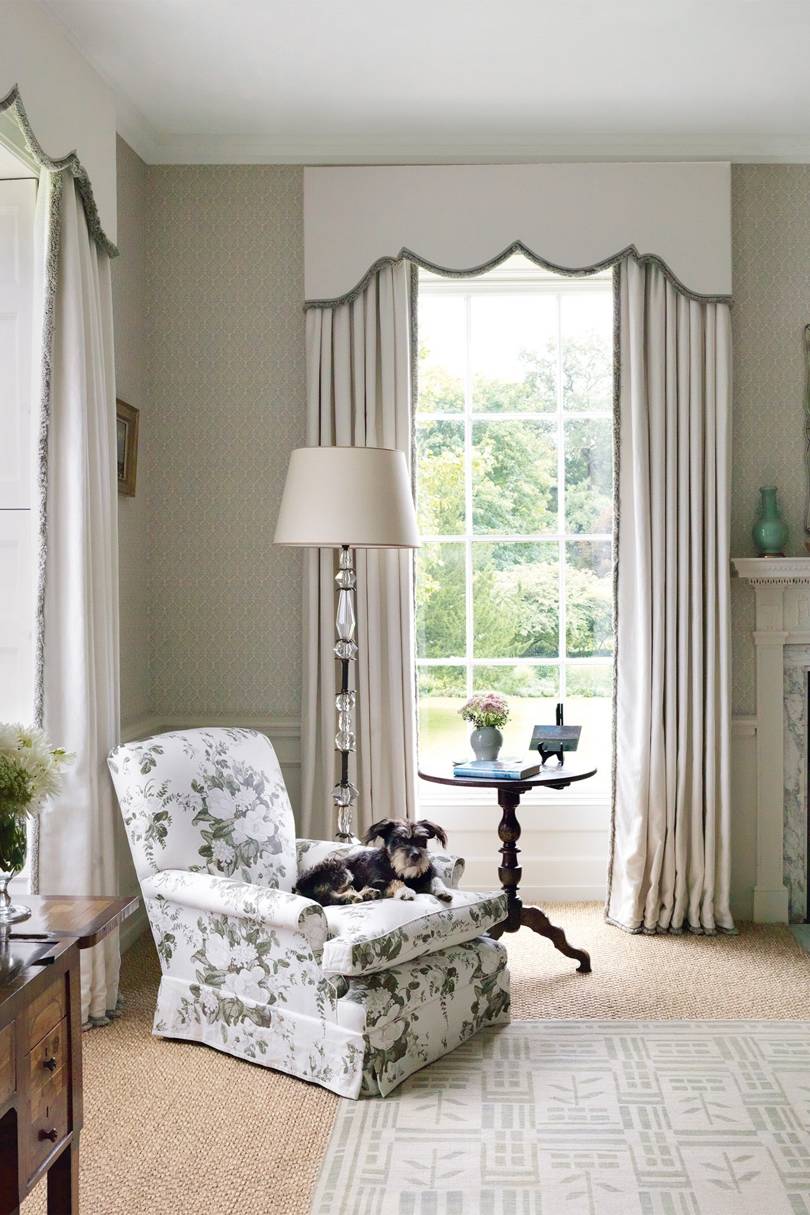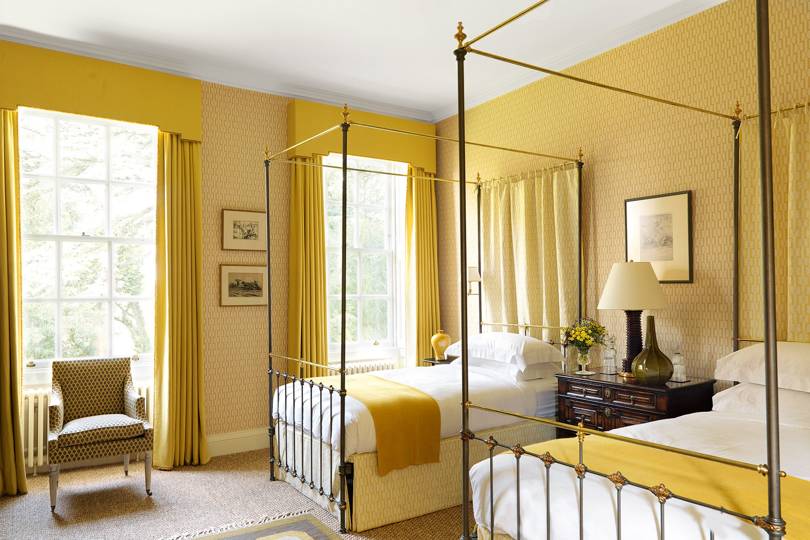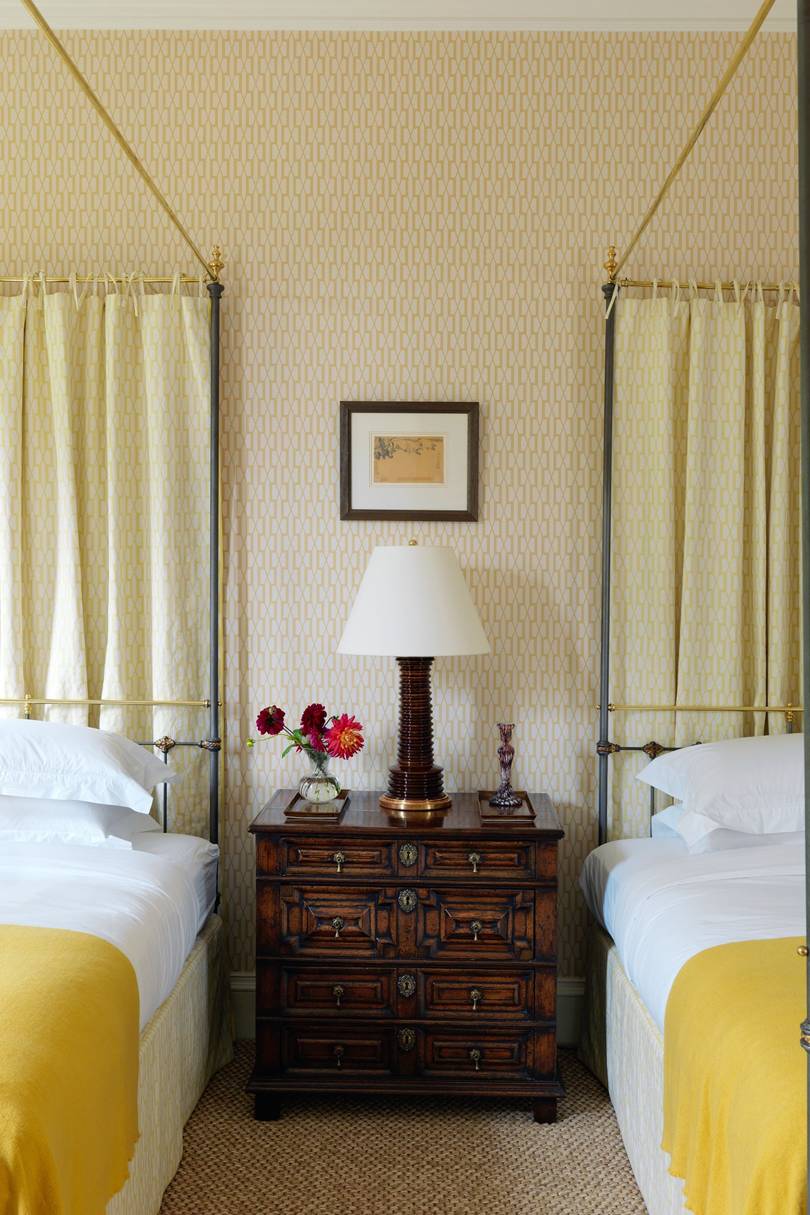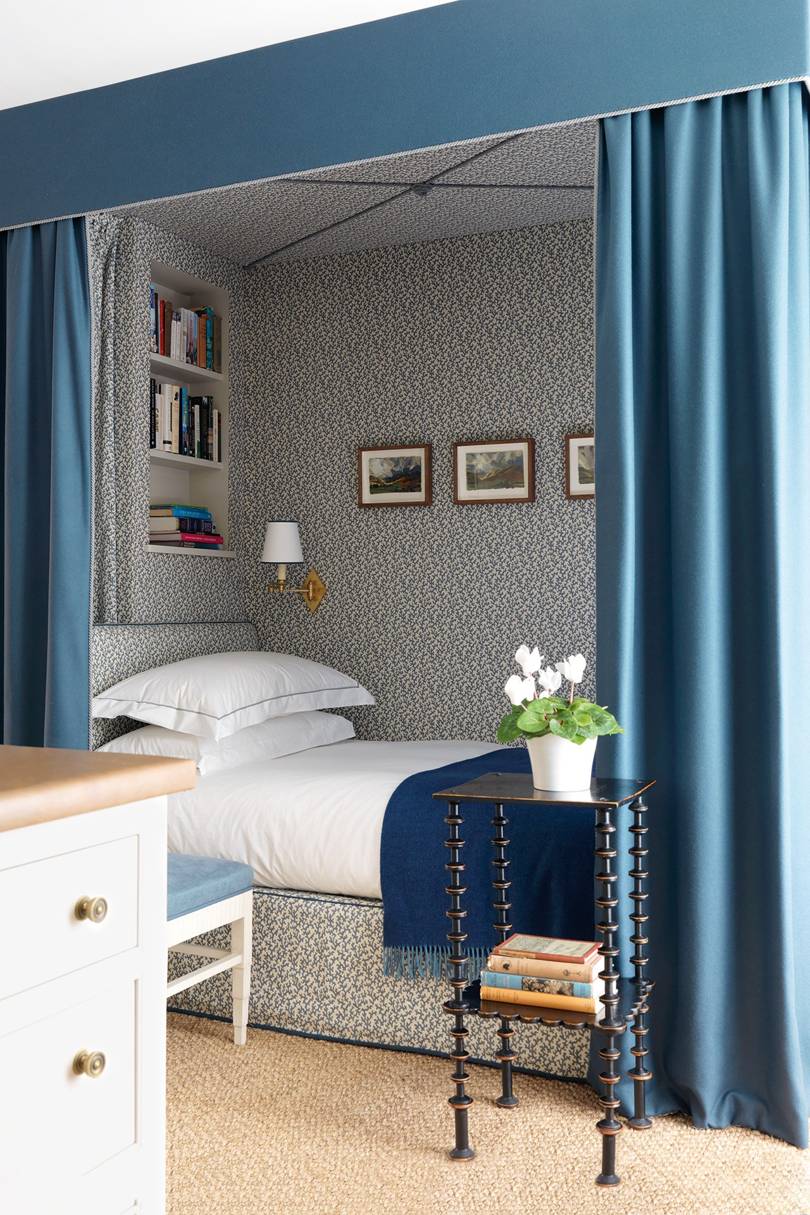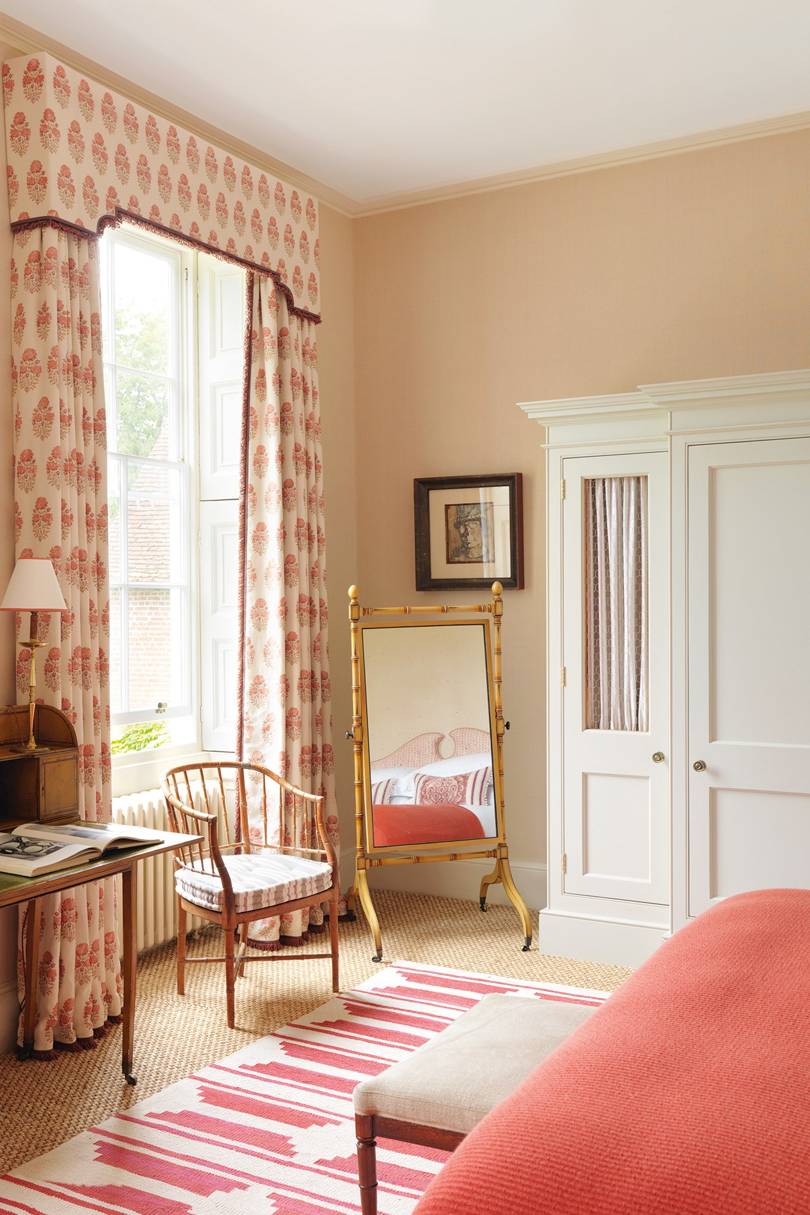 A country home in Norfolk featured in House and Garden  In this bedroom the curtains are made in 'Mughal Flower' linen from Lisa Fine Textiles. House and Garden. David Oliver photography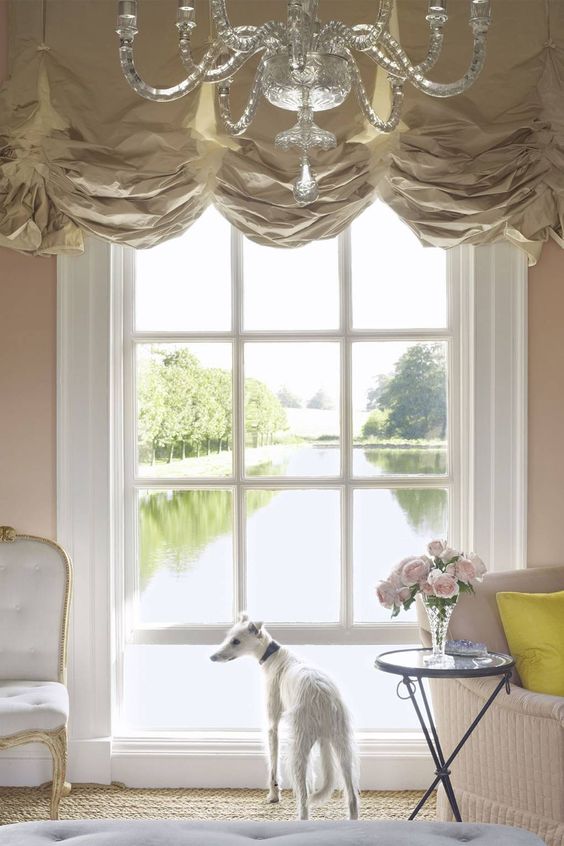 Veere Grenney's second home, an eighteenth-century folly previously owned by David Hicks. The festoon blinds, made of Fox Linton satin and taffeta from Tissus d'Hélène – disguise the fact that the windows on one side of the room finish higher than those on the other. Veranda Magazine. Simon Upton photos.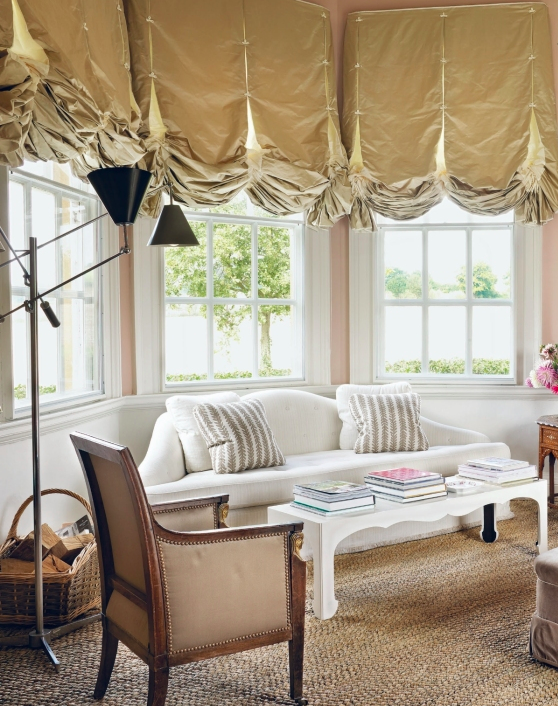 Another view of the same room featured in Grenney's book 'A point of view' David Oliver photography.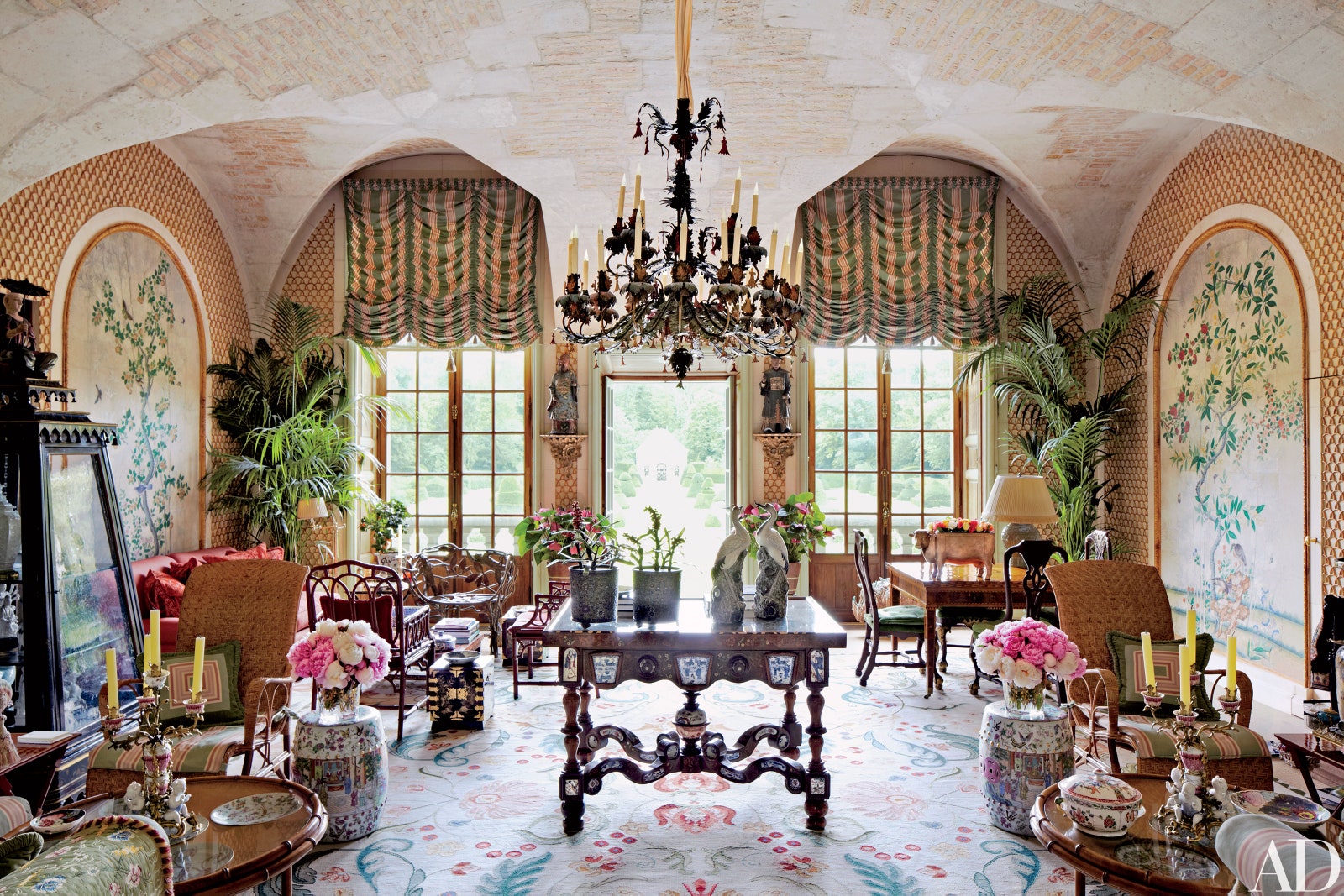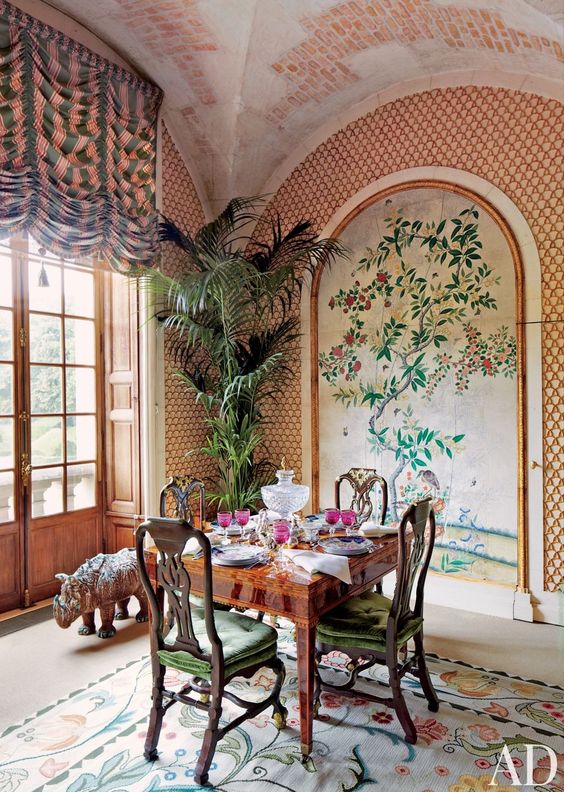 Festoon blinds at Valentino Garavani's Chateau de Videville. Architectural Digest.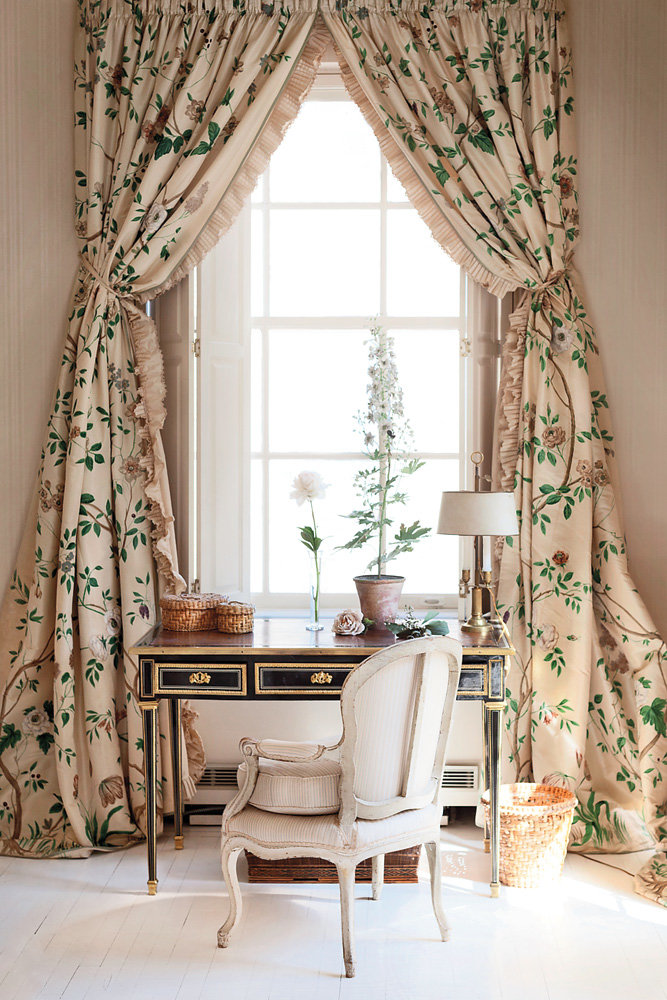 Deeda Blair's bedroom at her Manhattan apartment with handpainted French curtains. T Magazine. Julia Hetta photography.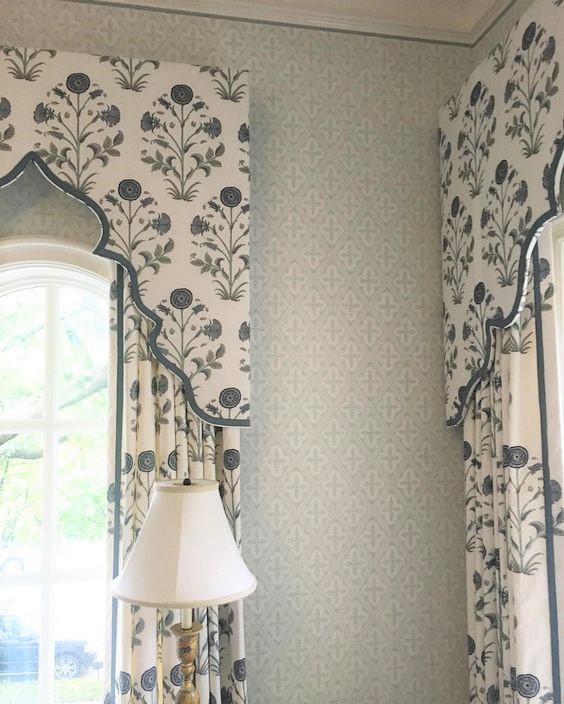 Cathy Kincaid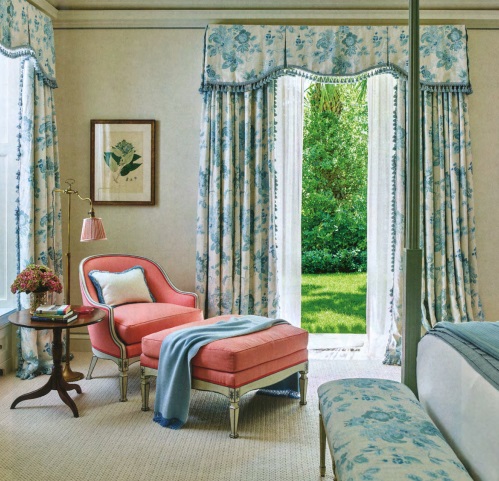 Palm Beach home by Gil Schafer. Blithfield Parham linen on the curtains. Luxe Magazine. Eric Piasecki photography.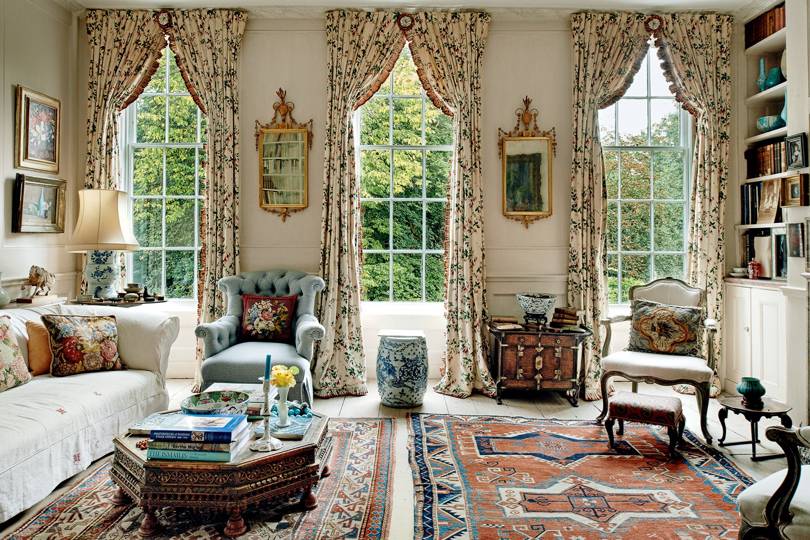 The Twickenham house of Lady Wakefield. At one end of the drawing room, three tall Georgian windows frame the greenery of the garden. The full-length floral-print curtains from Colefax and Fowler add to the effect. House and Garden. Michael Sinclair photography.
Who can forget Mario Buatta's iconic curtain designs? He was a master creating dramatic and impactful window treatments.
'There is nothing like Mario Buatta-designed curtains, trimmed, pinked, lined, interlined, and embellished by hand.' Emily Evans Eerdmans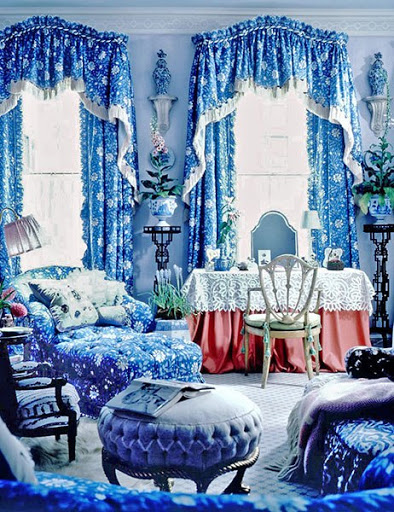 Mario Buatta's Kips Bay Decorator Showhouse, 1984. Architectural Digest. These iconic curtains were auctioned at Sotheby's last January. You can read my blogpost about the timeless  'Verrieres' print here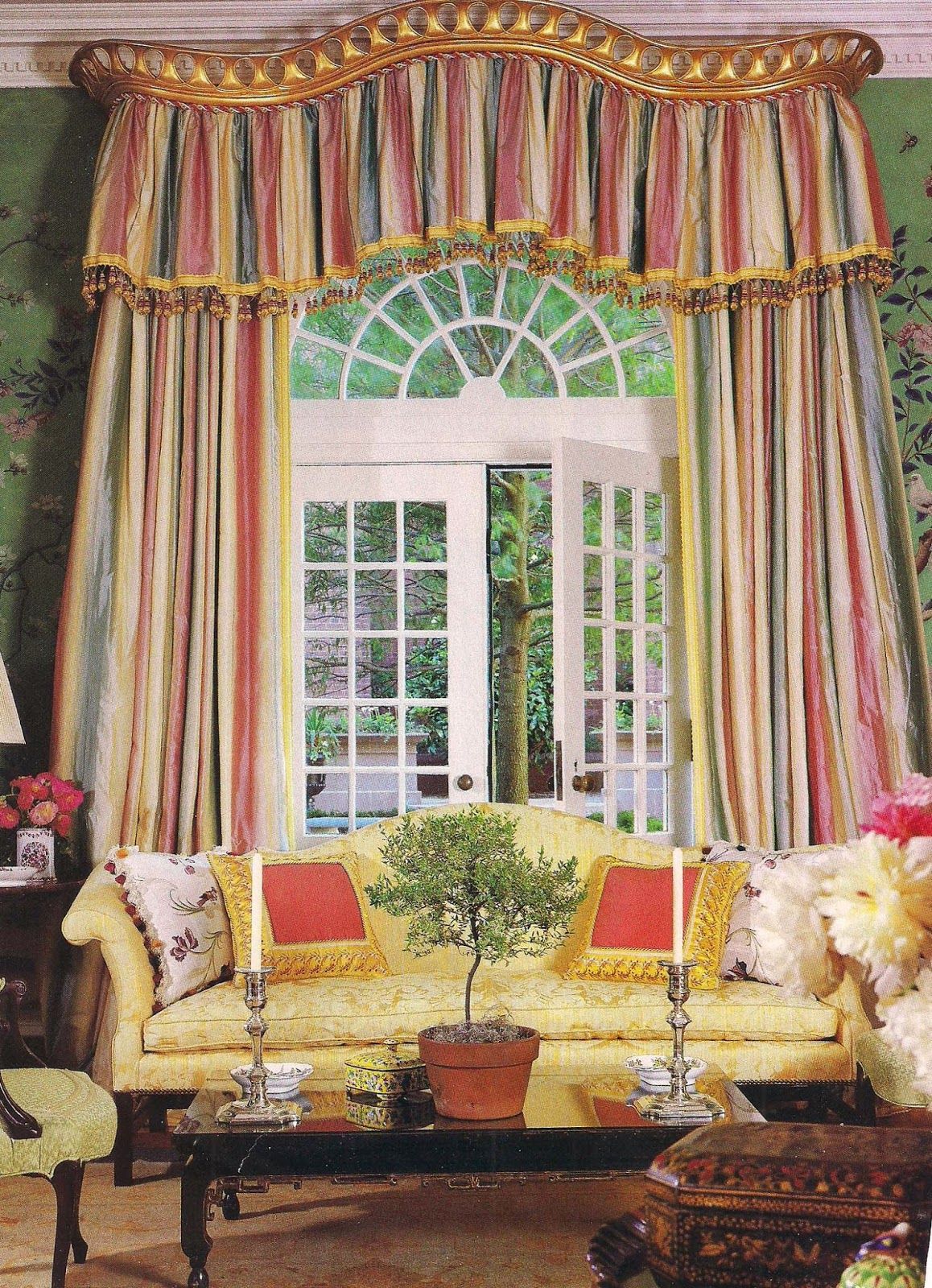 Curtains in the Dillon Room of Blair House decorated by Mario Buatta. 1988.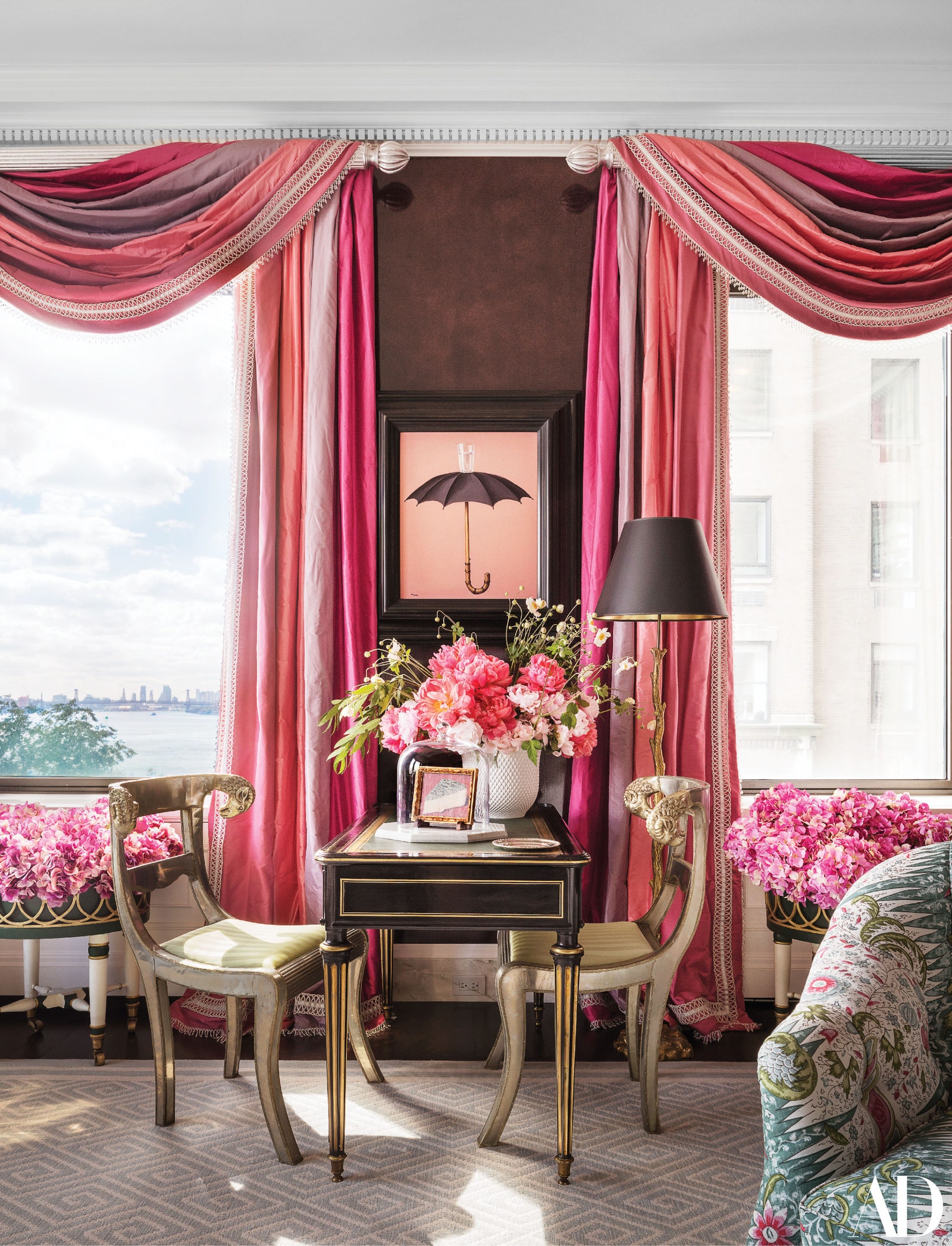 Three different silks, two by Kravet and one by Brunschwig & Fils, make up this living room curtains in Buatta's latest project. Architectural Digest. Scott Frances photography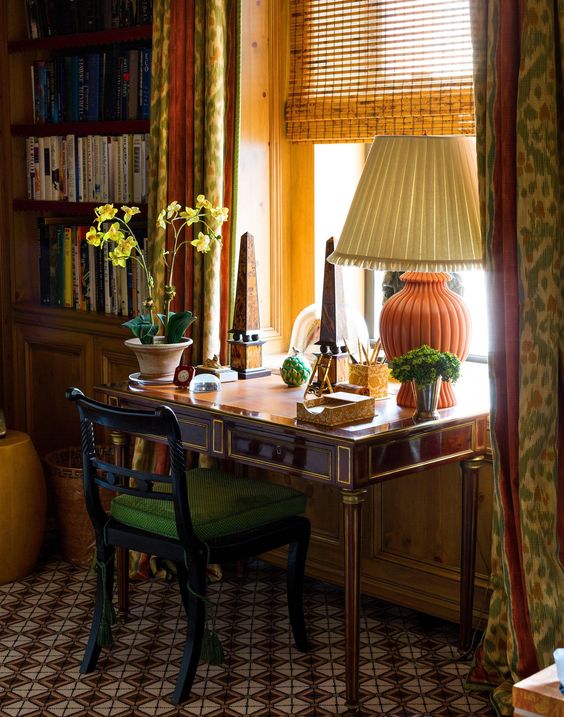 "Wiggle-stripe" cotton curtains and tortoise-shell bamboo blinds in a library of a penthouse pied-à-terre that Mr Buatta decorated for Hilary and Wilbur L. Ross Jr. Trevor Tondro photo for The New York Times.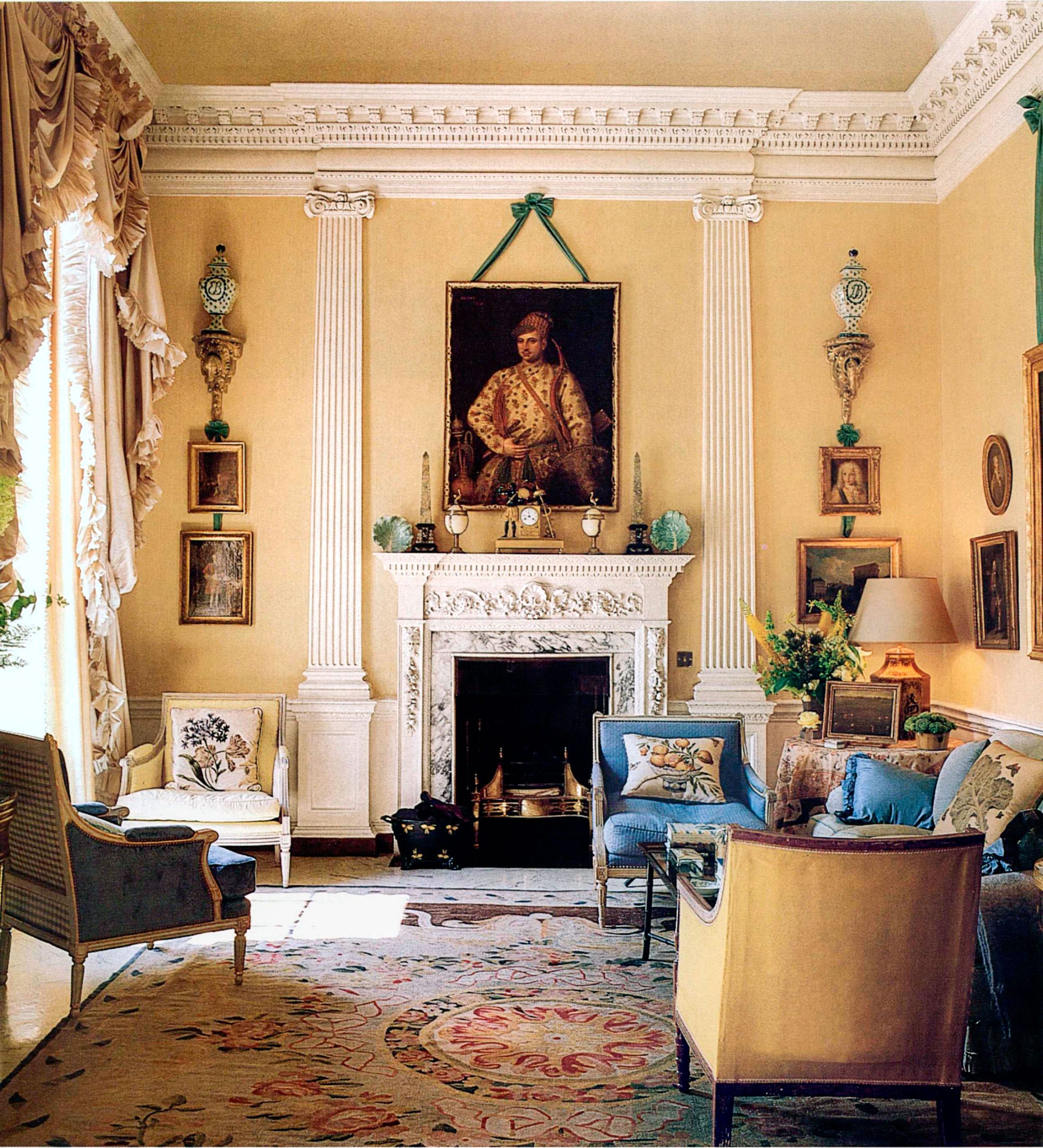 Evangeline and David Bruce London apartment decorated by John Fowler with its legendary silk draperies. Derry Moore photography.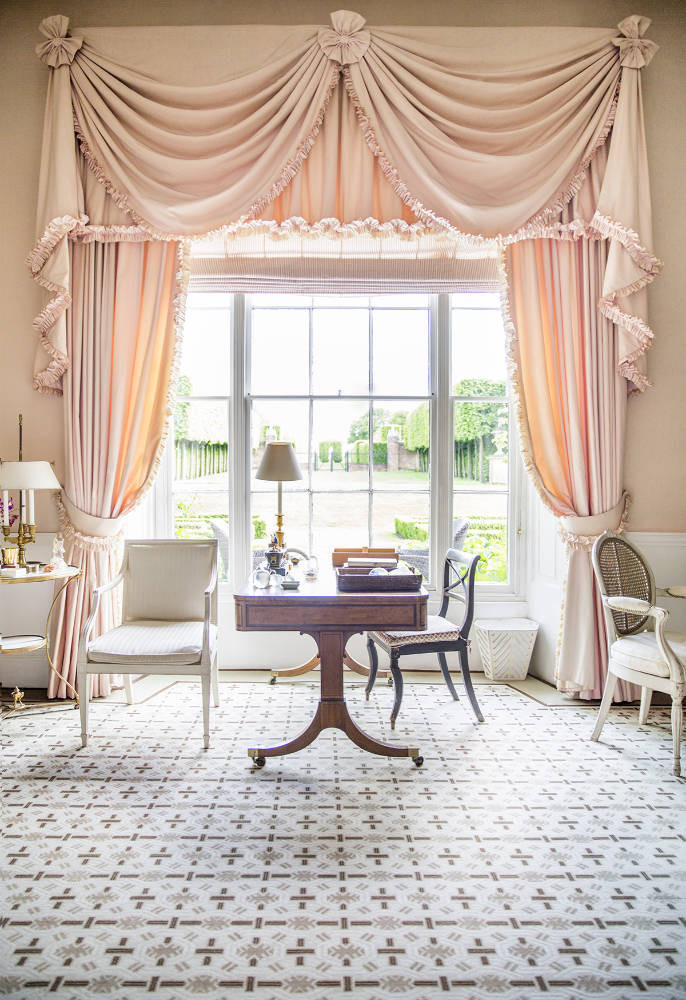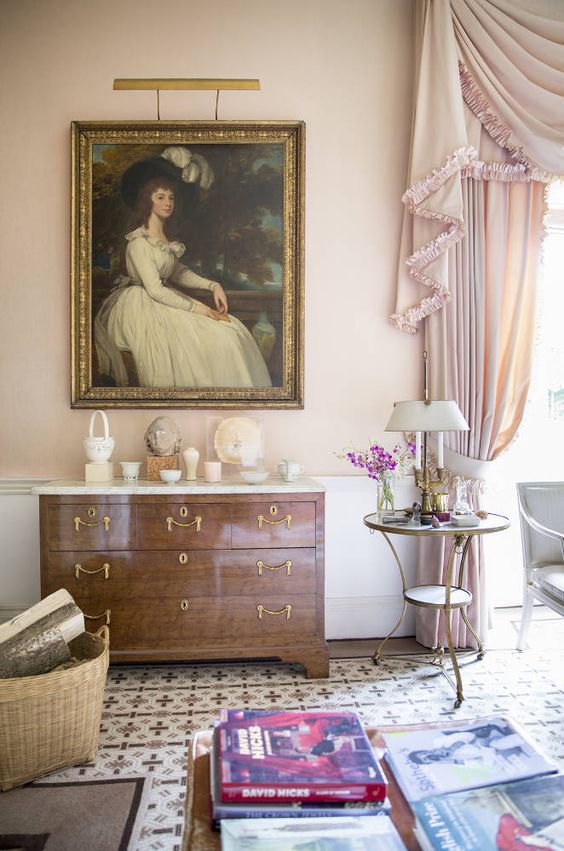 The Grove, the late David Hicks and Lady Pamela home in Oxfordshire.Brittany Ambridge photography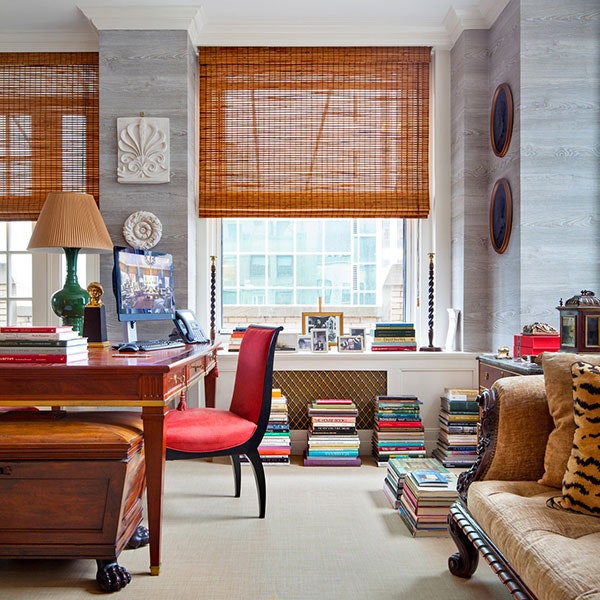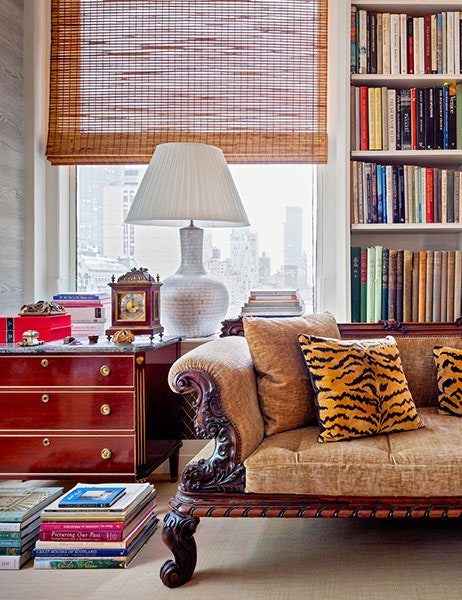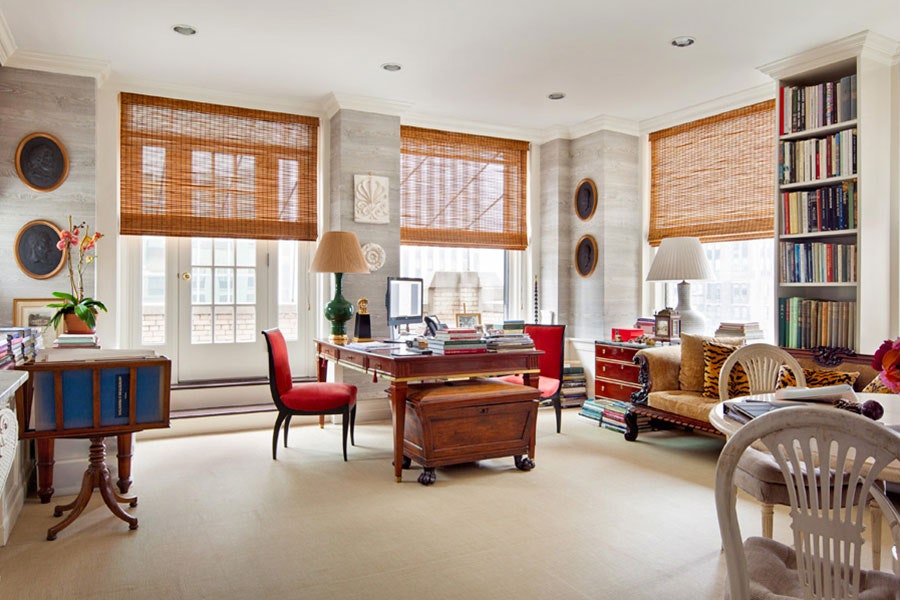 "The bamboo blinds are an essential element because without them it really gets too cold. They help give the space warmth and ground it. The organic materials, including the faux-bois wallpaper, help a lot, especially in conjunction with the fancy medallions and the carved elements that are over my desk." Alexa Hampton Photography by Steve Freihon
Beata Heuman is another favourite when it comes to getting window treatments right. Her projects are packed with brilliant curtain ideas.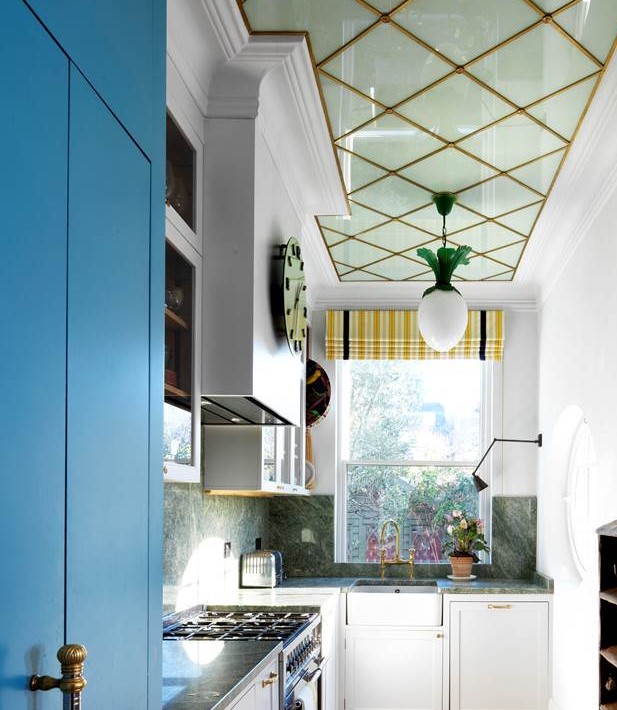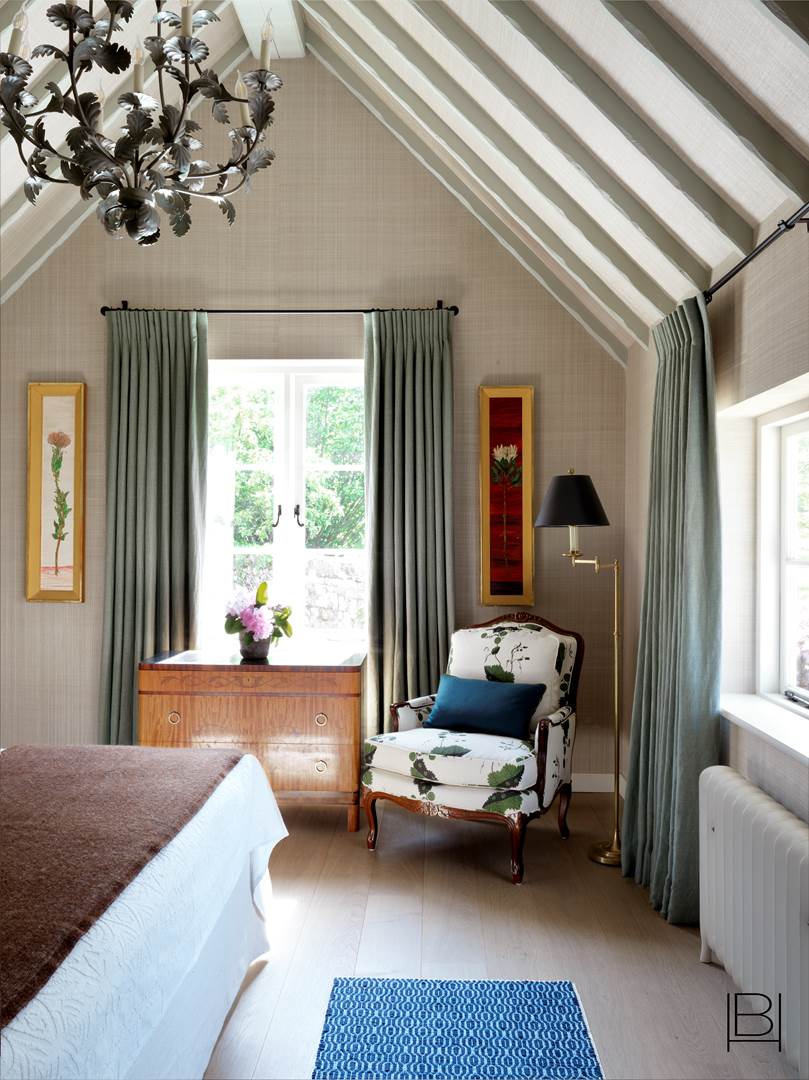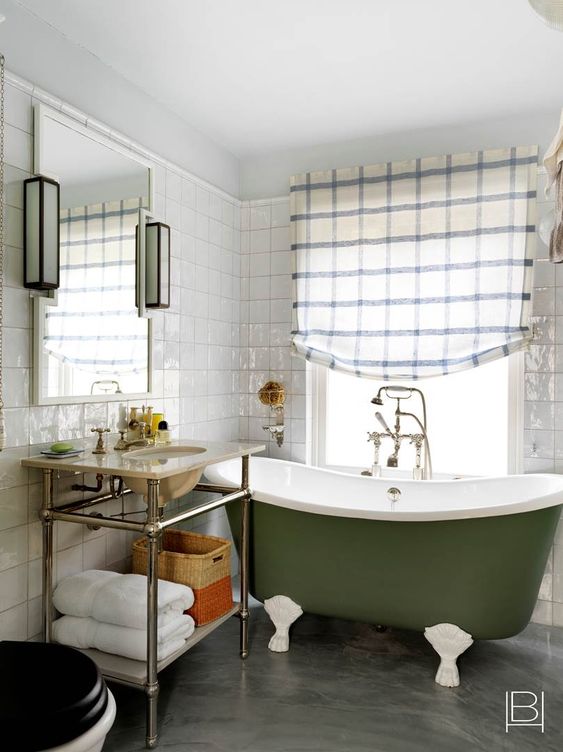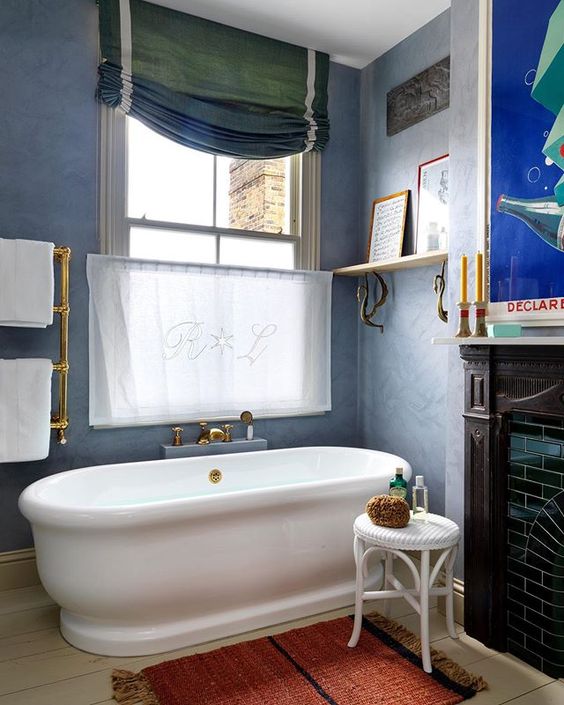 'The ladder stitched half curtain is a nostalgic detail – inspired by my favourite restaurant Trattoria Cammillo in Florence' Beata Heuman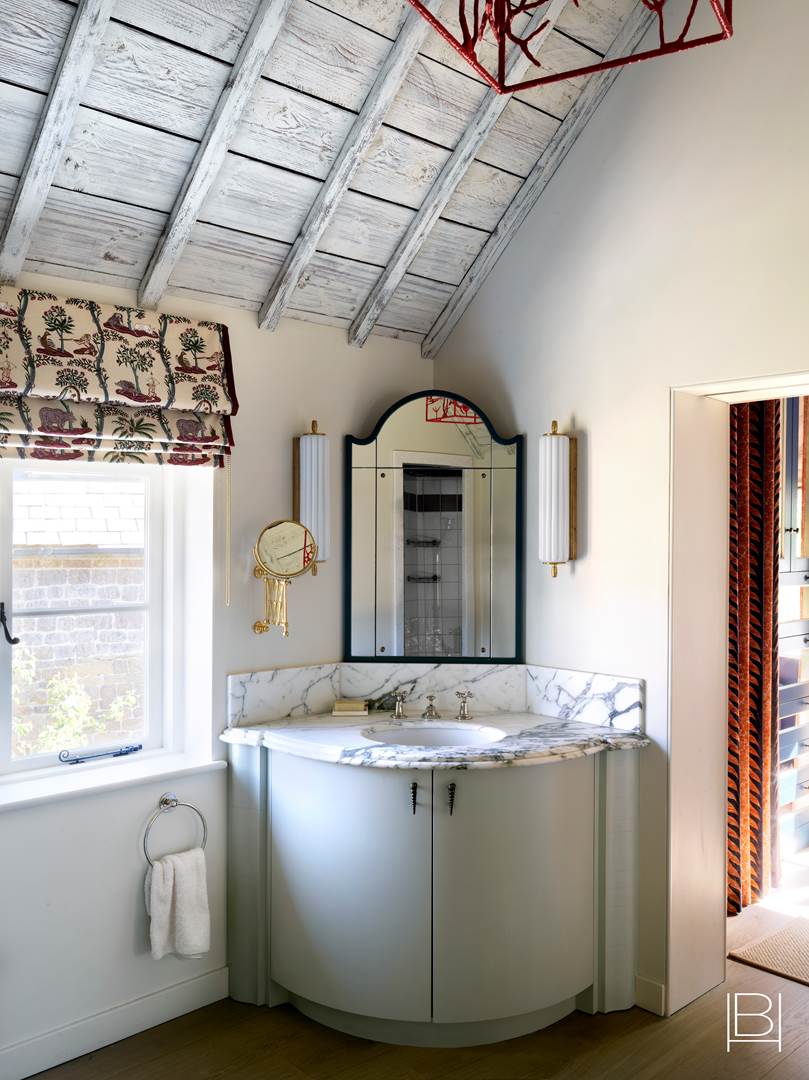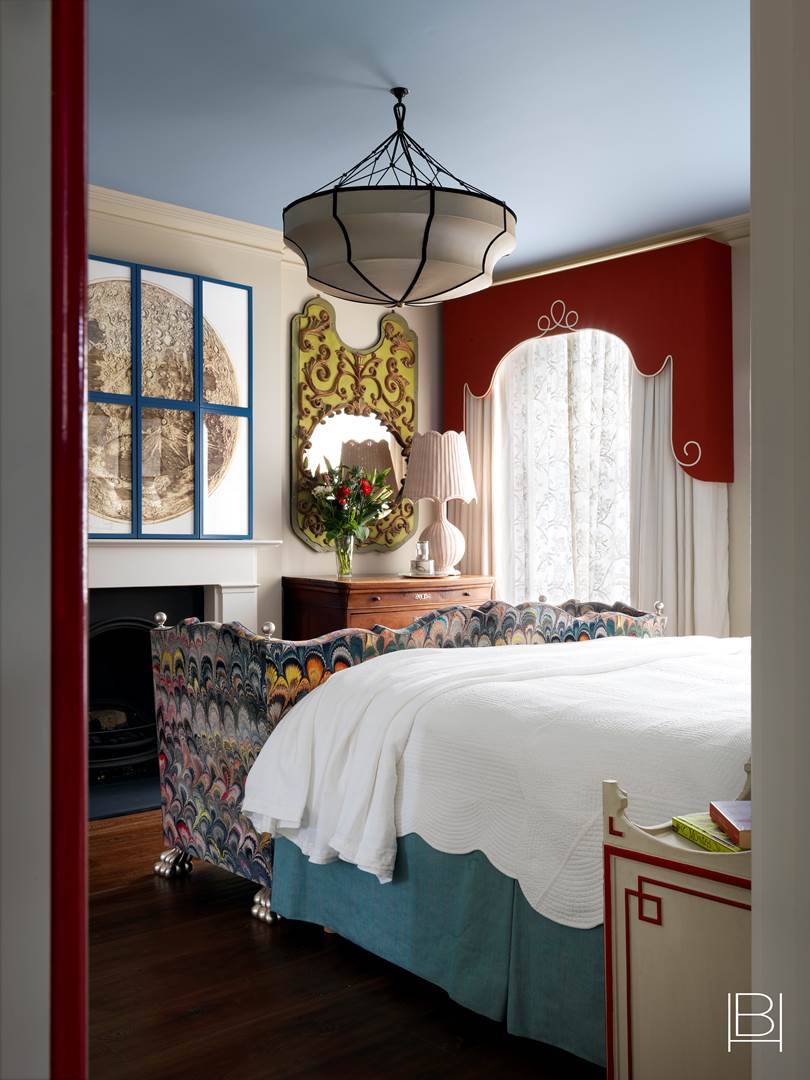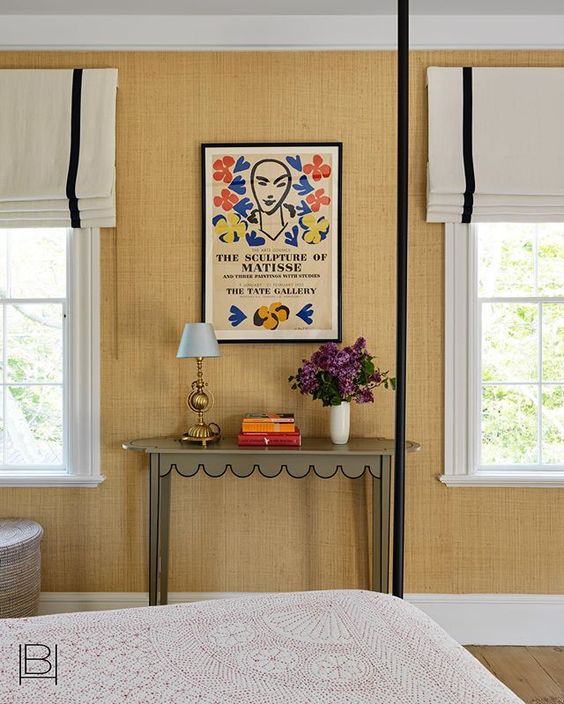 'I love a contrast grosgrain braid on a blind, especially when it's midnight blue' Beata Heuman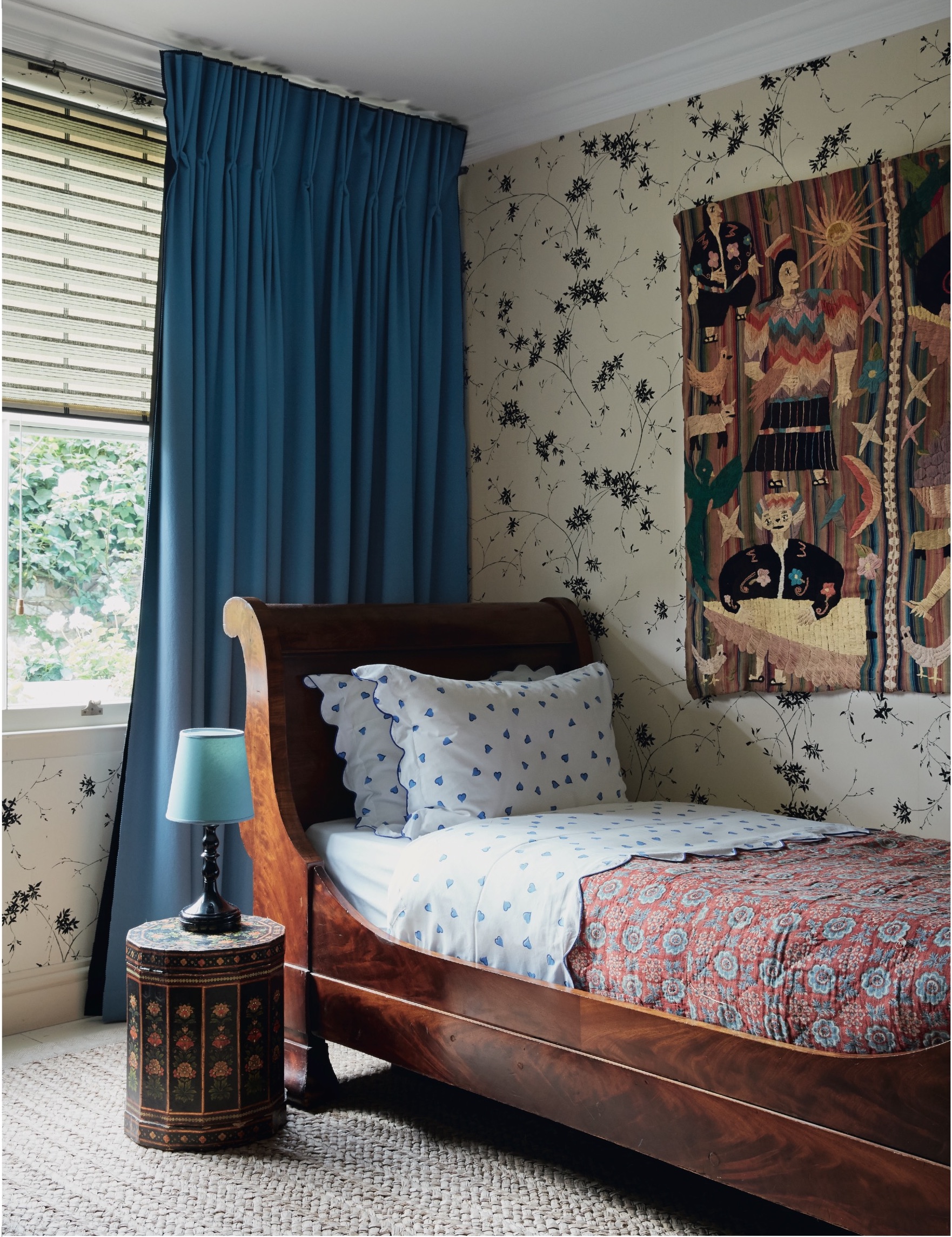 Rita Konig London Flat. House & Garden. Paul Massey photography.
'When I think of curtains, the analogy that comes to mind is that of clothing. There are all these tiresome bits of advice dealing with personal adornment, how it all has to harmonize and interrelate. The same is true in the world of curtains. Whatever you may think, you want hanging at your windows, it has to go with your room, your furniture, and your whole decorating style.' Mark Hampton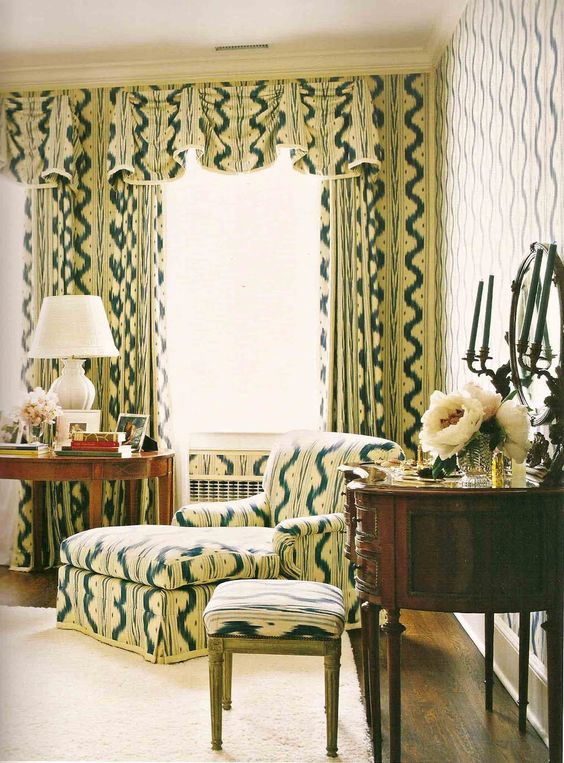 Estee Lauder Hamptons home decorated by Mark Hampton. Armchair and curtains in Pierre Frey 'Toile de Nantes'