La galería Demisch Danant  de Nueva York, presentaba el pasado 7 de noviembre  la exposición "Paris Match: Henri Samuel and the artists he commissioned 1968-1977" un tributo al gran diseñador francés que combinó con maestría elementos históricos con piezas contemporáneas.  Samuel encarg ómobiliario e iluminación en la década de 1960 y 70 a diversos artistas franceses para su casa de París. Son estas relaciones y las piezas que se produjeron el tema de la exposición. En ella se  exponen piezas únicas, muebles y objetos que encargó a artistas franceses de su tiempo tales como César, François Arnal,Philippe Hiquily, Guy de Rougemont o Diego Giacommeti.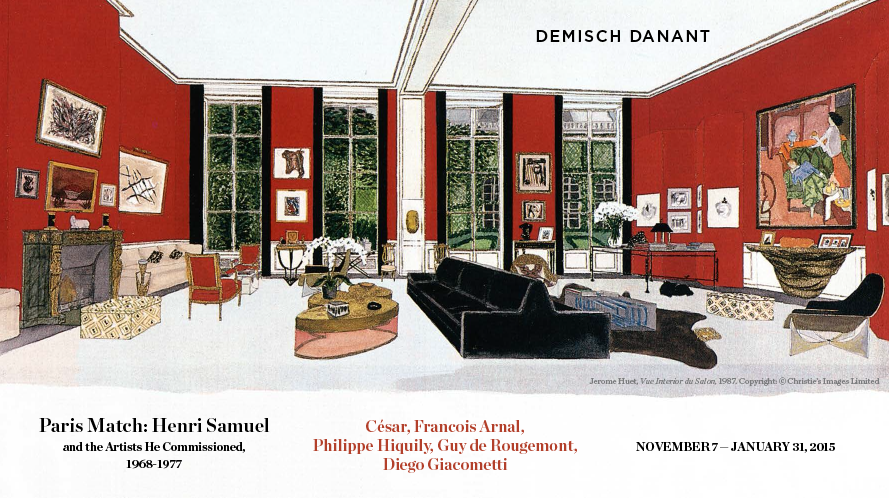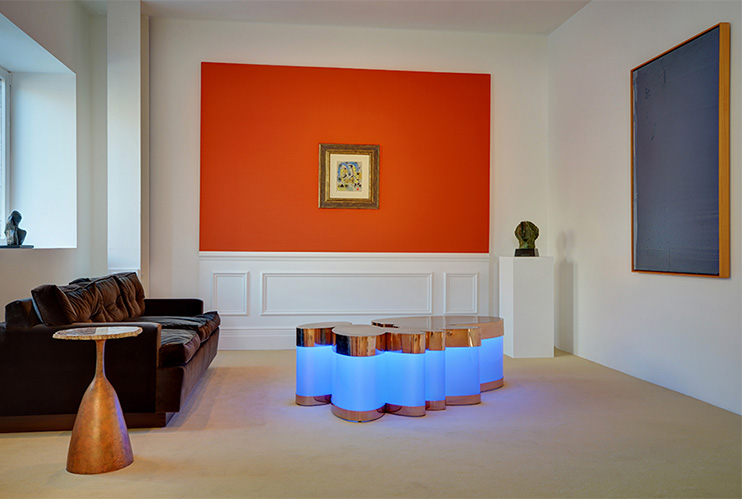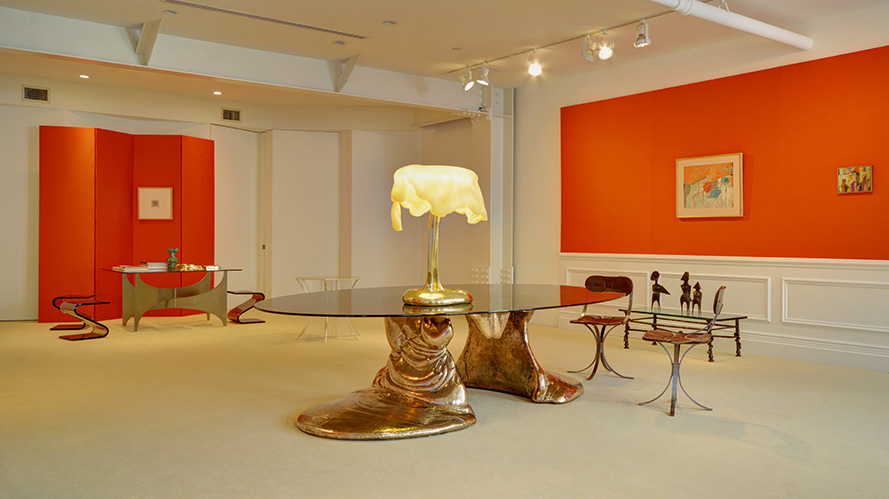 Pictures: Demisch Danant Gallery
Aclamado como uno de los primeros expertos en mezclar géneros y épocas en el diseño de interiores, Samuel fue también uno de los primeros en hacer encargos de muebles a artistas . La sofisticación con la que mezcló estilos desafió la noción burguesa imperante de  que los interiores todo debía combinar y pertenecer a la misma época.
Sus diseños únicos hicieron que personalidades como los Rothschilds, Vanderbilts, o Valentino confiasen en él para el diseño de sus hogares.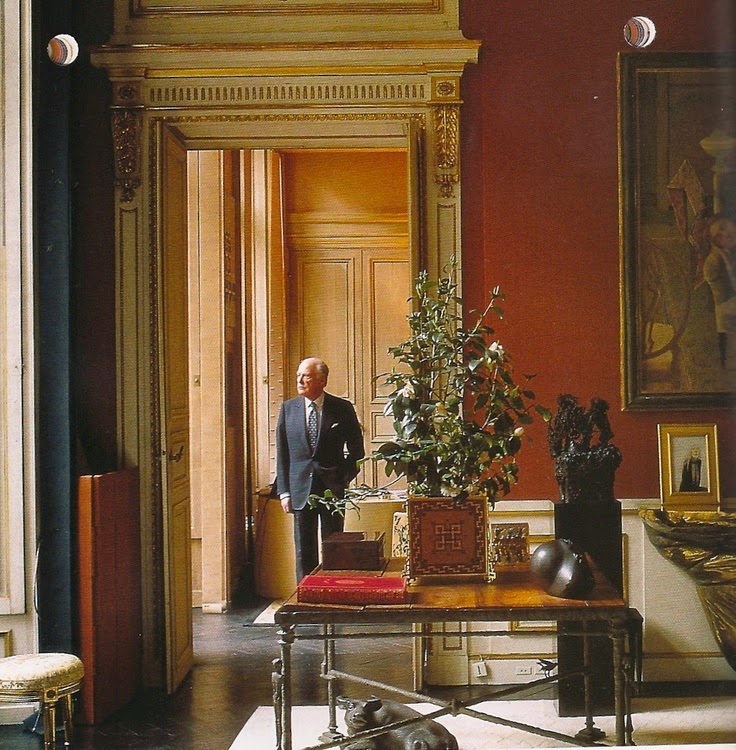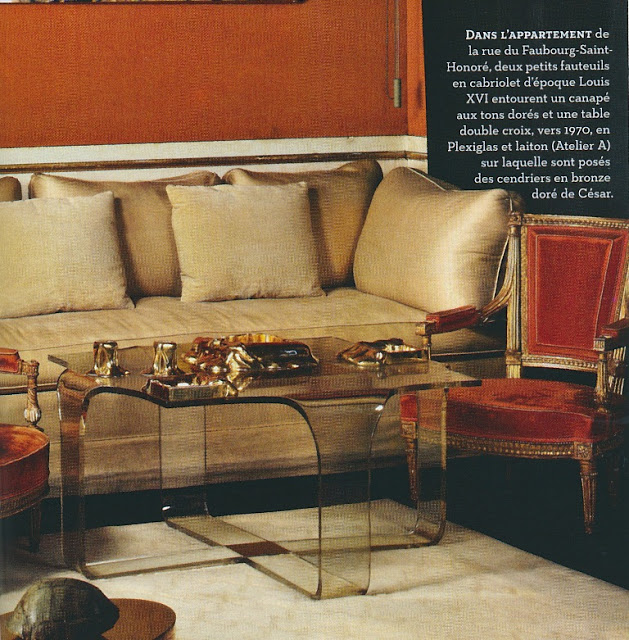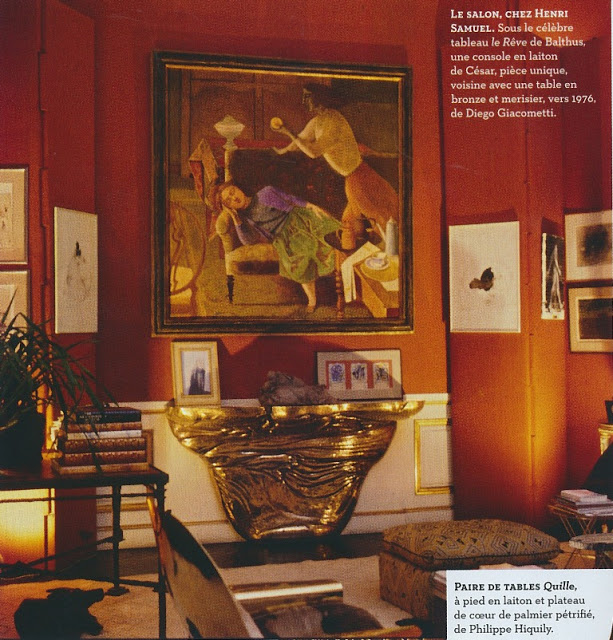 Si Henri Samuel se podía permitirestas mezclas fue, sin duda, porque tenía un perfecto conocimiento de losdistintos estilos y su historia. Esta maestría hizo que Gérald van der Kemp le encomendara restaurar las habitaciones Empire en Versalles en 1957. El Museo
Metropolitano de Nueva York también confió en Samuel para la puesta en escena de las donaciones de Wrightsman y Linksy, ambas colecciones de artes decorativas de los siglos XVII Y XVIII.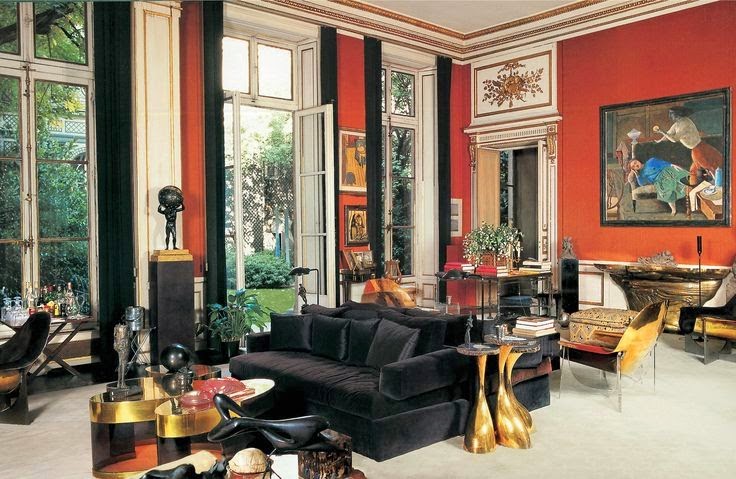 .
Se le considera  maestro en mezclar estilos, y esto se reflejaba en su propia casa en París. Sus invitados se sorprendían al descubrir pinturas contemporáneas de artistas como Richard Lindber sobre una mesa de estilo imperio o sillas neoclásicas con una mesa de Diego Giacommeti.
Henri Samuel logró crear un estilo único, adaptando su trabajo a cada lugar y proyecto y a la personalidad de las personas para las que trabajaba. Nunca hizo lo mismo dos veces, creando siempre interiores únicos.
"Where clothes are concerned, the only person I trust is Balenciaga" Mary de Rothschild used to say. "The same goes for Henri Samuel in the field of decoration".
Photos from AD France.