A couple weeks ago I found myself going down the Pinterest rabbit hole again. This time was with flowers, more specifically with Auriculas. I have always found these flowers mesmerising: their symmetry, colours, shape…they almost look too perfect to be natural! Like many of the things that catch my eye, I decided to delve into these fascinating flowers.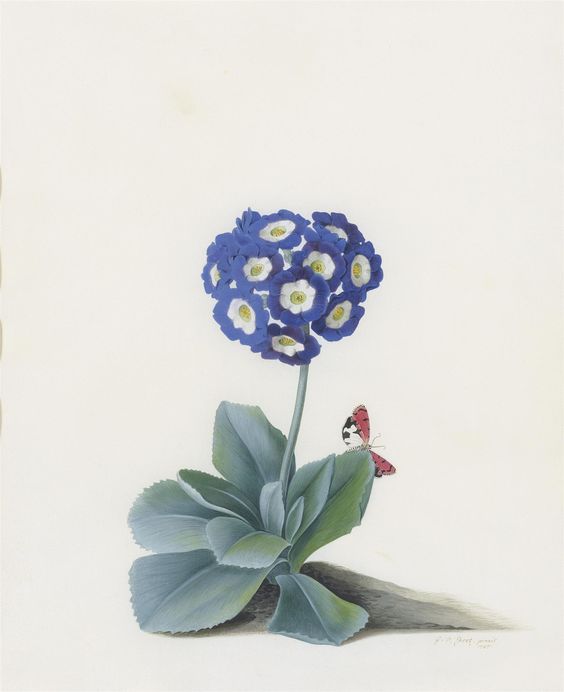 Georg Dionysius Ehret (1708-1770), A Blue auricula and Butterfly
Auriculas first appeared in European and English gardens around the mid-sixteenth century.  There are two schools of thought as to how auriculas reached England. One is that they were introduced by Huguenot Flemish weavers fleeing religious persecution in the 1570s. However, at that time, these plants were still novelties and were grown only by the rich. The second school of thought which seems more plausible is that they arrived, as did most other flowers, by the interchange between leading Continental and English plantsmen. Whichever it was, the auricula became a major craze and was grown by the rich and famous, as well as humbler folk, in great numbers and varieties during the seventeenth, eighteenth and nineteenth centuries becoming also popular with artists.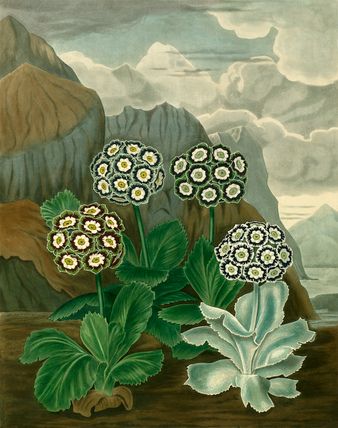 Coloured engraved plate depicting Auriculas from the 1820 publication 'The Beauties of Flora' by Samuel Curtis (1779-1860). 
The auricula was one of the great Florist's flowers, some of the others being anemone, ranunculi, tulips and carnations. The term ˜Florist" was originally applied in the 1600s to a person who grew plants for the sake of their decorative flowers rather than for any useful property the plant might have. The modern meaning of florist only came into being towards the end of the 19th century. The florists formed groups with like-minded people to meet and hold 'feasts'.
By the 19th century the florists groups were very popular with working-class people in the industrial North and Midlands of England. They met in public houses to show off their tulips, auriculas, primulas and carnations and to weigh their giant gooseberries. Prizes at their shows were frequently copper kettles & the public houses would often hang a copper kettle outside on show days.
Towards the end of the 19th century, a movement developed against what were termed "artificial flowers" and florists flowers lost popularity, some disappearing completely. The auricula, however, retained a loyal following especially in the north of England, although Stripes vanished and Doubles became rare. Then a further blow was struck with the advent of the First World War when many of the named varieties vanished. Between the wars, the auricula was kept in being by the auricula societies, and then after the second world war a recovery began that continues to this day. A large number of new varieties of both edged and self-coloured auriculas have been raised by the modern successors to the old florists. Striped auriculas have been re-introduced and more new doubles are exhibited each year, their current magnificence owes much to the dedicated breeders in the United Kingdom (this information was found on The National Auricula and Primula Society (Kent Group) website)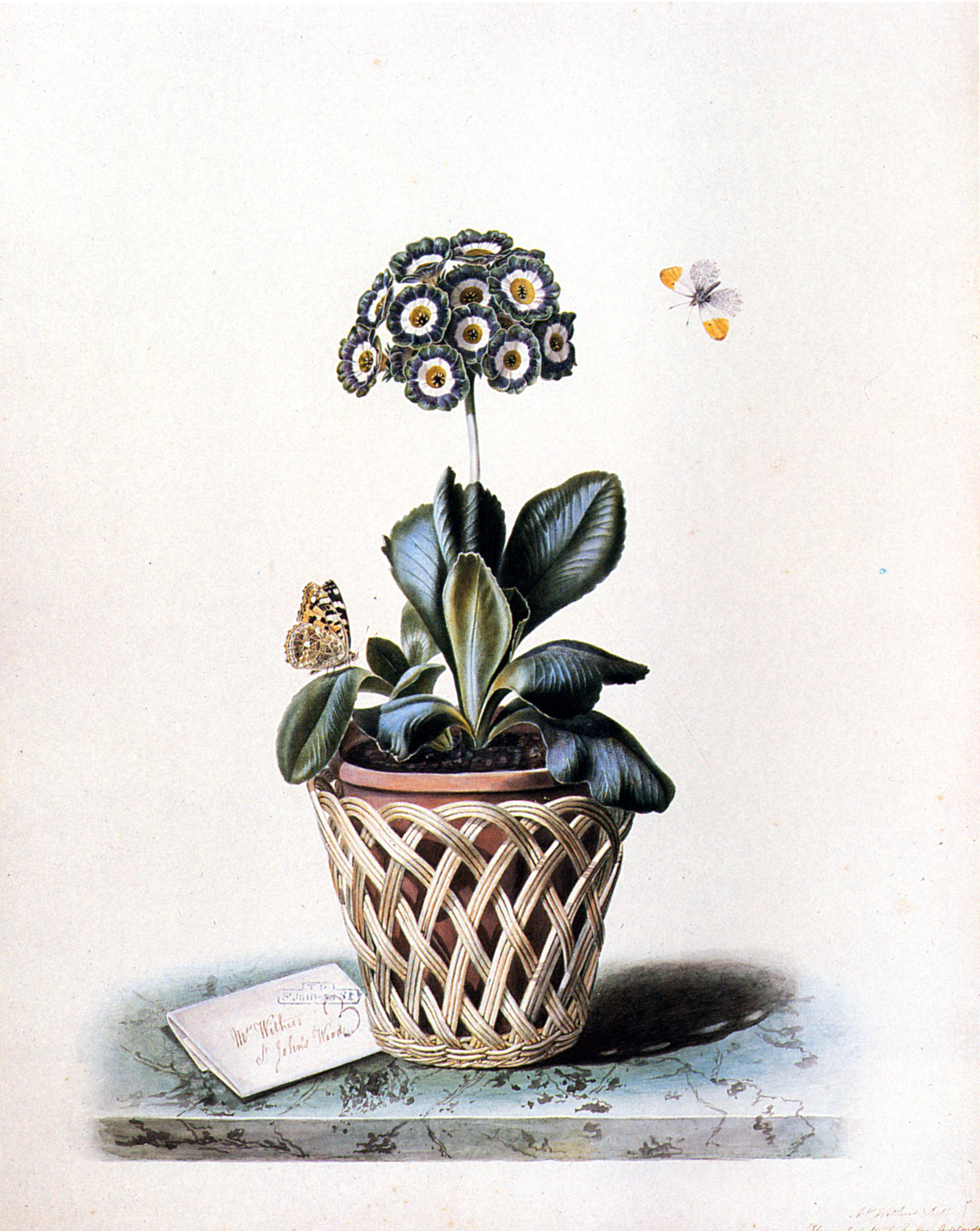 Augusta Innes Withers (1793-1864) An Auricula in a Pot
Reading about these fascinating flowers I've learnt that they require very particular care and growing conditions. For the flowers to be at their best, it's important that the plants are kept in a sheltered spot, away from wet and windy weather. Rain will ruin the perfection of the flowers, washing away the farina. What's more, they need to be shaded in hot, summer weather, as strong sun will scorch them. So, auricula growers keep their plants under glass over winter, and only display them when they begin flowering in spring, in an auricula theatre. (This information came from The Small Gardner Blog where I found   a brilliant article about how to make an Auricula theatre. I had seen these displays of Auriculas before here in the UK but I didn't know they were called theatres!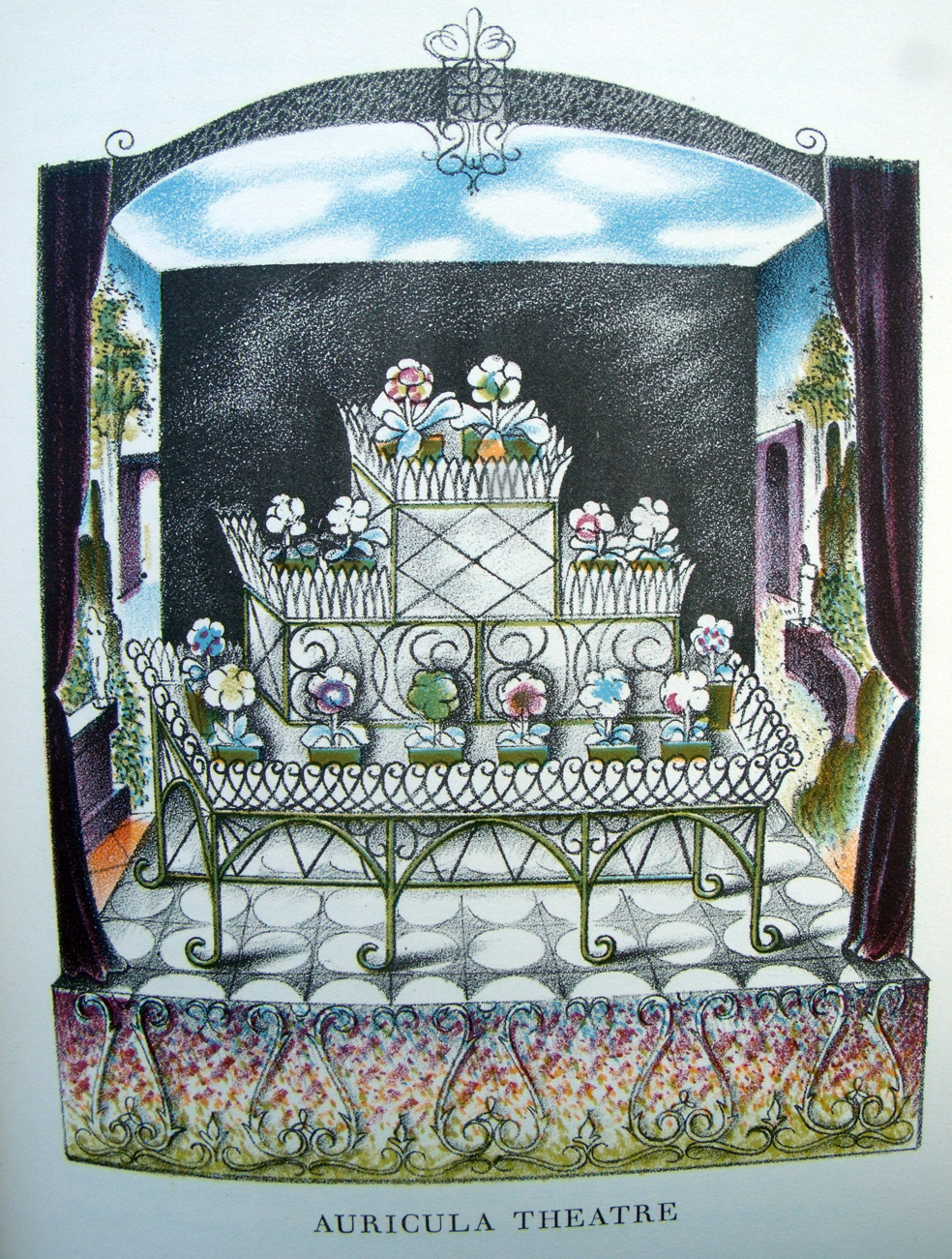 Auricula Theatre illustration by John Farleigh. Image found on Janet Haigh Blog.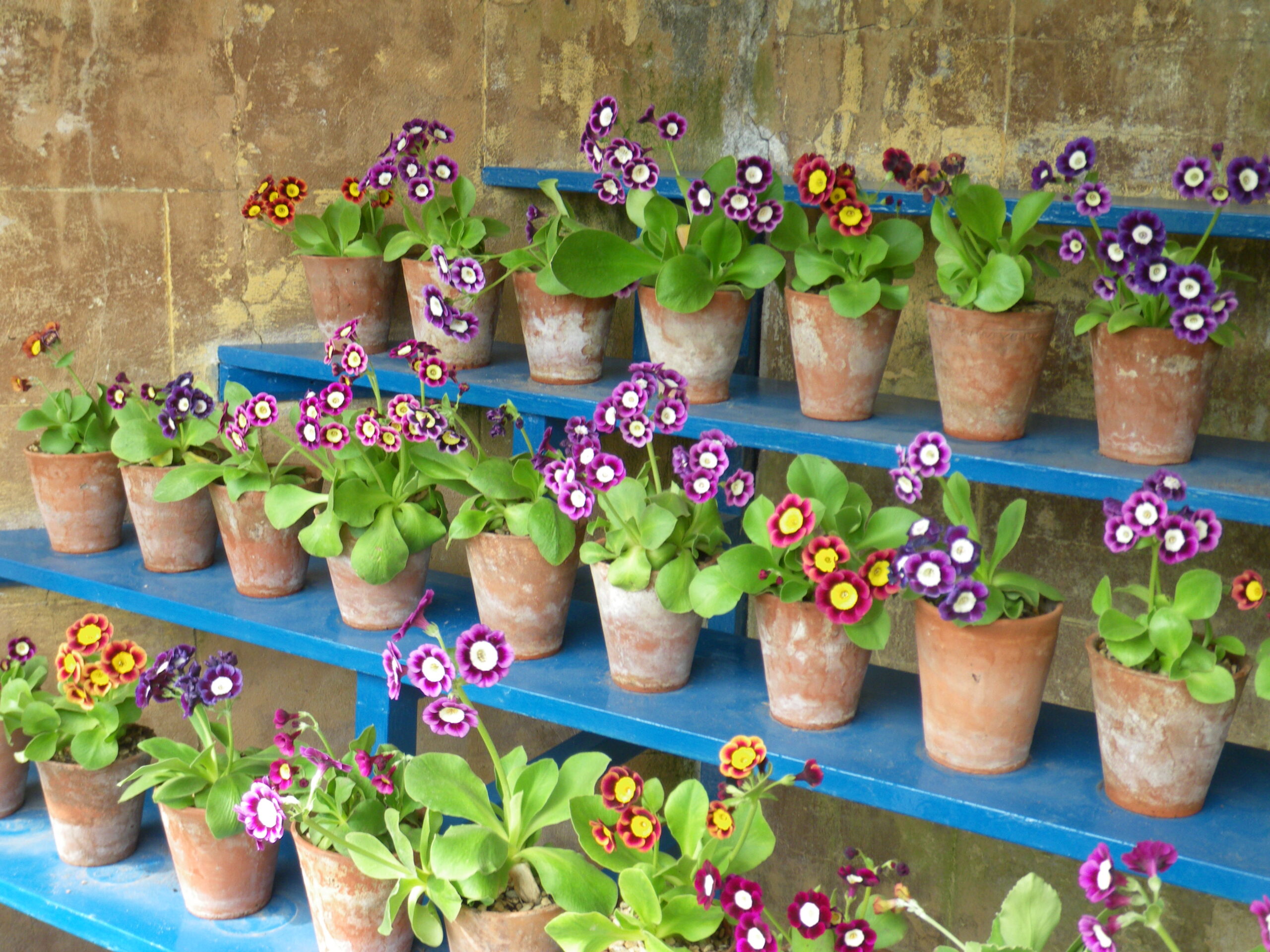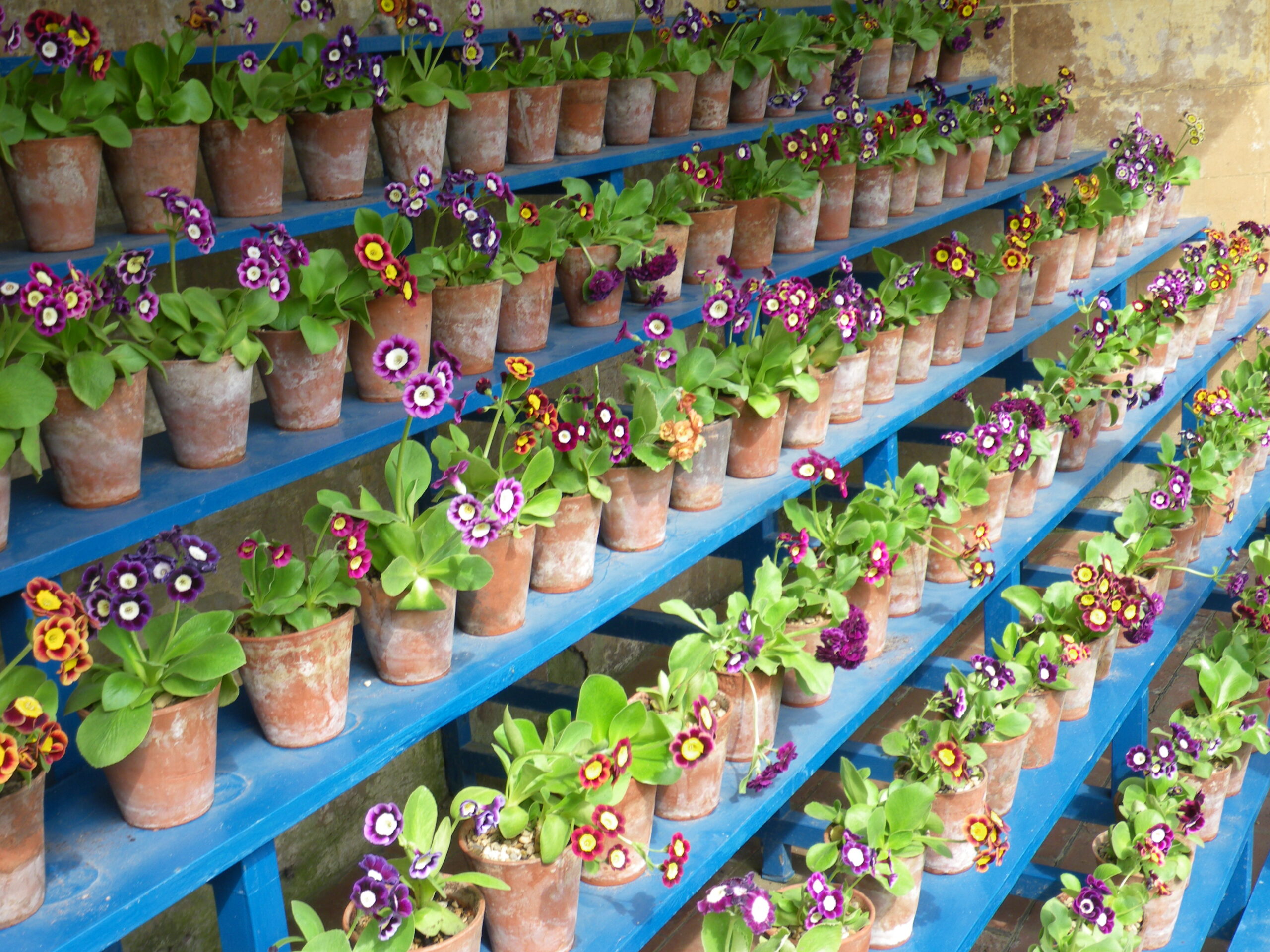 In large country houses, it was the fad in the 18th century to have auricula theatres to display these flowers at their best. As tastes changed they fell out of fashion and houses removed the theatres. Calke Abbey has the only original auricula theatre in England.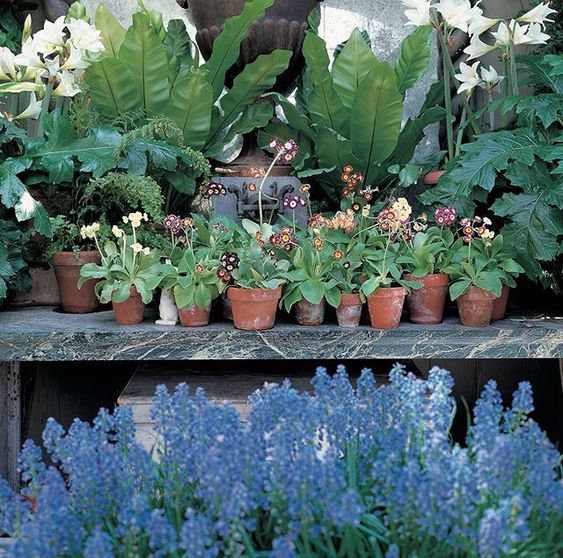 Bunny Williams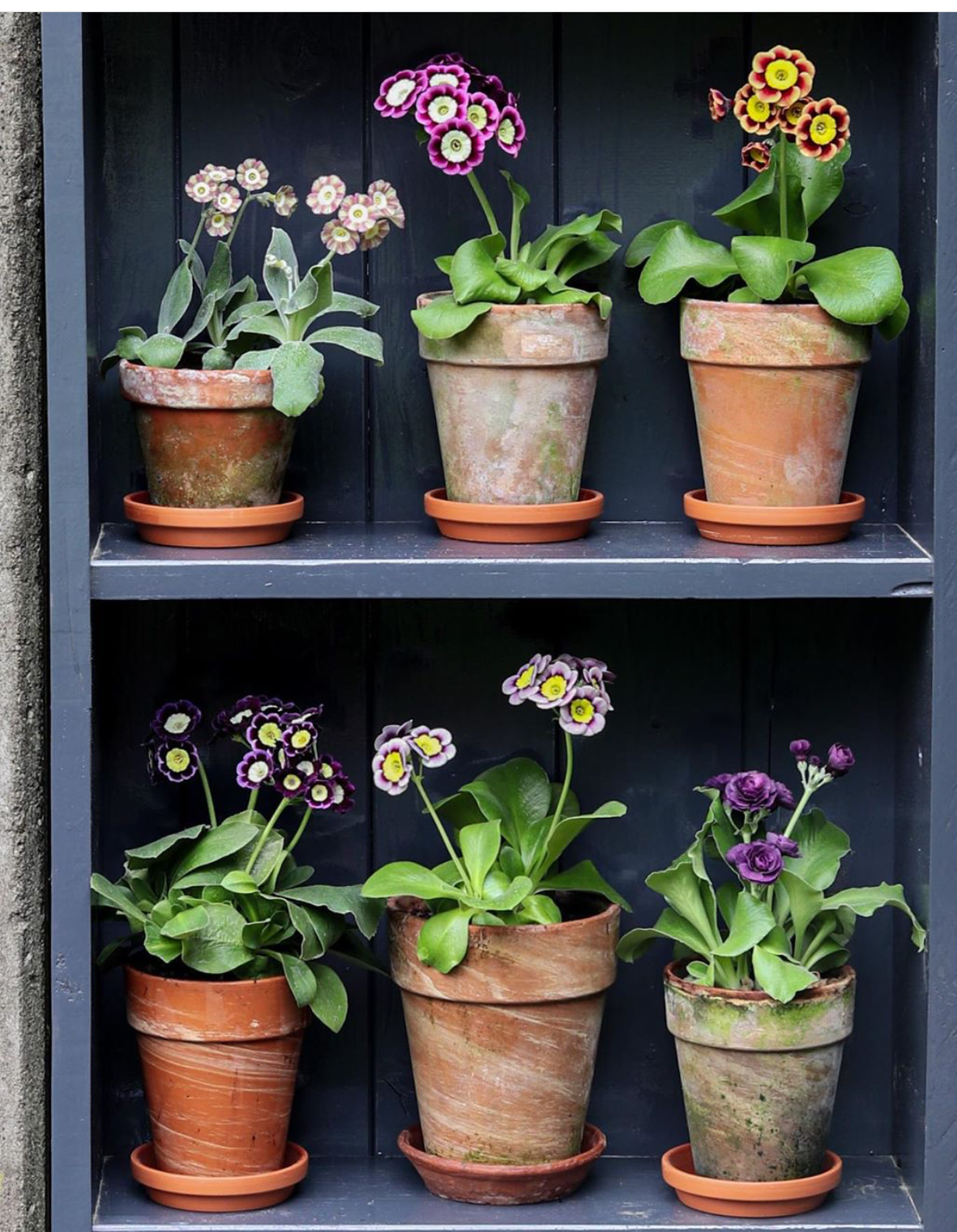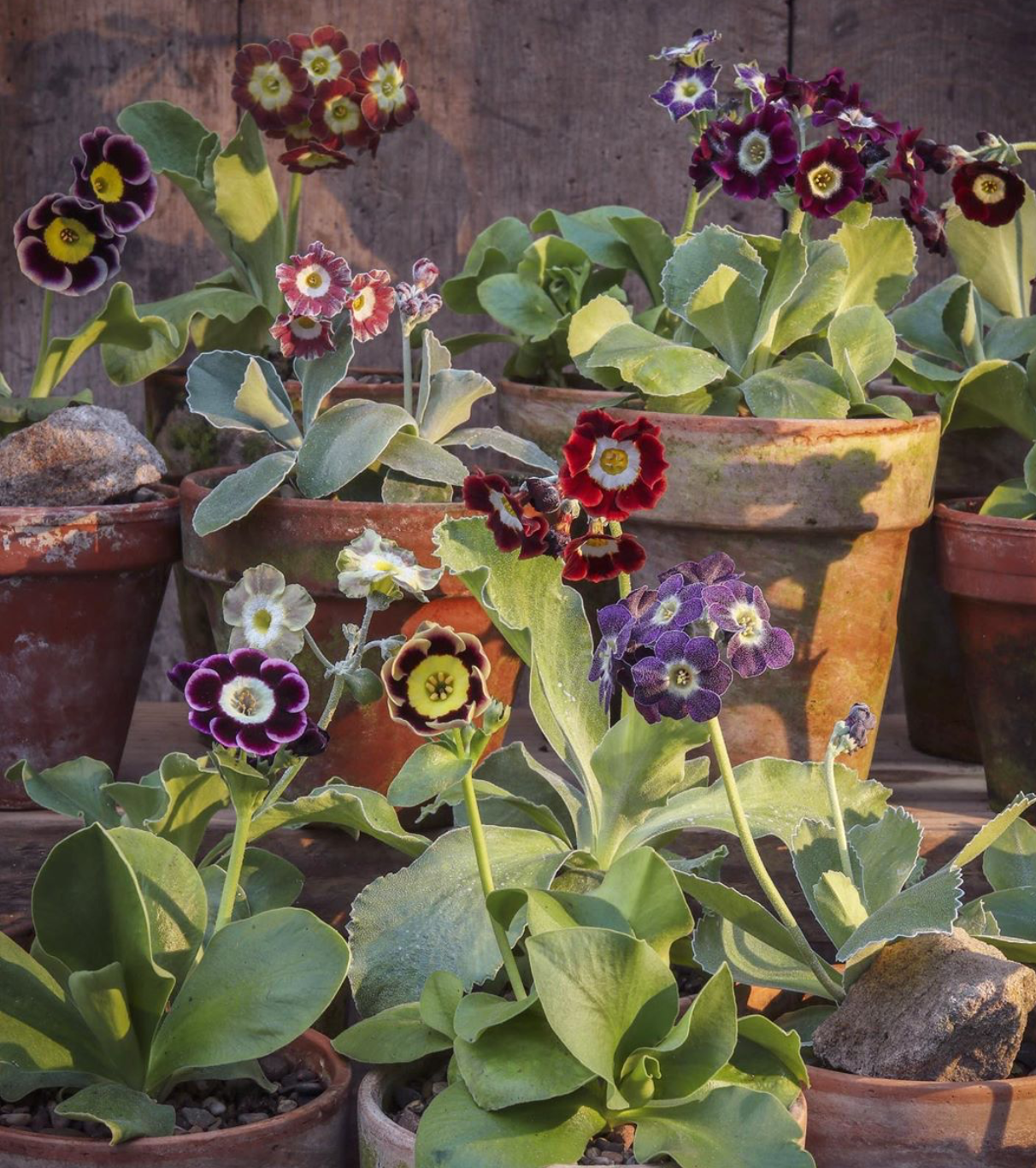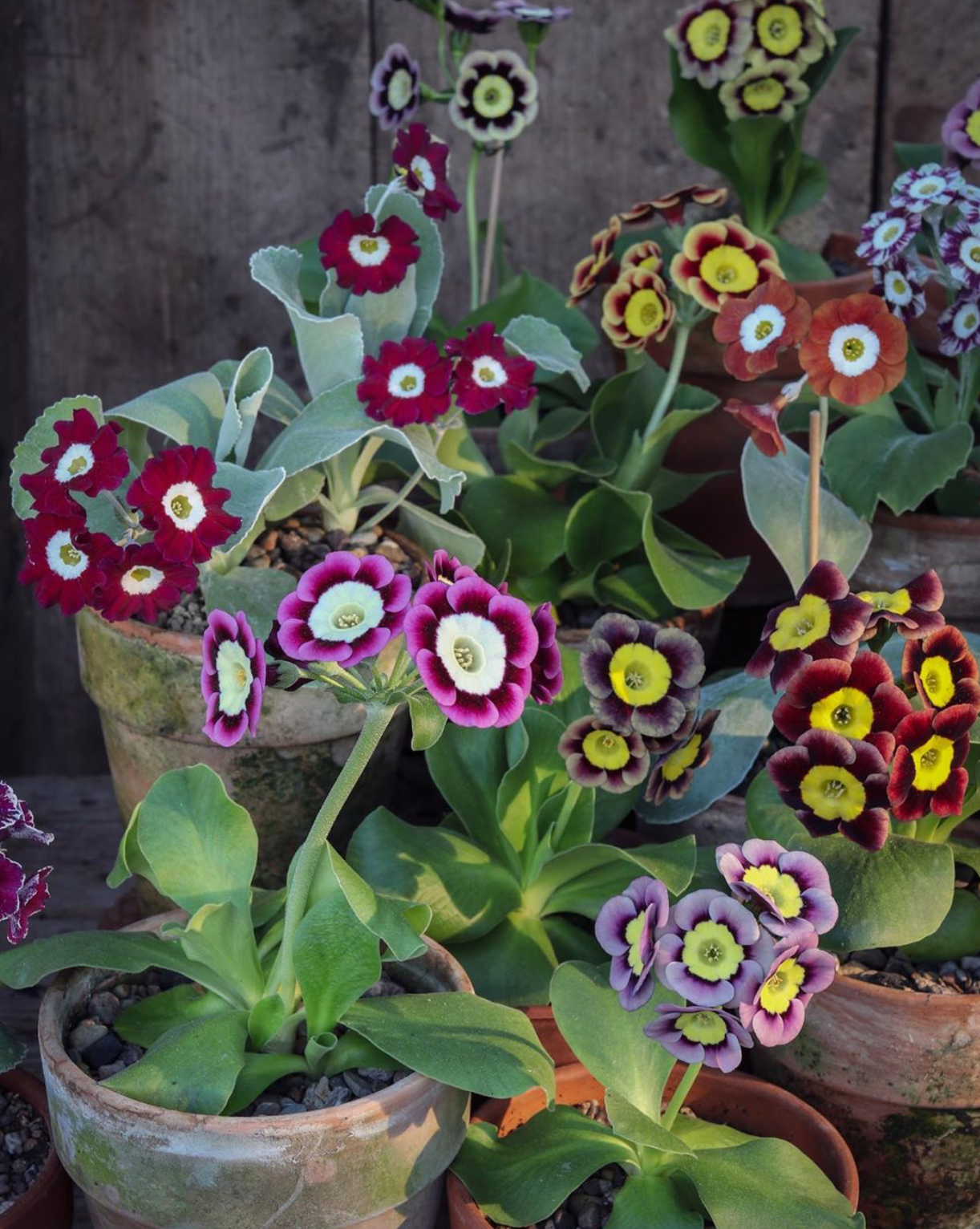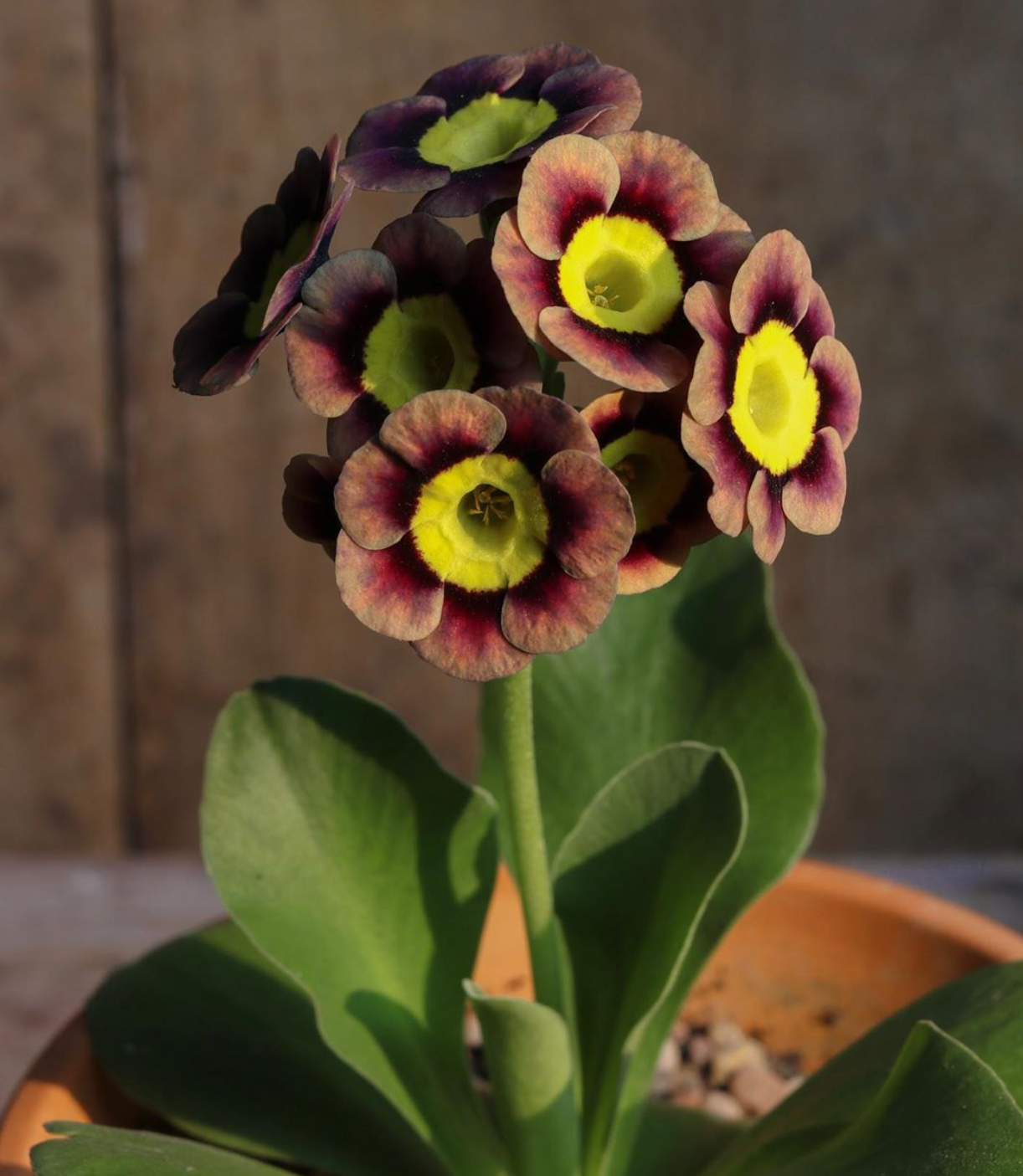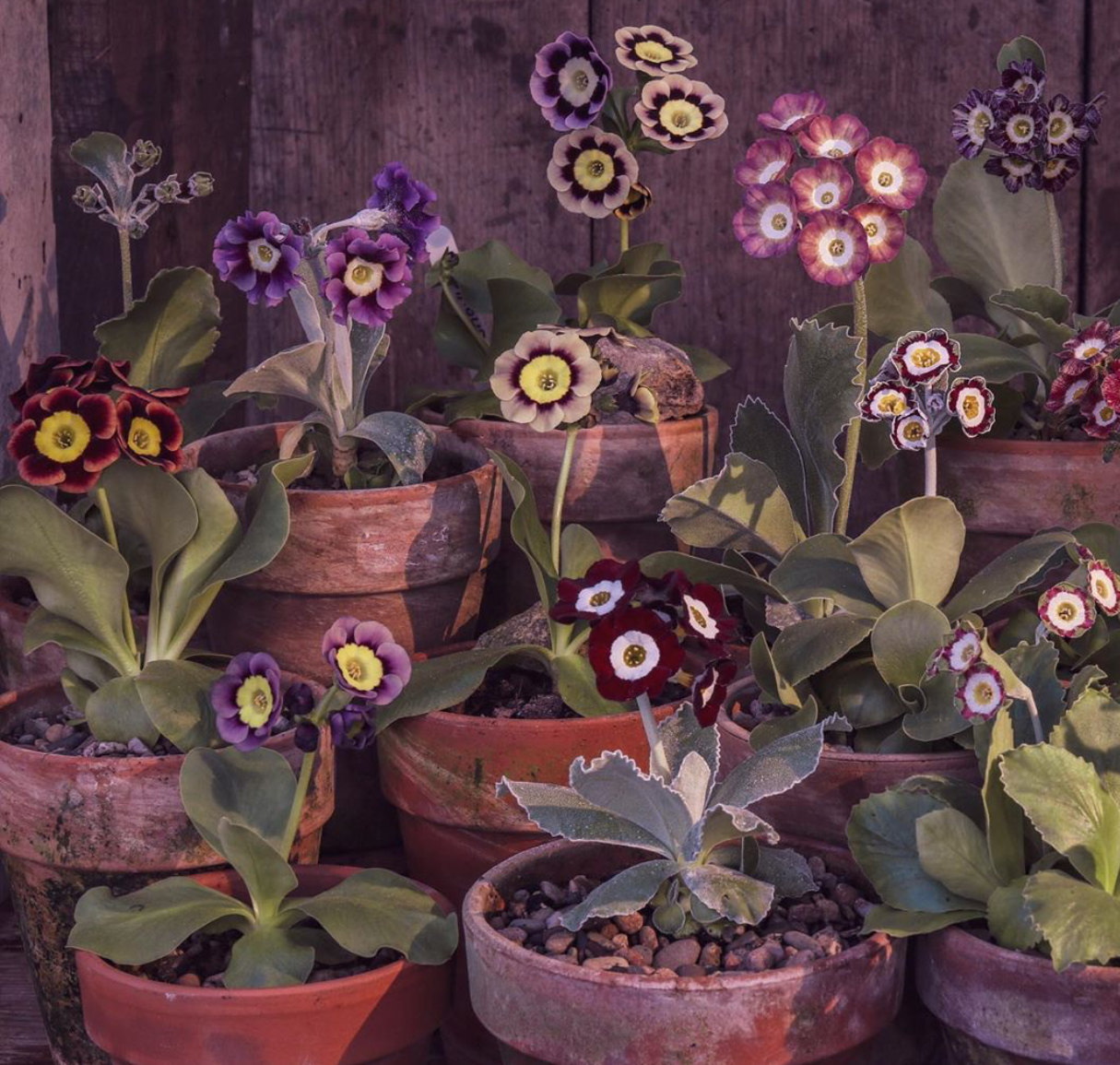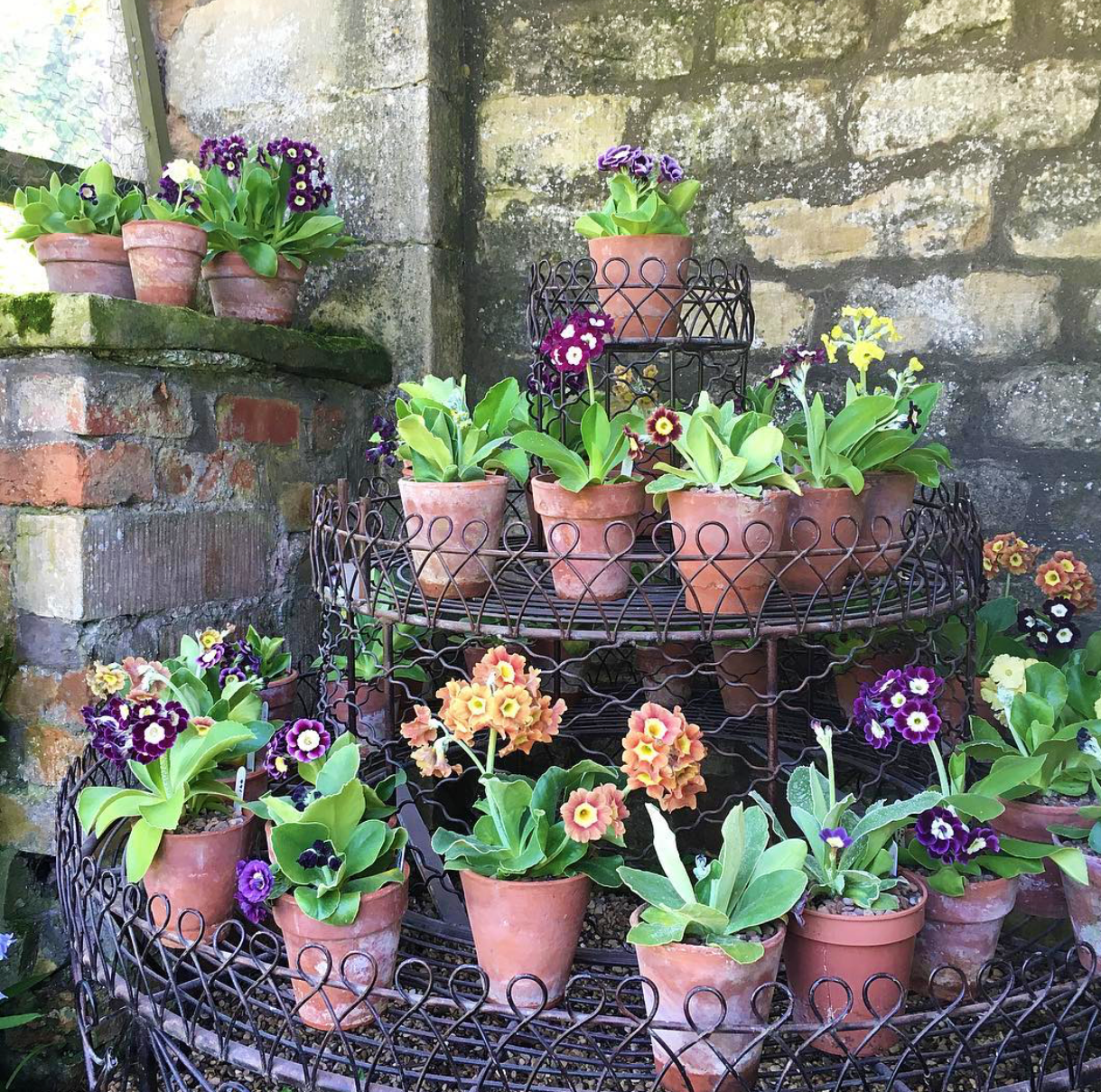 @ewgardens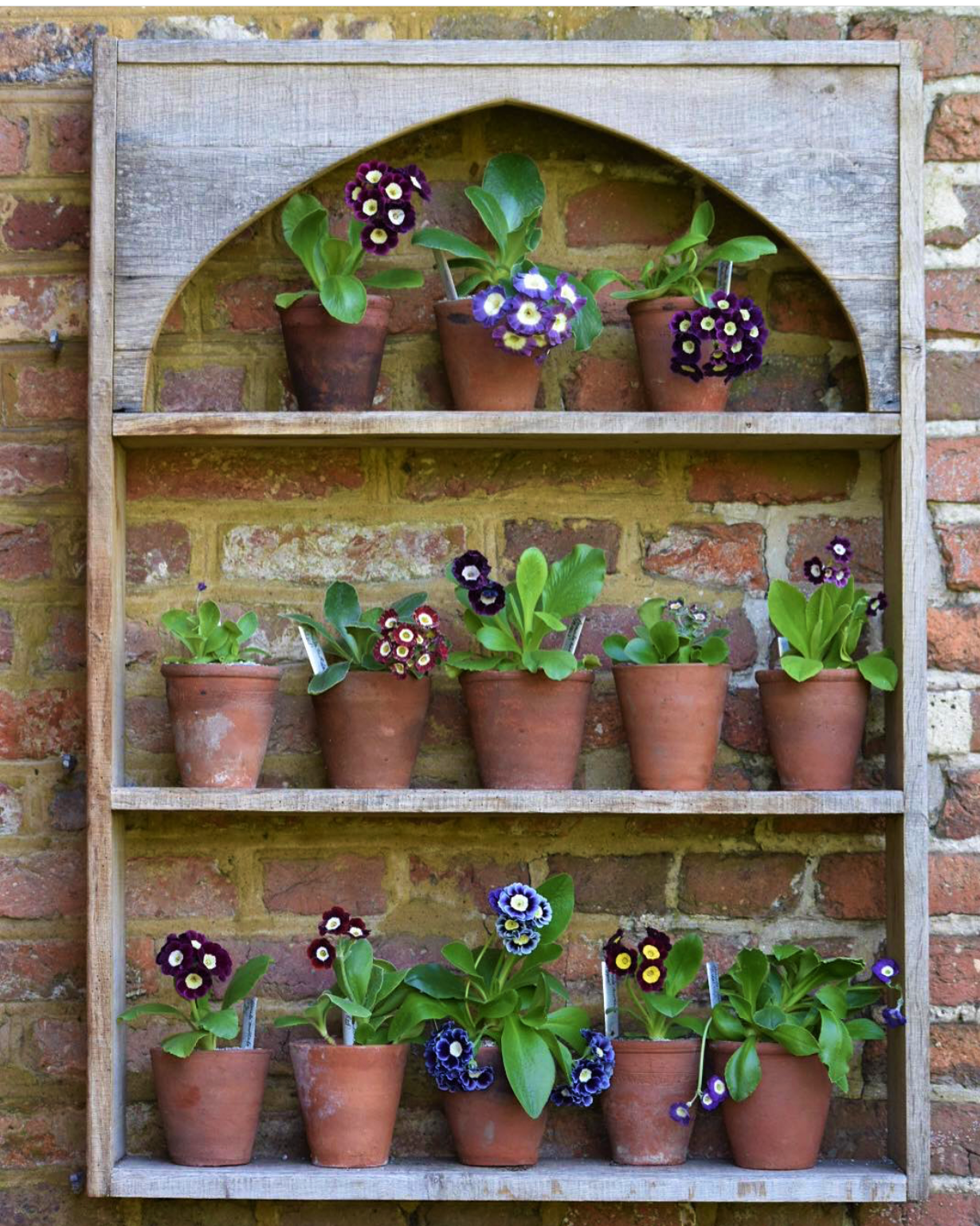 @flowersonlawn
One of my favourite discoveries while researching for this blog post was finding the work of Corinne Young and her fantastic embroidered Auriculas.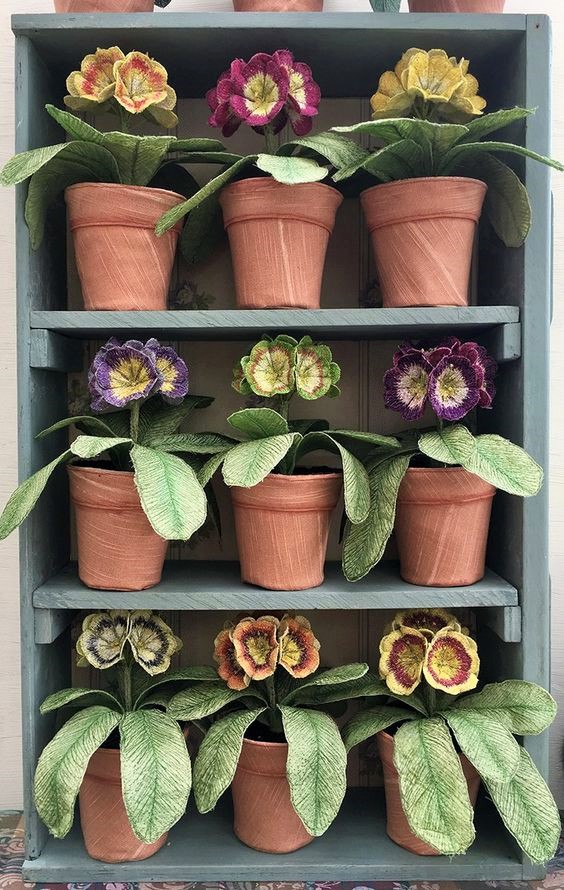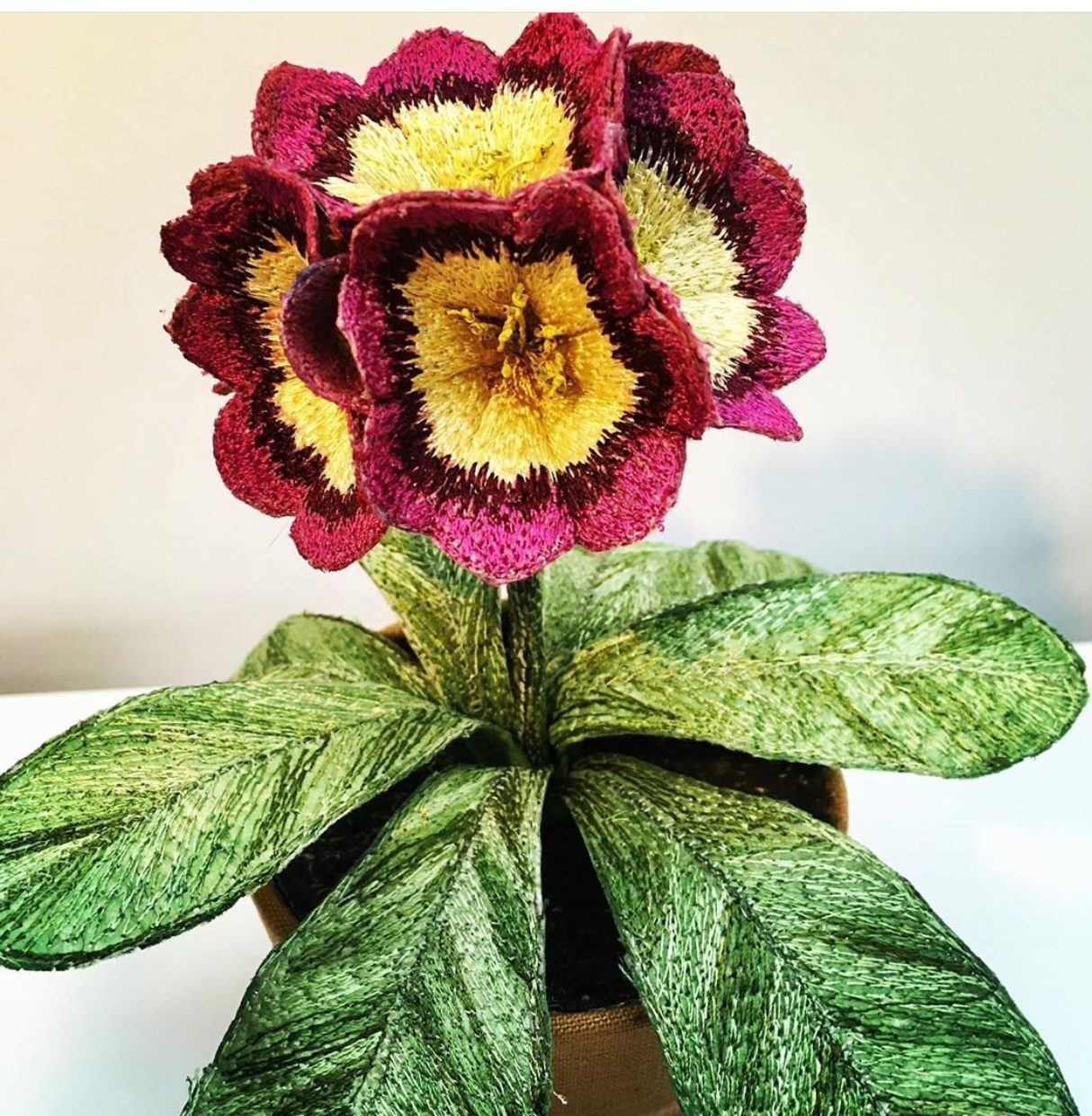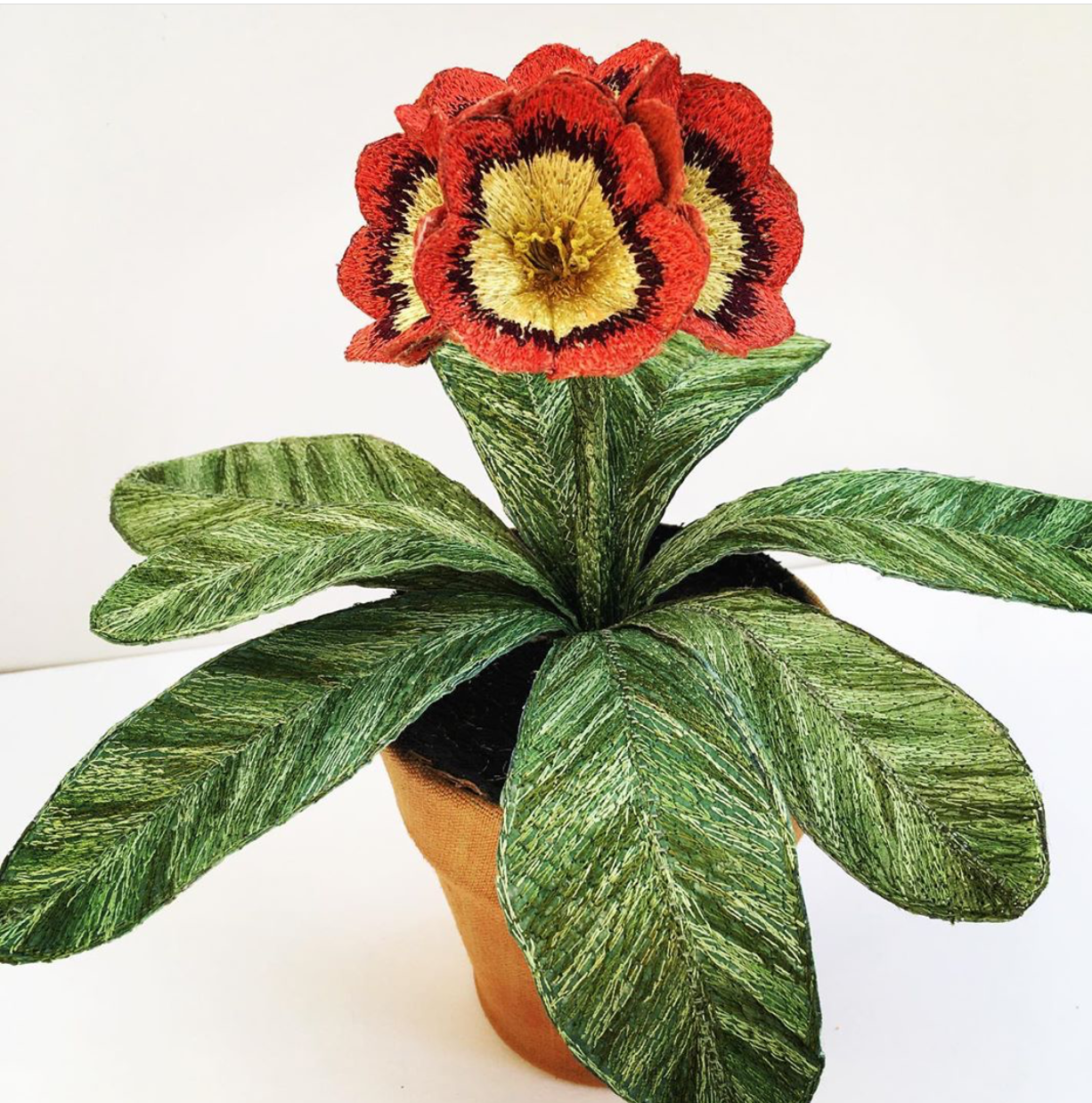 And this blog post by Janet Haigh en the making of her divine embroidered Auricula Theatre!