'I create beautiful timeless portraits that can be enjoyed by viewers for generations to come whether they know the sitter or not.' says artist Phoebe Dickinson.
Dickinson's portraits exude an ethereal and timeless feel reminiscent of John Singer Sargent's work. I wasn't surprised to learn that Sargent is Phoebe's go-to reference for her portraits. For still life, she looks at William Nicholson's work, and the same goes for Corot for landscapes.
Having trained at Charles H Cecil Studios in Florence and London Fine Arts School, last year Phoebe's work was awarded a certificate of excellence at the portrait society of America and in 2021 she received the RP Award at the Royal Society of Portrait Painters for her portrait of Alethea.
From her favourite piece at home to her exciting upcoming exhibition, in today's conversation, we delve into the painterly world of Phoebe Dickinson.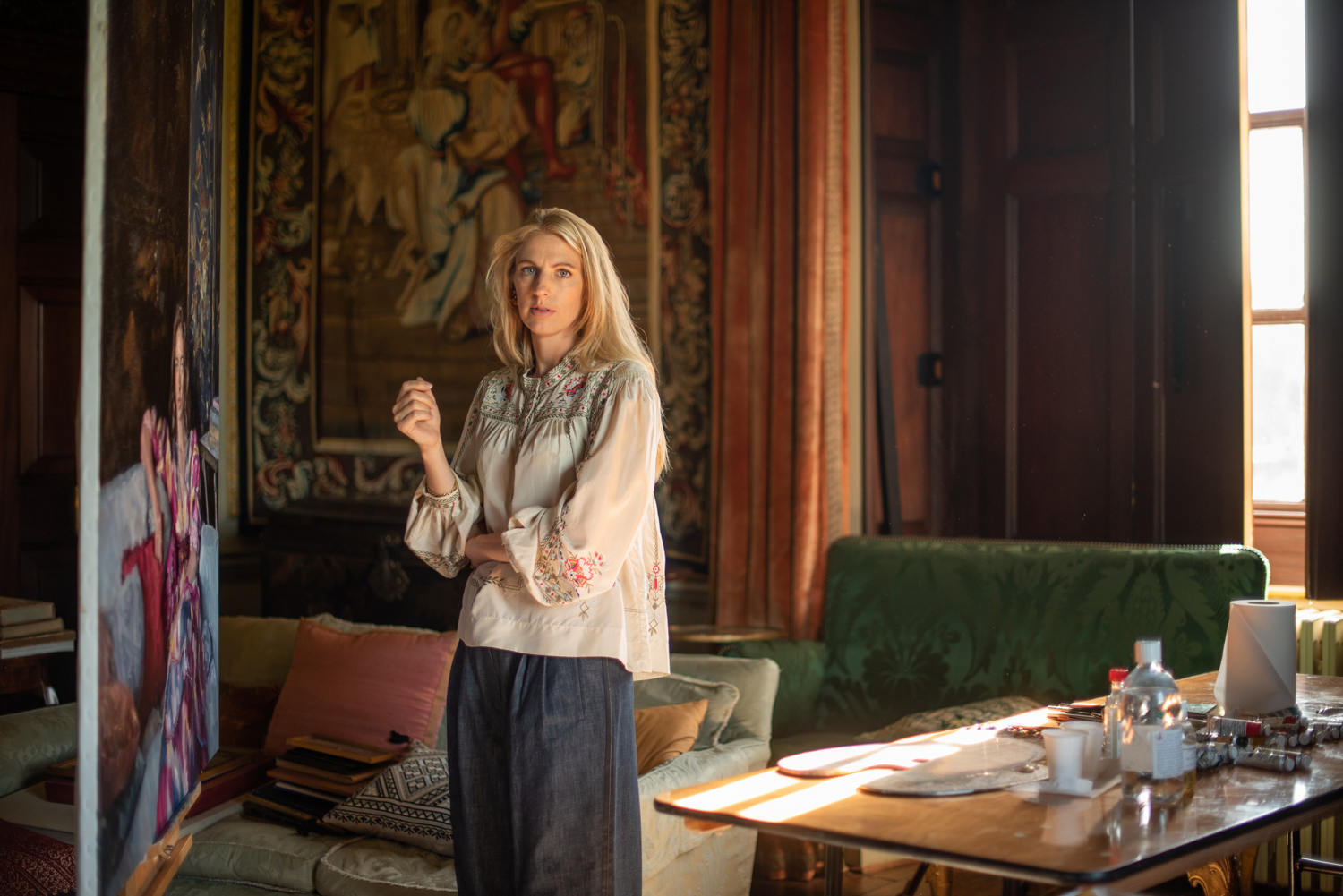 Phoebe painting at Houghton Hall. Photo: Harry Cory Wright.
I love how you depict interiors in your portraits- from the texture of the cushions and rugs to the plaster details in a column. Is the setting very important to you when doing a portrait? Are your clients very specific about the room and surroundings they'll like to be portrayed in?
The setting of a portrait is incredibly important to me for many reasons, but two that really spring to mind are. 1) because it can help to make an exciting painting whether you know the people in the painting or not. 2) because the setting of a portrait can often tell the viewer so much about the sitter.
However, it is not vital to have a grand setting to make a beautiful painting sometimes the simple things can be just as effective.  Some clients are incredibly specific and want to be painted somewhere that is of sentimental importance to them.  Recently I travelled to Palm beach to paint a family in the most beautiful columned logia that was part of a house the family had many happy memories at.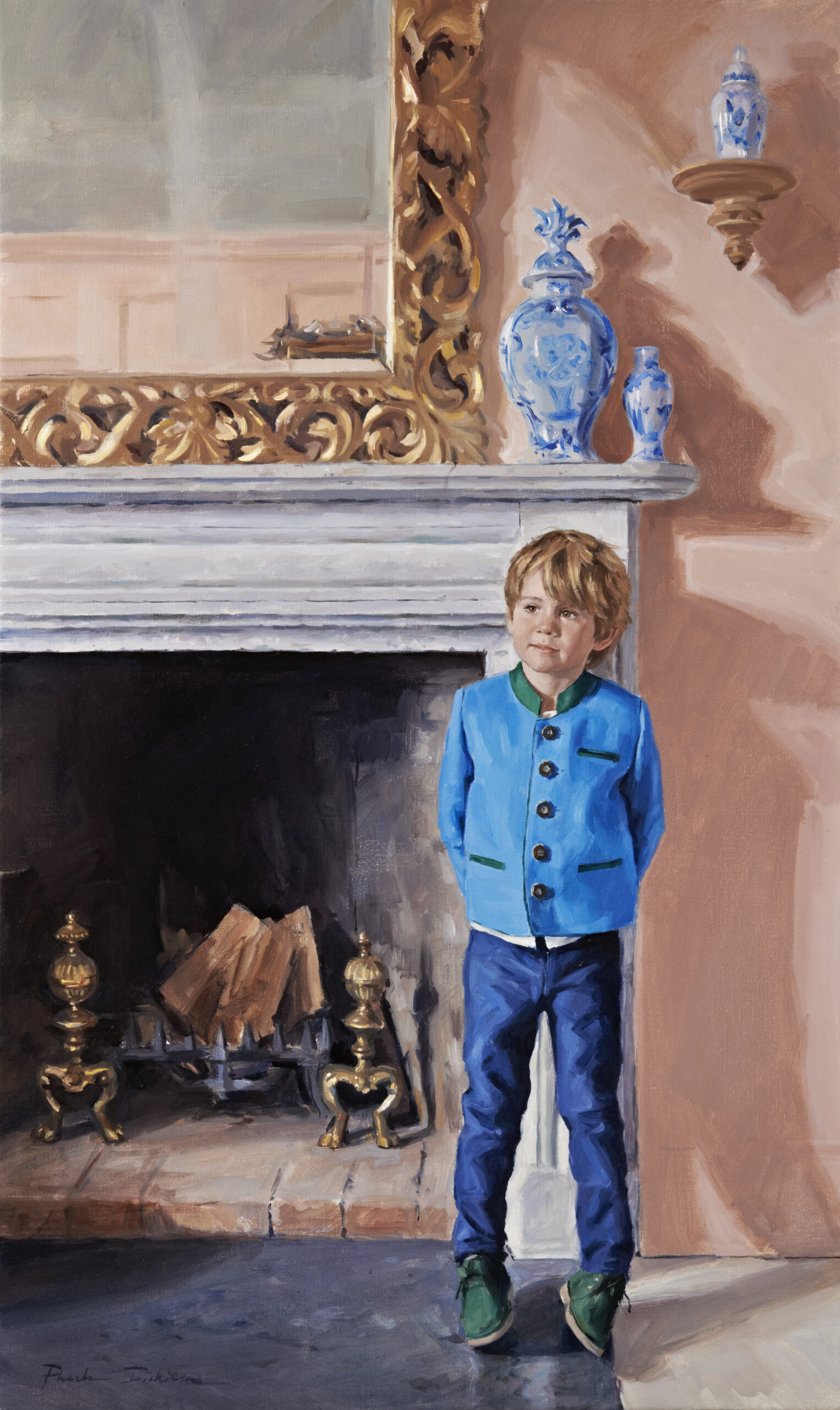 Boy in Austrian Jacket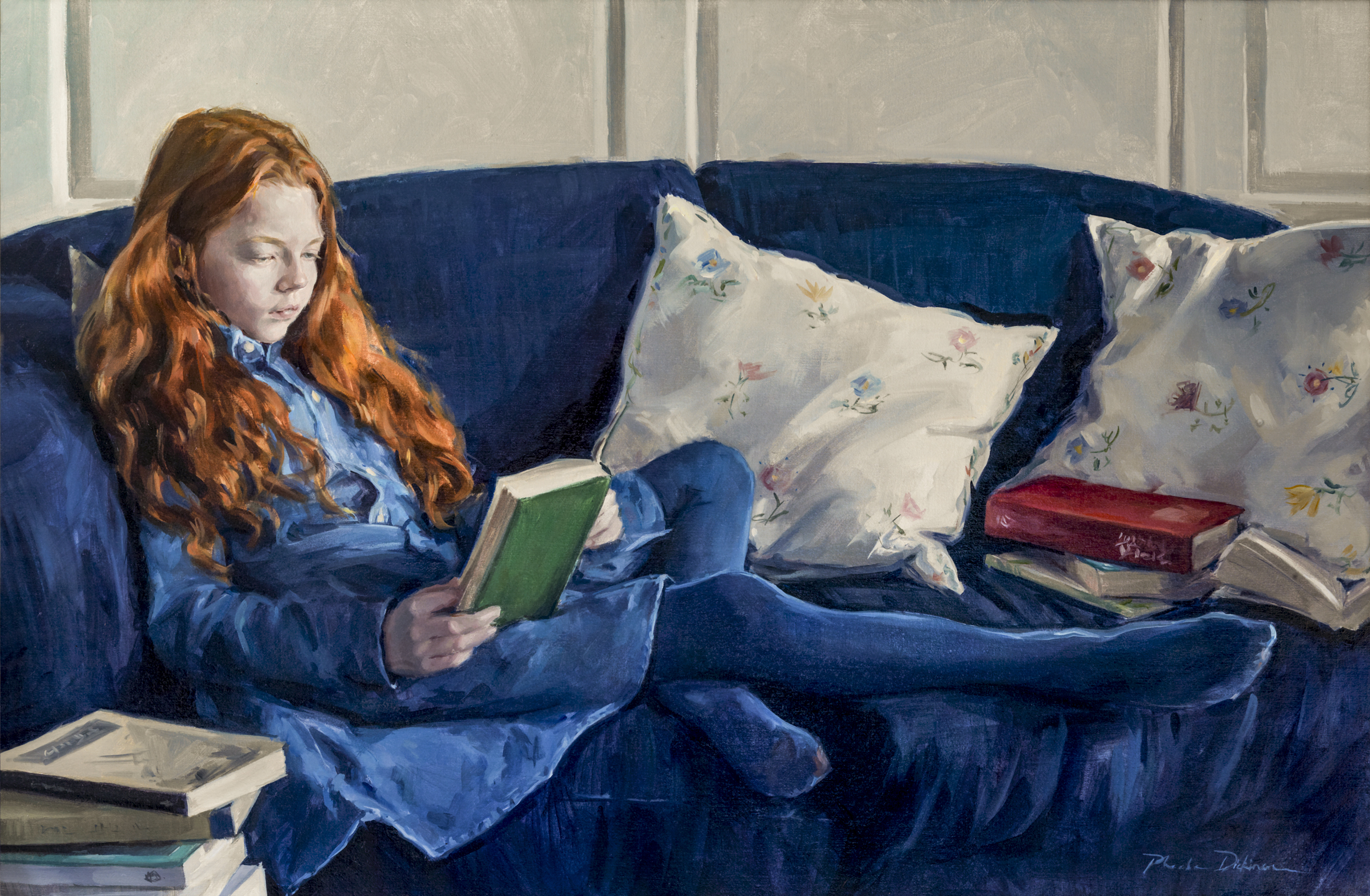 Alethea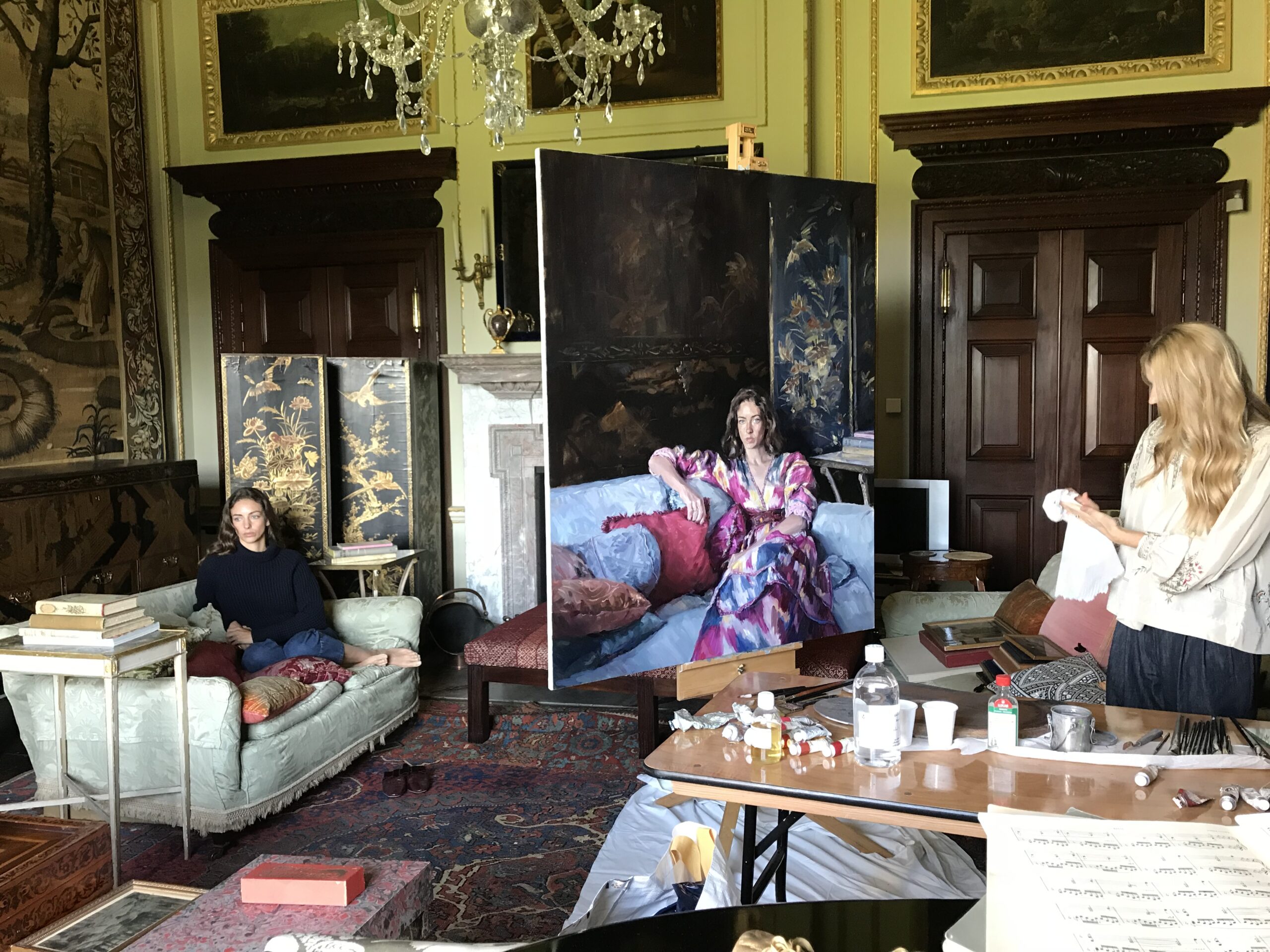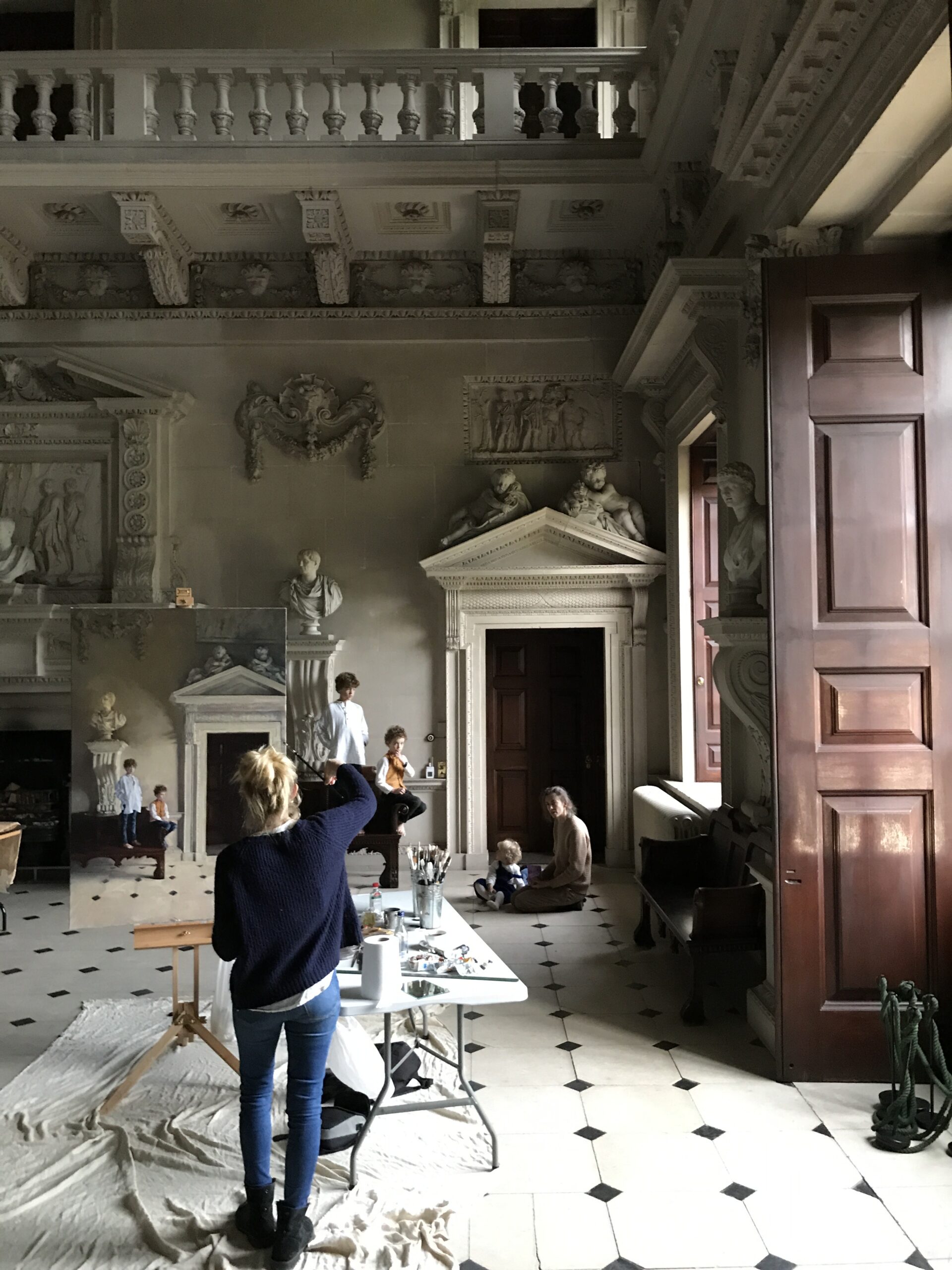 Phoebe painting Rose Hanbury, Marchioness of Cholmondeley and the Cholmondeley children at Houghton Hall.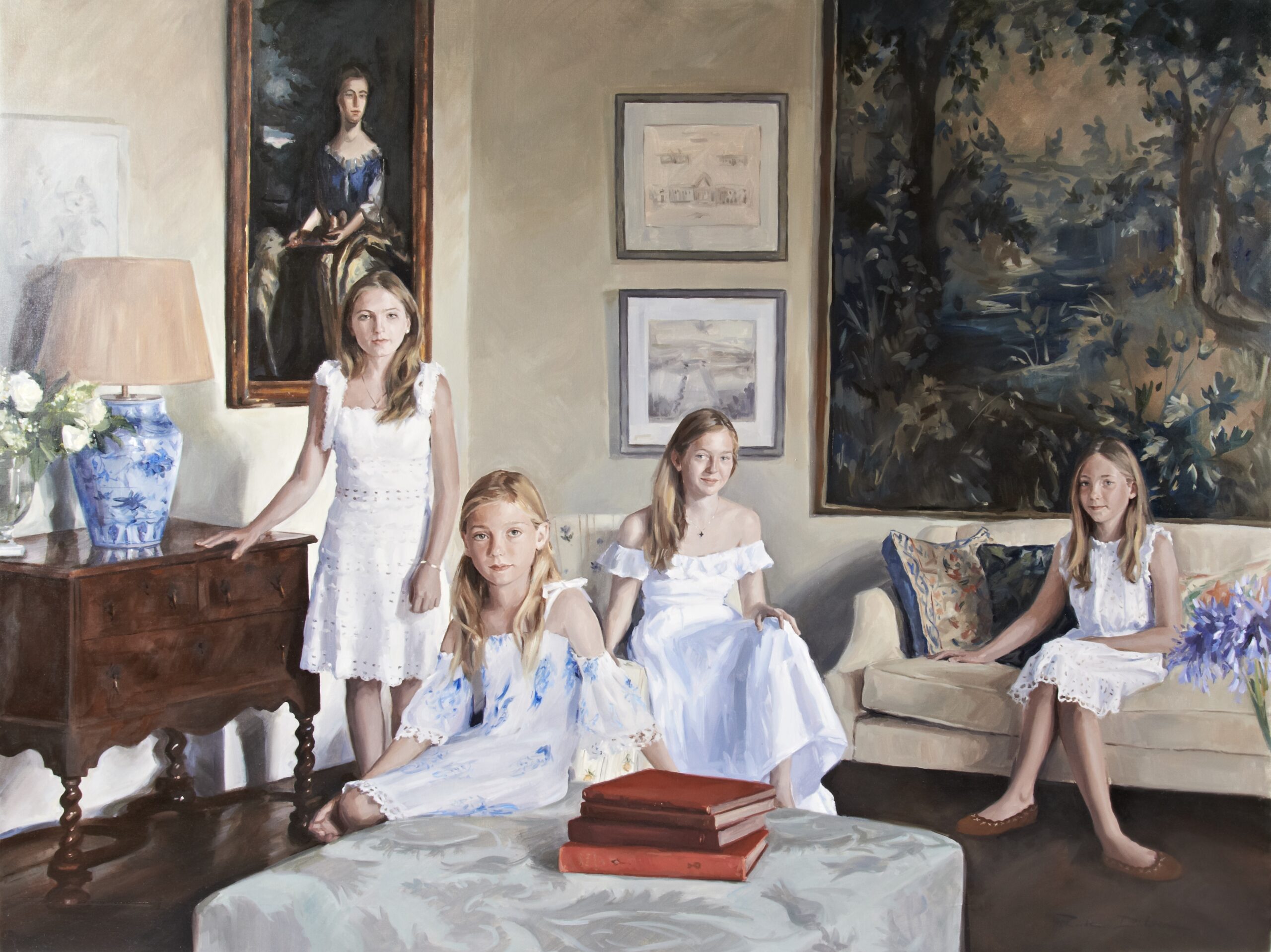 Four Sisters
Have your paintings and being an artist influenced how you decorate your home?
My job as a portrait painter takes me to all sorts off wonderful houses and I can't help but pick up ideas as I go.  For example at Villa Cetinale in Tuscany where I teach my plein air workshop there are some beautiful 18th-century marble soap dishes in the shapes of shells that are in-laid into the wall.  My husband has managed to find some for our house from an auction in Rome which we will install when we get round to doing the bathrooms.  I am also an avid collector of art and in some places have wall to wall salon style hangs .  A lot of the paintings are by artist friends and others have been collected by my husband.  When I'm working on paintings I think about colours that pop next to each other or work in harmony and I guess we have incorporated that in our interior design choices (which we make with my sister Interior designer Octavia Dickinson).  I think if you came to my house not knowing who it belonged to, you would likely guess that an artist lived there.
What's your favourite piece at home? And the one that you don't own yet but it's on your wishlist?
It's hard to single out a favourite but definitely, one that stands out is a painting of Roses that we have above our drawing room mantle piece. My husband, Luke, has an art business called the Holwell collection and he finds beautiful works of art for people.  The only problem is….quite often, I don't want him to sell the things he has found.  The roses was one of the things I begged him to let me keep.
We have a wonderful collection of affordable decorative pieces found by him but we are hoping to collect some more contemporary pieces now as we love the juxtaposition of old and new together.  With that in mind, I would love a large nocturnal garden scene by Tom Hammick and a large photo by my talented friend, photographer Eddie Wrey.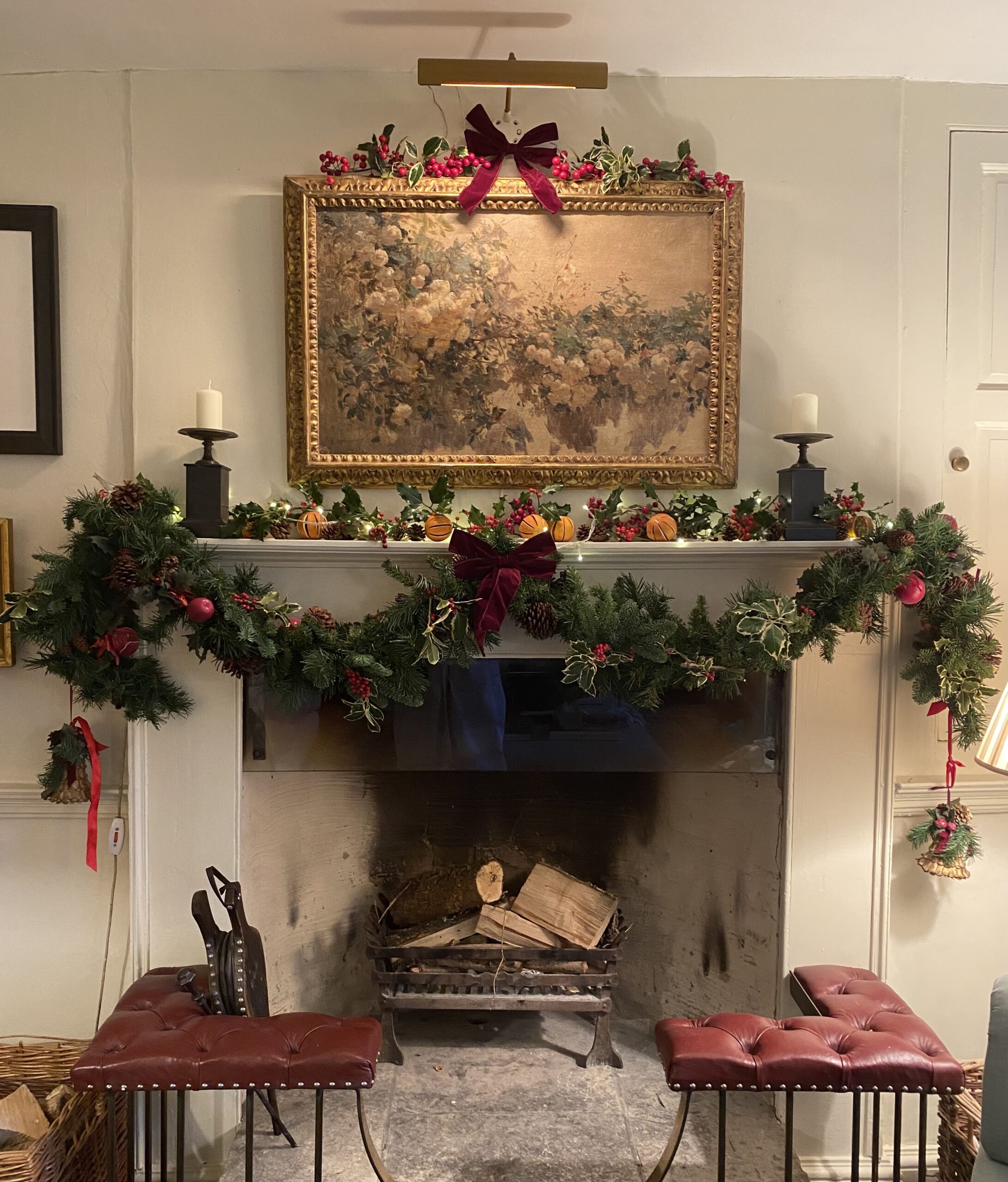 Phoebe's home.
Is there a particular project that you have found very challenging?
I had really bad morning sickness when I was painting the Bamford grandchildren at Daylesford house but I think it might have been helpful having such an enormous painting to complete to take my mind off feeling so ill.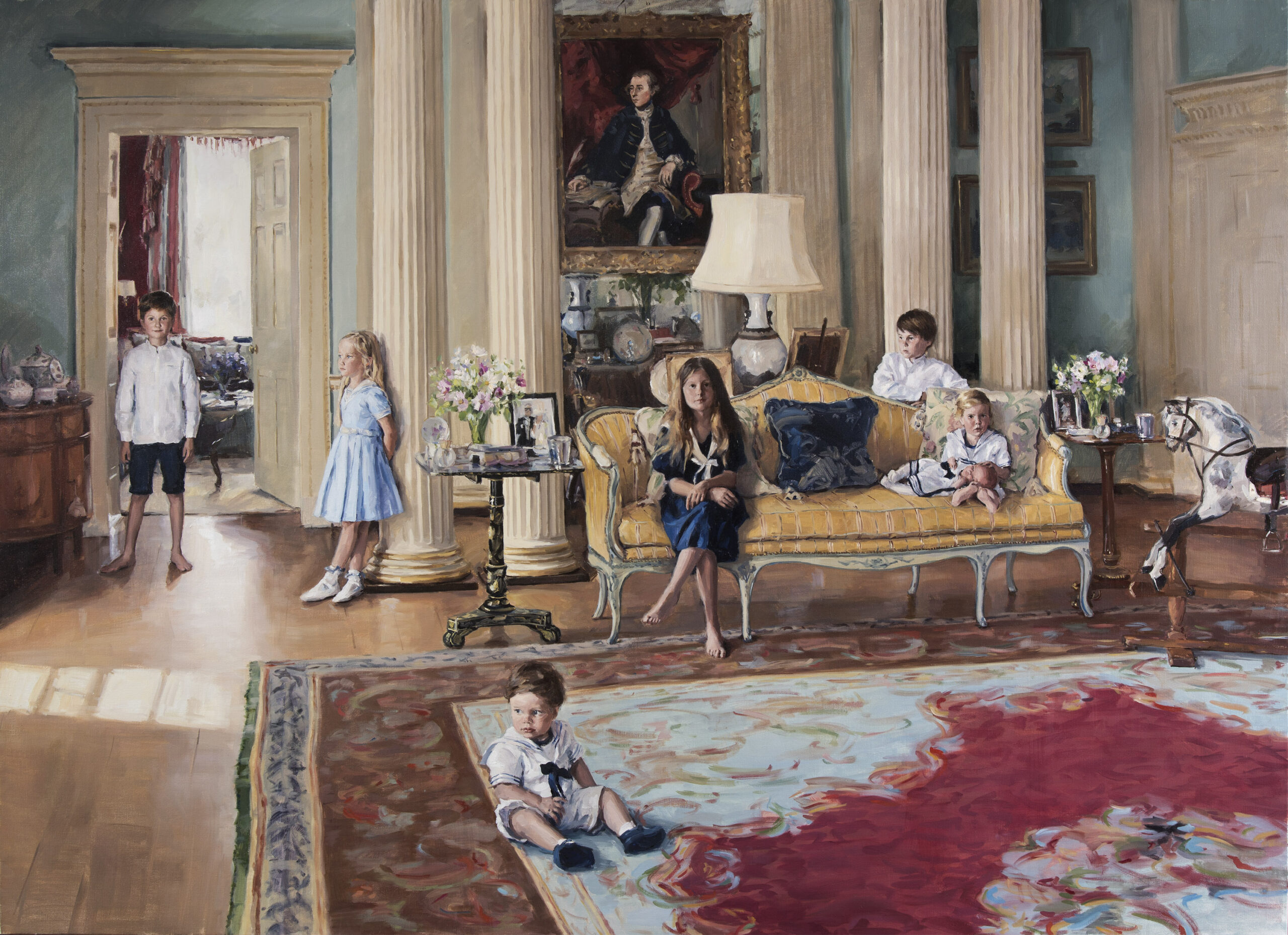 The Bamford grandchildren at Daylesford House.
If I weren't an artist, I would be …
A garden designer along the lines of Julian and Isabel Bannerman.  Over the last year, I have been working towards an exhibition of paintings in the theme of "great houses and gardens of England.'  Many of the gardens were designed by Bannerman and I adore how creative and imaginative they are.  Even though our garden is the last thing my husband and I should be spending money on (when we have a house that needs insulating), we couldn't help but get over excited and built a garden with a rustic temple I designed made from a fallen oak in our field.  Luke collects all sorts of stone carvings and sculptures, and we will slowly hopefully make something really exciting and magical.
The Bannerman temple in Houghton Hall walled garden.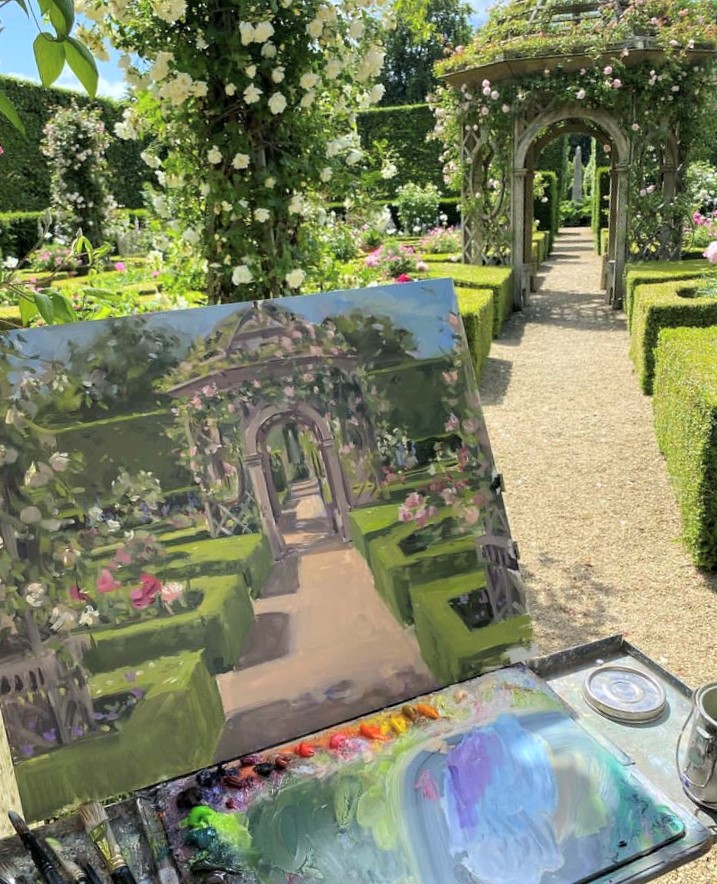 Phoebe painting the garden at Seend Manor.
Tell us more about your upcoming exhibition.
I have spent the past 18 months travelling around Britain capturing our most iconic houses and gardens for my 'Great Houses and Gardens of England' exhibition to be held at Dickinson Gallery in London in November. The show consists of a series of modern conversation pieces which show behind-the-scenes glimpses of life in the British stately home as well as landscapes and still-life paintings.  I am absolutely adoring doing the paintings and cannot wait to show them.  They have given me an opportunity to paint the kind of paintings I have always wanted to do but can't when I am being commissioned to do a formal portrait.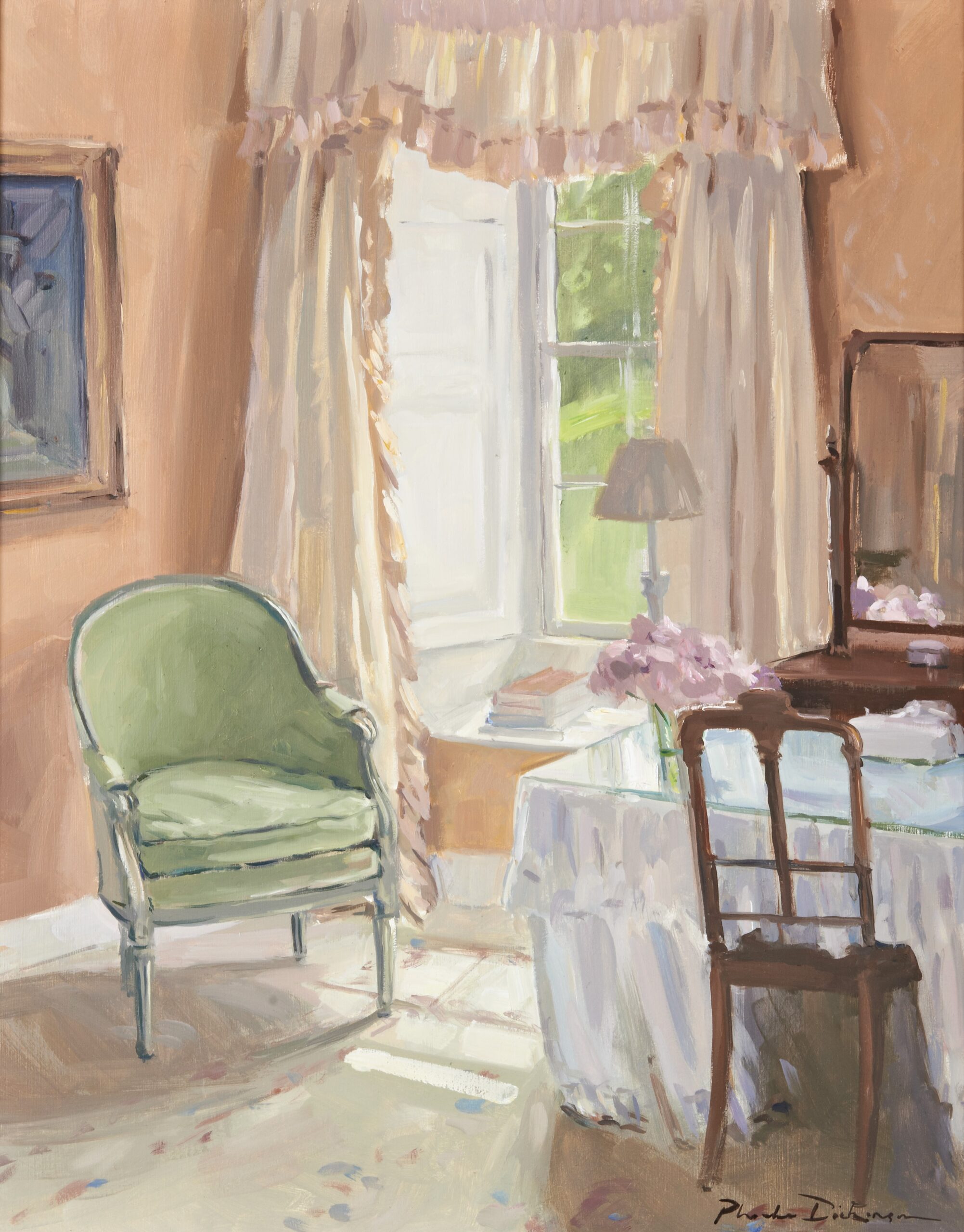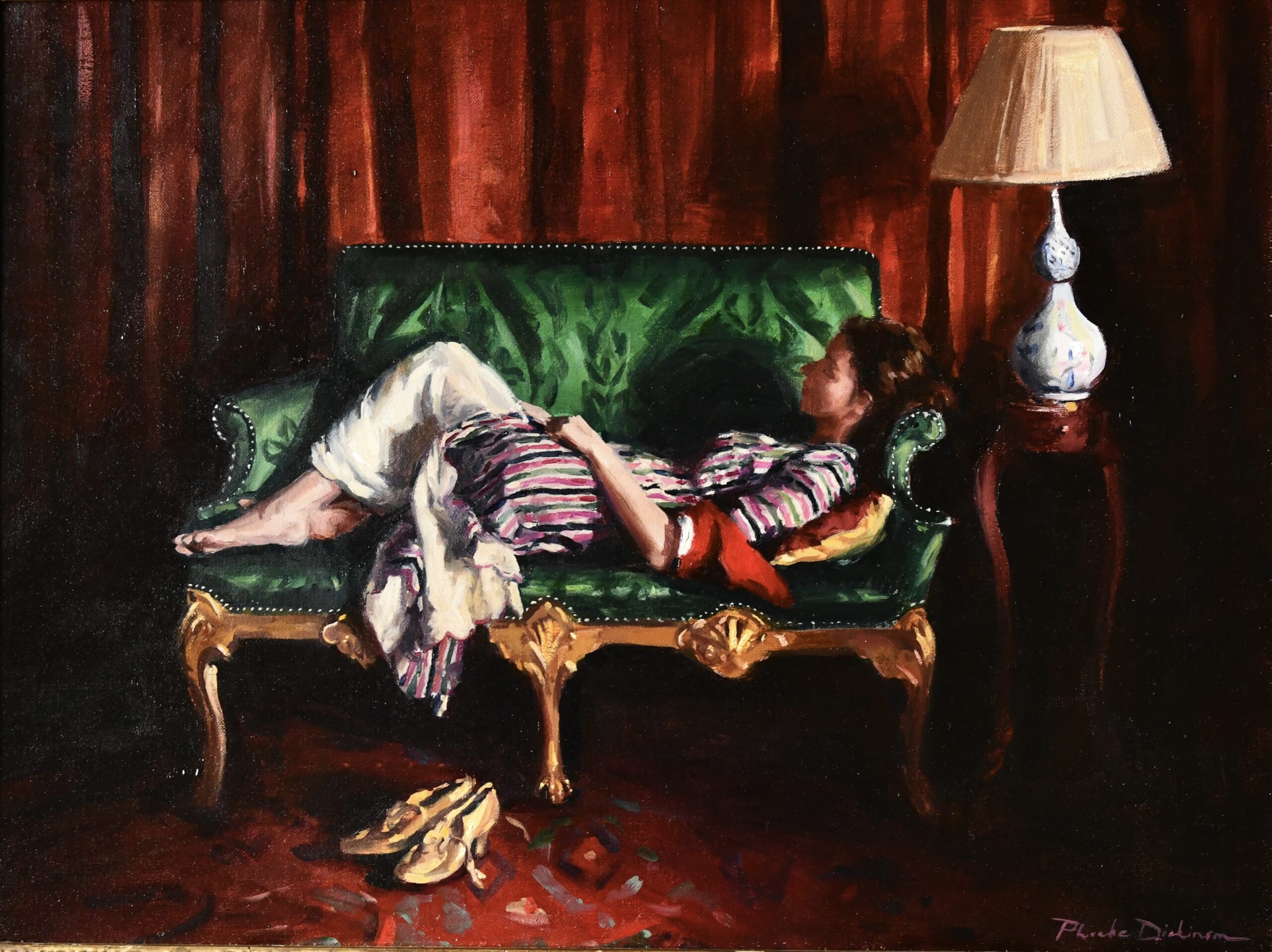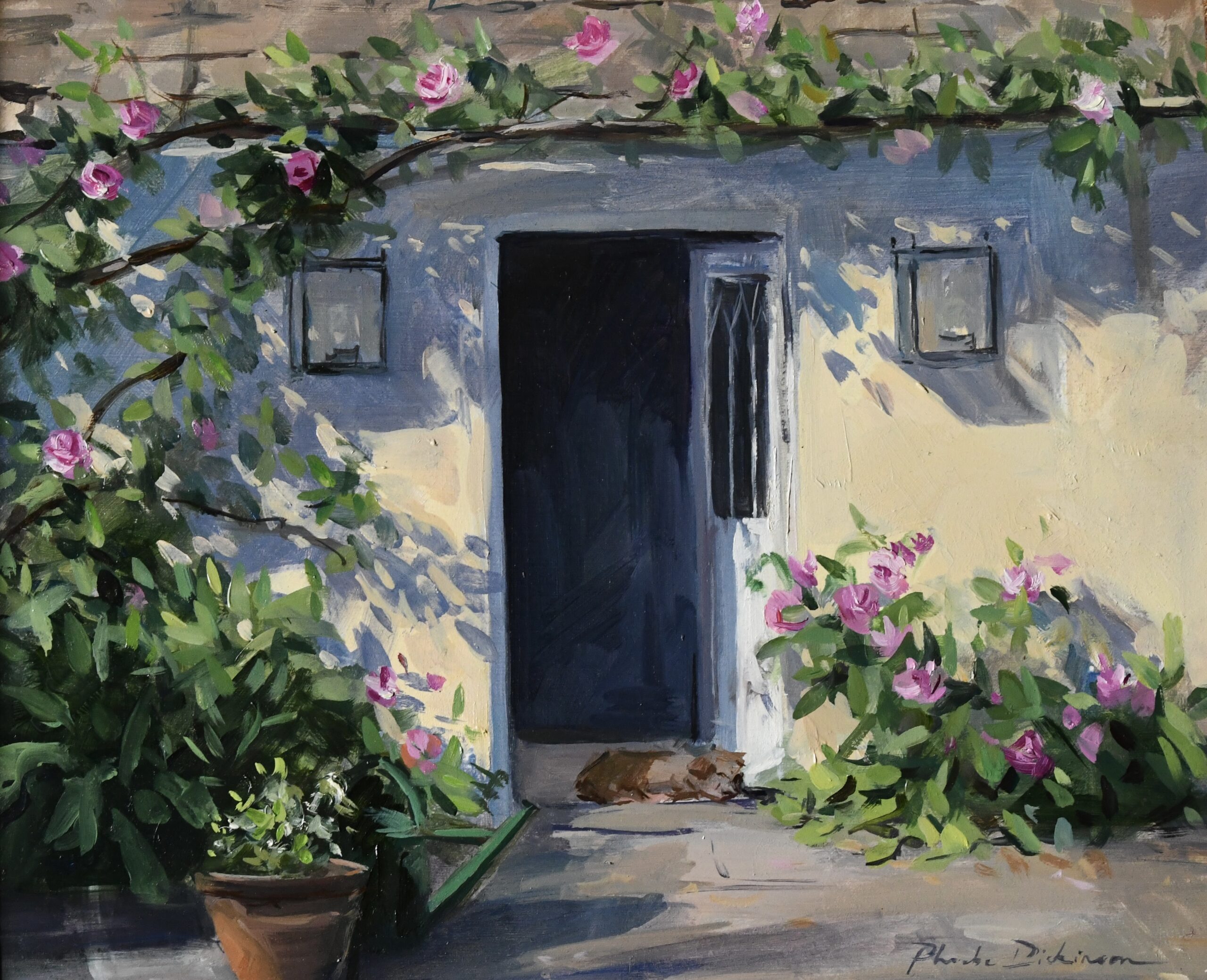 The Peach Room, Dream coat and gold slippers, and Biddy sleeping in the kitchen door, all part of Phoebe's upcoming exhibition.
Great Houses and Gardens of England – 7th-23rd November 2023 – Dickinson Gallery, London.
For more information please visit