Olivia Joffrey was raised by two native New Yorkers in a California beach house full of books and records. Her eponymous collection is both a love letter to 1970s Santa Cruz, her bohemian hometown, and her mother – a former stage actress whose expatriate years in mid-century Spain flavoured her personal style. With the collection, Olivia seeks to share with women the liberation of a chic, effortless dress – one that inspires a life of more joy and passion pursuits and minimal time deliberating in one's closet.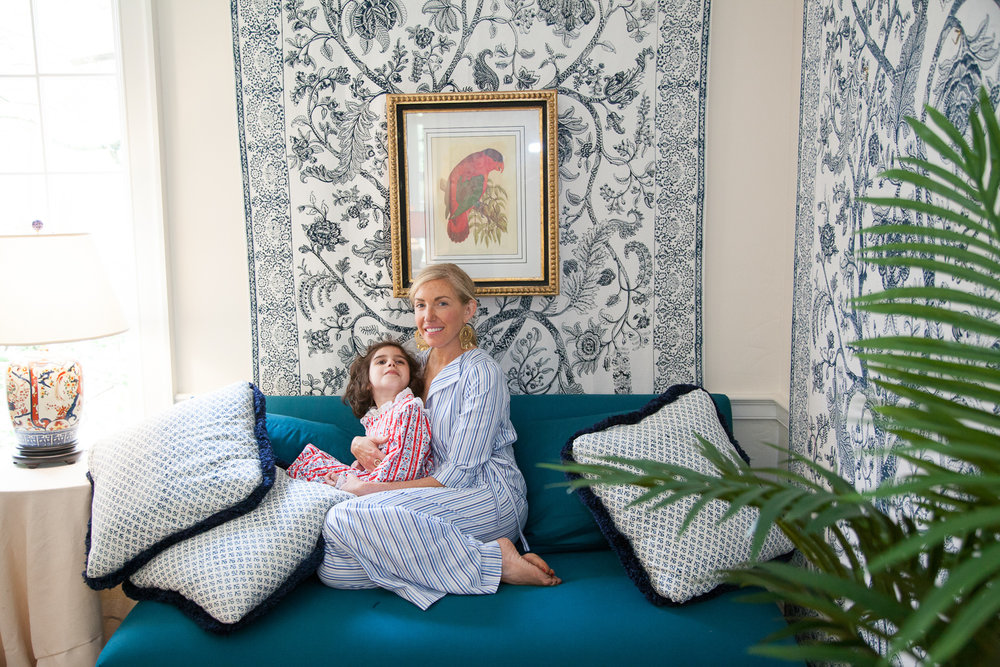 Olivia with her daughter Cosima
Your mother Anne-Marie is a constant inspiration for your creations. How would you define her style?
True style is really autobiography. My mother's style was 100% the byproduct of the places in which she lived: New York, San Francisco, and finally Andalusia. New York City lent my mother a certain urbane femininity. She always leaned toward unfussy clothes, long hair parted in the middle in a chignon. However, she would never leave the house without perfume. Naked without perfume! She believed a woman should have one nice handbag. Peeking out of hers, was the latest Paris Review, or The New Yorker. She was glamorous in a bookish way. Eventually she left New York for San Francisco after reading Kerouac's On The Road : she basically put down the book and got on a Greyhound bus. In San Francisco, she fell in with another group of bohemian writers, but she was never ever a hippie. Throughout the 60s and 70s she wore simple, elegant shift dresses from I. Magnin (the Bergdorf Goodman of California, now defunct). She loved bell-bottomed pant suits, which she'd wear with a French t-shirt and wedge espadrilles. She had a Bill Blass kind of elegance, but it was tempered by the earthiness of California (canvas shoes, wood buttons, Mexican silver jewelry, etc.)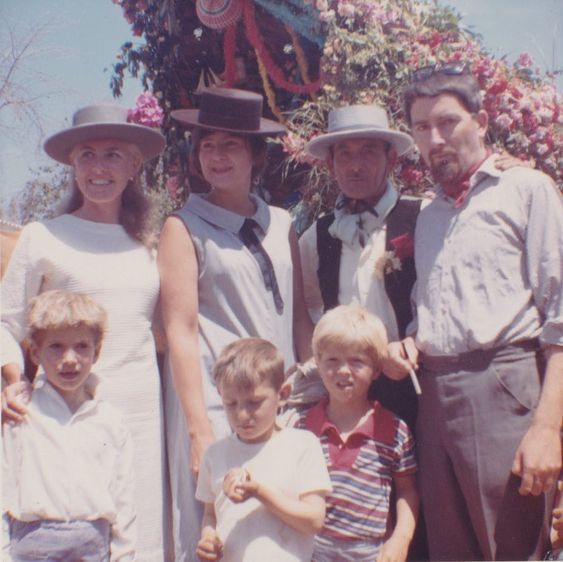 Expats at the Féria de Sevilla c.1967. One American stage actress, a South African puppeteer, her Irish novelist husband & their darling boys. And one dignified Spaniard. (Of note: my mother is wearing a white cotton dress that served as inspiration for our Olivia Joffrey  Monterey  Cabana Dress)
By the 1970s she was living all over the world, but primarily in Nerja, Spain where a group of her friends had formed a sort of impromptu writers colony. Living in Spain taught her the joys of minimalism. One trunk of clothes would have to last for several years (there was nowhere to shop in Franco's Spain!). The Andalusian climate dictated cotton dresses, lightweight caftans, and white trousers with button-down shirts (she would buy hers in the Brooks Brothers boys department.) She had amazing, thick blonde hair which was her crowning glory. When it started to turn white prematurely in her thirties, she just let it be. The white hair spoke volumes: confidence, self-knowledge, a little avant-garde.
My mother's style was effortless, laid-back, tidy, feminine, and worldly.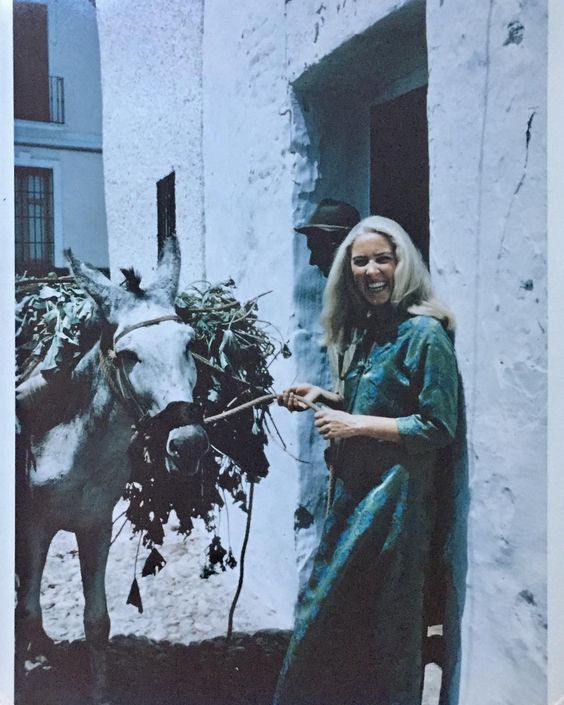 Nerja, Andalusia 1967. My mother in a silk brocade kaftan outside her house.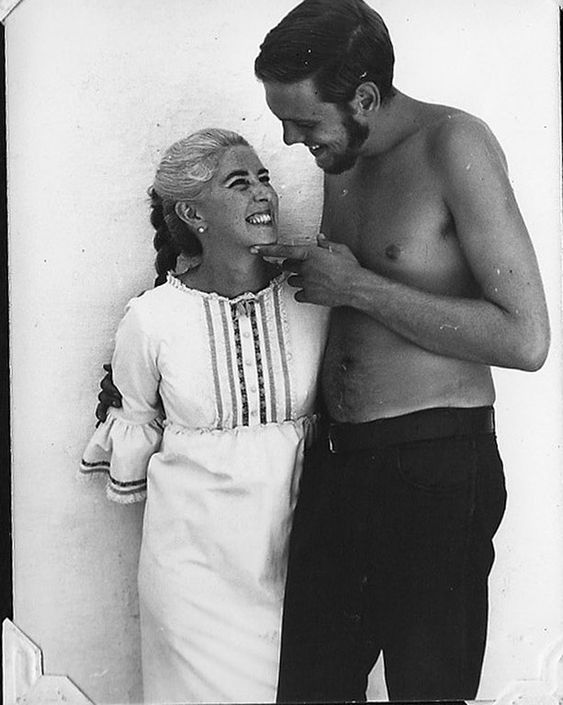 My mother in Nerja c.1967
Which part did you find the most difficult when creating your own brand? And the most rewarding?
The line has come along so organically. I am not formally educated in fashion, so I'm naïve (often clueless) of the fashion business protocols. I decided early on that I just wanted to make caftans and tunics – seasonless pieces. Our logo, website and the hangtag design all came to me easily, given my background in illustration. The collection is a love letter to my mother and the life she led. I am telling her story. The most difficult thing for me is managing production, quality control, making sure the fabrics I love are available in the quantities I need, on time, etc. The most rewarding thing is definitely the storytelling. If I weren't designing clothes, I'd probably write a screenplay about her life. She has advanced Alzheimer's now (she's 84) so it's my cartharsis, my productive means of keeping her memory alive.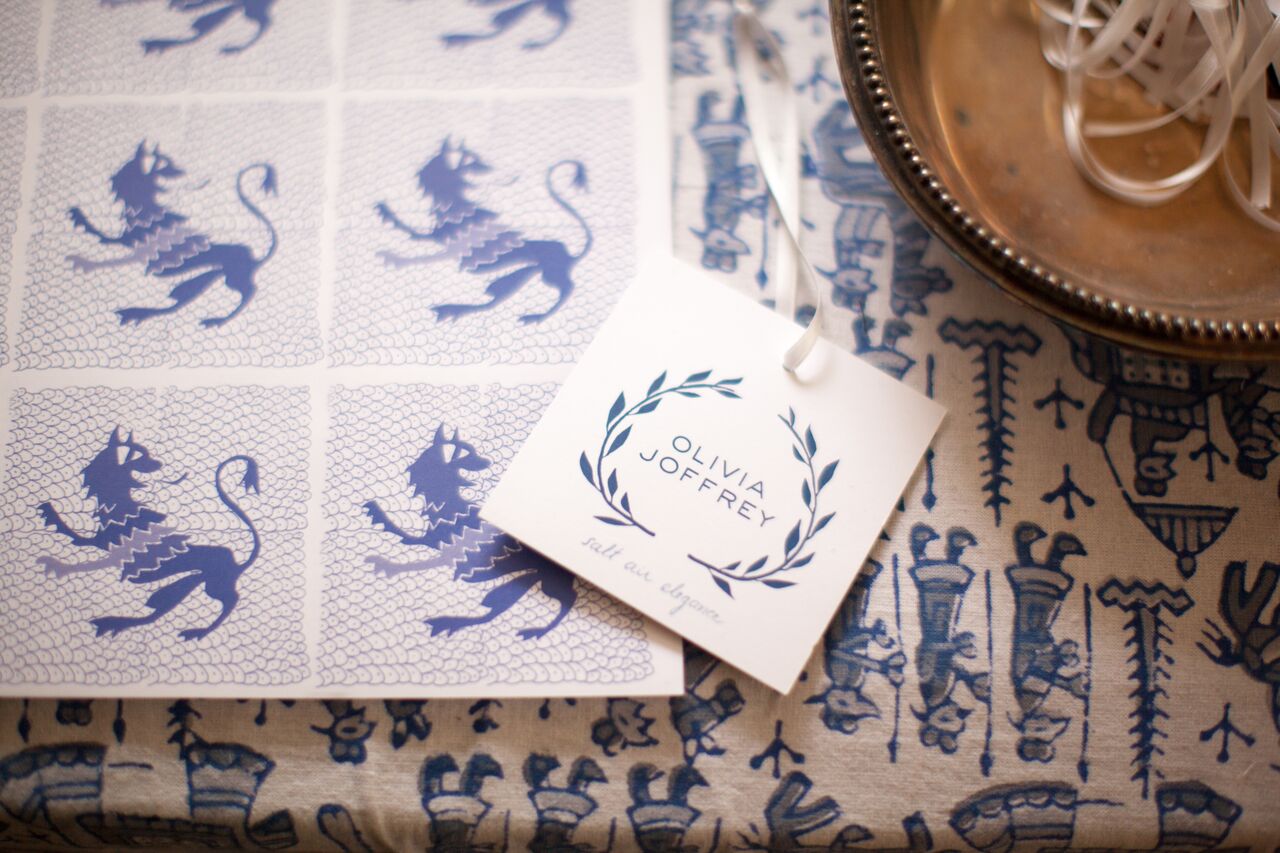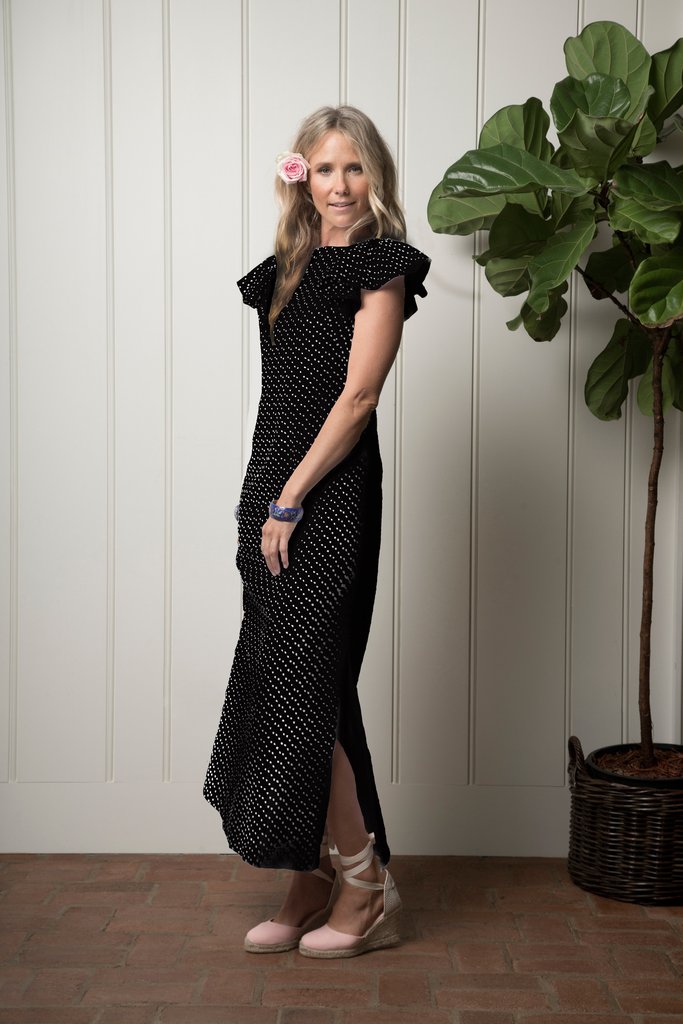 Capitola Cabana dress -Midnight flamenco dot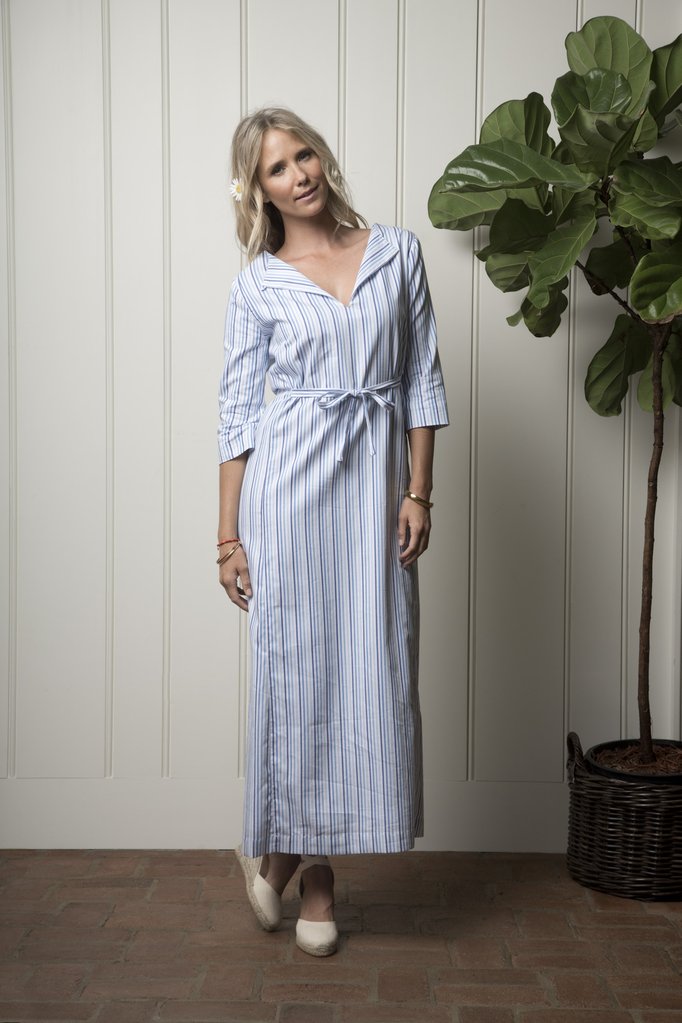 Carmel Cabana dress -ocean stripe
You've lived in London, New York and California. What taught you about style each of these cities?
What a fabulous question! I adore cities.
NYC
I lived in New York as a young woman after college. I'd walk to work from uptown to midtown, soaking up a lot of visual education just people-and-building-watching. I learned what good grooming is from New Yorkers. I grew up in a California beach town, so at 23 I still didn't know what a blow-out was. Gorgeous elderly ladies groomed to smithereens walking their dogs around Central Park impressed me. The public life, the streets of New York are a magical theatre. New York taught me a certain optimism, an appreciation for all the different varieties of beauty out there to appreciate.
London
In London, I lived in Marylebone and studied/worked in architecture; London for me, is the nexus of the design world. I remember the euphoria of discovering the ICA (Institute of Contemporary Art) – wait, it's a bookshop/ gallery/ bar/ chic latenight café/ movie house? Pinch me. London is ancient and has so many layers of history that it feels like the appropriate place for cutting edge modernity to spring from. The medieval Inns of Court were once new, so was the Barbican, the Tate Modern… the list goes on. London was an education for me in how rich you can be on a tight budget, getting to suck the marrow from a city.
California 
Having been raised here, California is in my blood – the climate, the plants, surfer slang, the scent of jasmine and salt air, The Pacific – all these things feel like my own skin. My family and I now live in Montecito, a little coastal village next to Santa Barbara. It's a wonderful place to raise a family, grow a business (my production is close by in Los Angeles) and be a creative person. California is about two things for me: (1) sensuality and (2) open-mindedness. Sensuality due to the climate and the exquisite natural beauty that saturates the place and open-mindedness coming from the "go west" mentality of all the folks who settled this place. Free-thinkers, wierdos and progressives who dream big. California is always questioning convention and moving forward.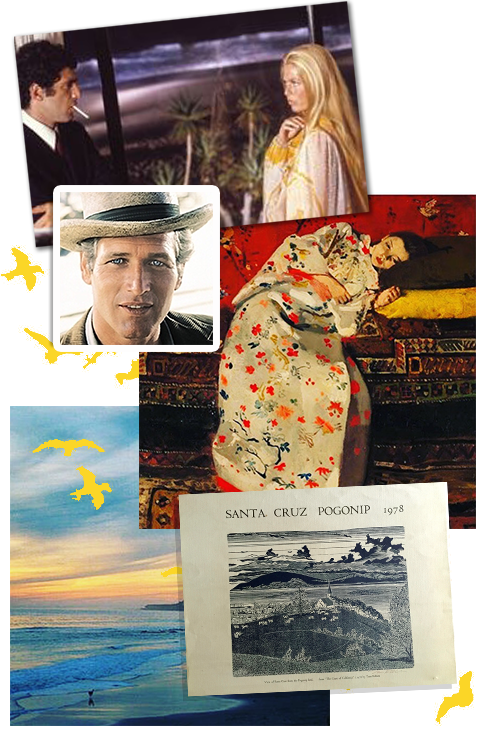 I met you through Instagram (and I'm so glad I did!) How important is the role of Social Media in your brand?
Instagram is the best. The brand benefits tremendously from the little community we cultivate there. We haven't really tapped Facebook or Pinterest for the same purpose but that is a goal moving forward. One interesting phenomenon for the brand is our devoted following of interior designers. So unexpected and welcome! I guess it makes sense, as caftans are the sort of things you wear at home, or on holiday in a relaxed setting. There is a yearning among interior designers to create spaces that allow the people to feel "at home." I am trying to do the same thing with fabric on the body. I feel a special kinship with interior designers.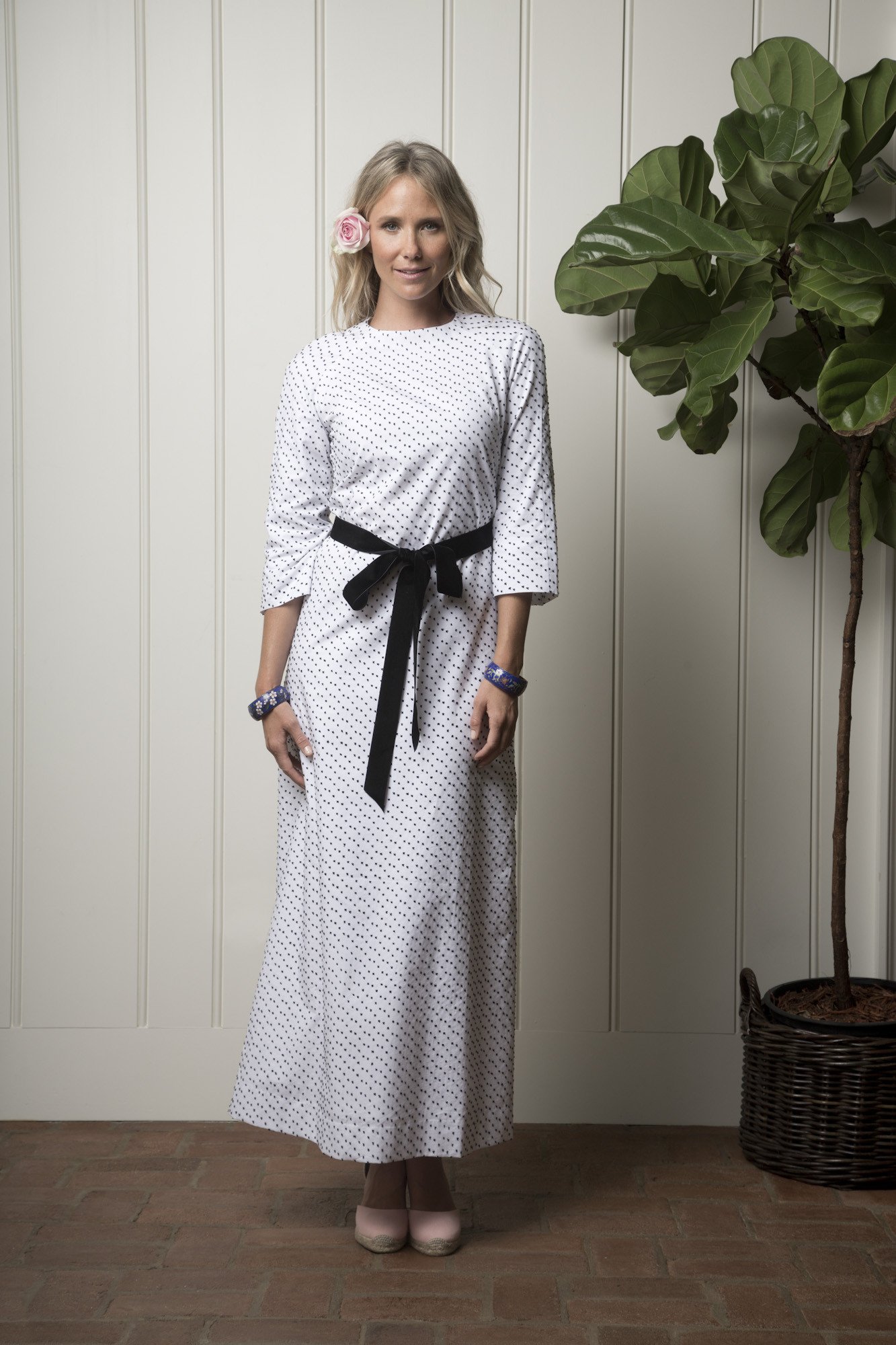 Monterey Cabana dress – Flamenco dot
Your home is sophisticated yet relaxed, do you have any tips for achieving this style?
Thank you! Such a compliment, as you have the most cultivated eye Gloria. I think of my home is kind of like a mixed tape. It needs to capture my tone. In my case, Californian, but relatively well-traveled. Lots of books, records, mementos, kid's drawings. My husband's family is from India so we love to tap into his roots. I discovered Les Indiennes fabric a few years back, and positively mummified a room in their block prints. I think a house will look sophisticated if you just keep the stuff that you love out on display: your books, your music, your art (even propped against a wall.) The relaxed part is probably just a nice way of saying "messy" – I have three girls under the age of 8 so we are by default a hot mess of art supplies, toys and blocks. In a home, a little messy and happy is better than austere. I like the look of a tousled living room the morning after a party. That feels like home.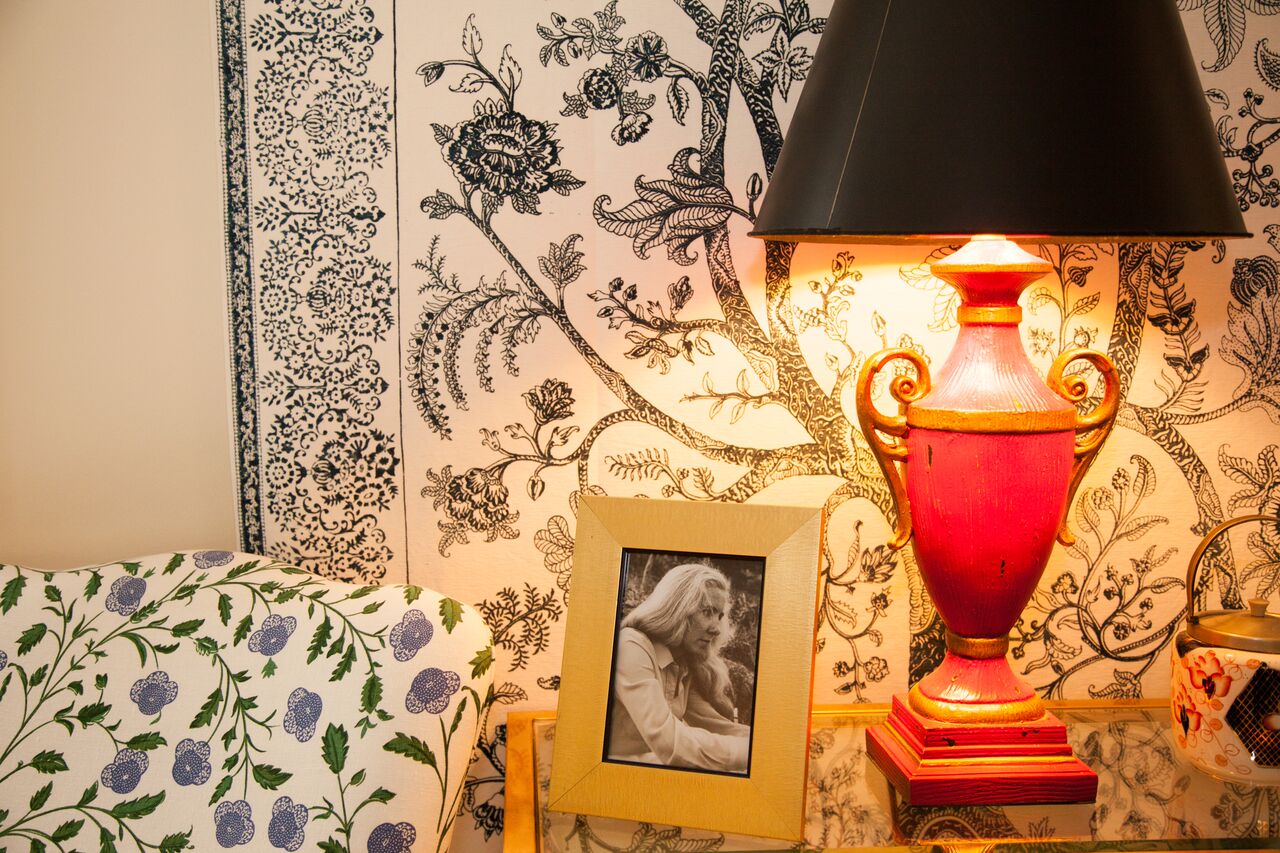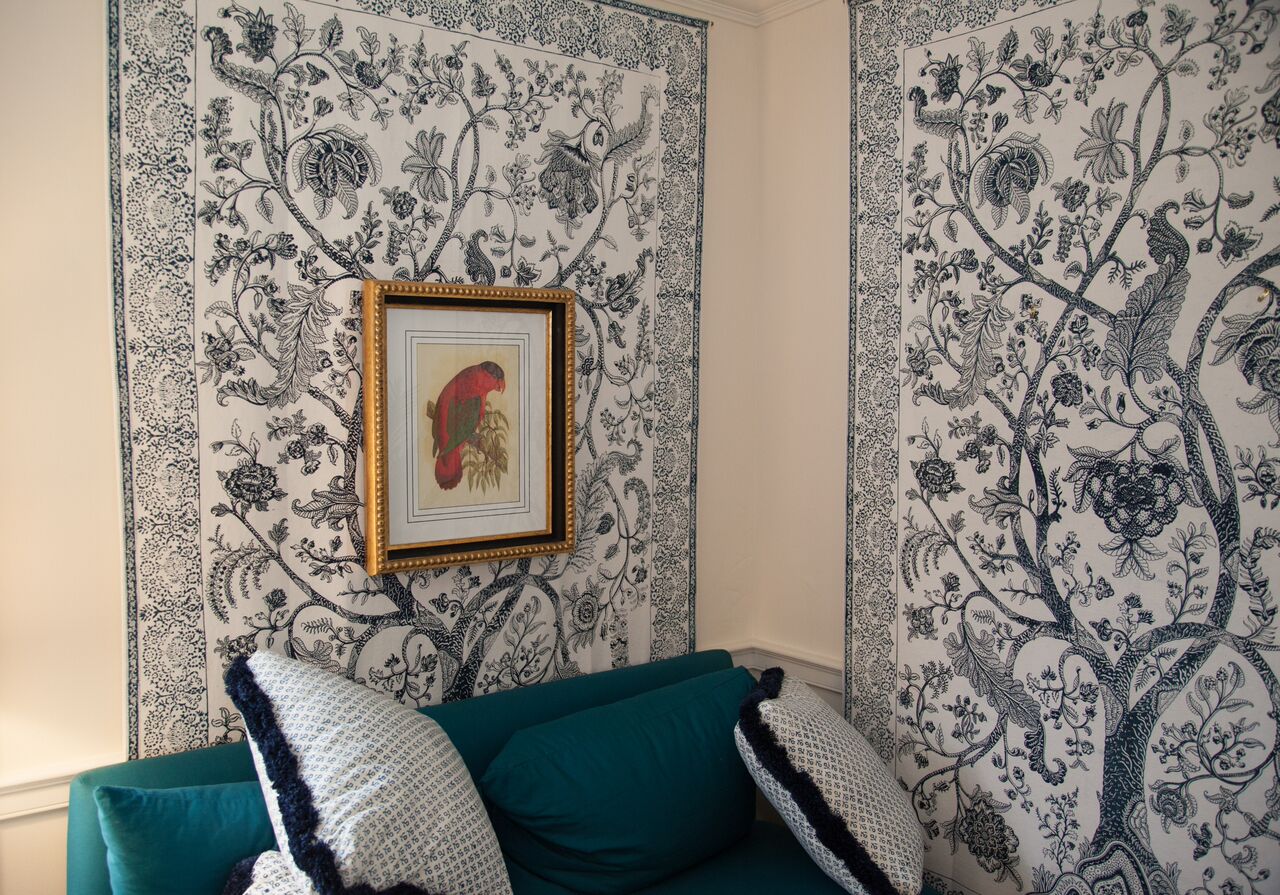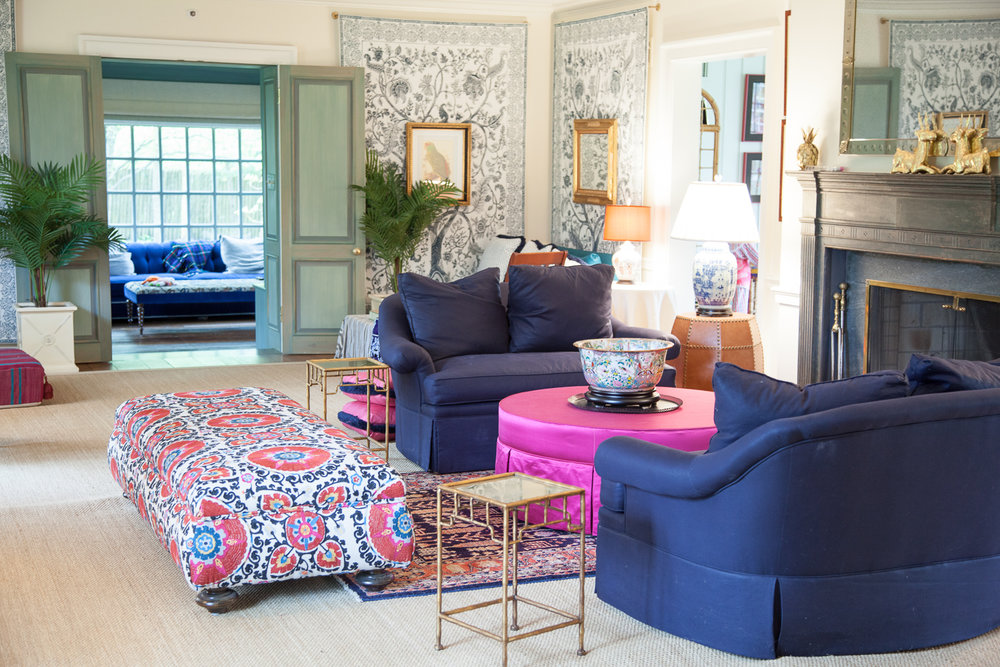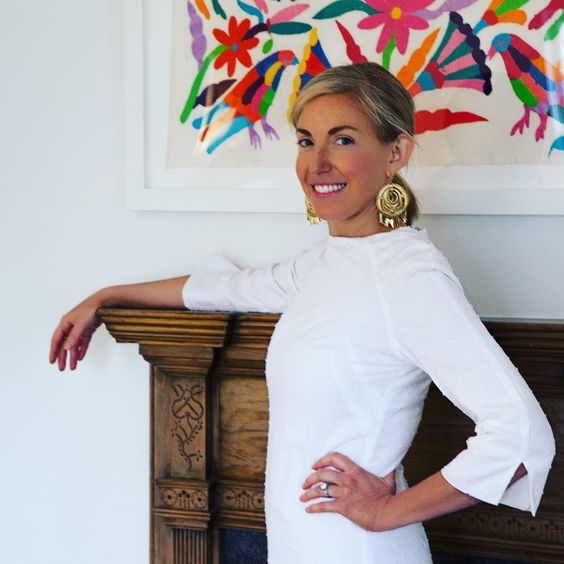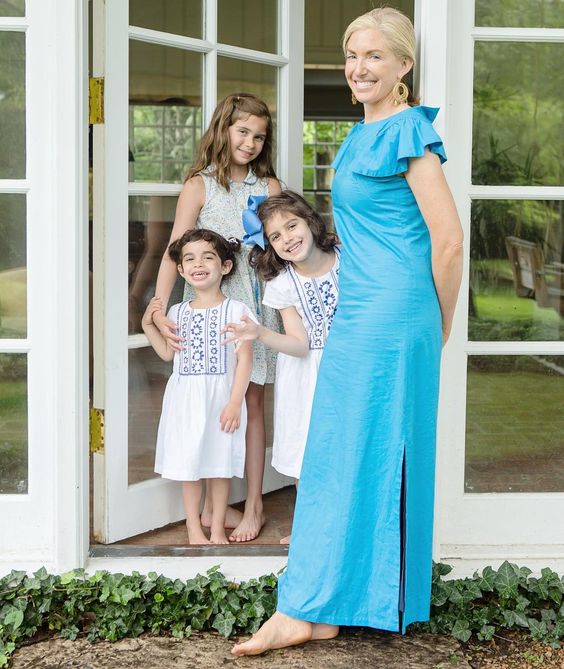 Olivia and her three daughters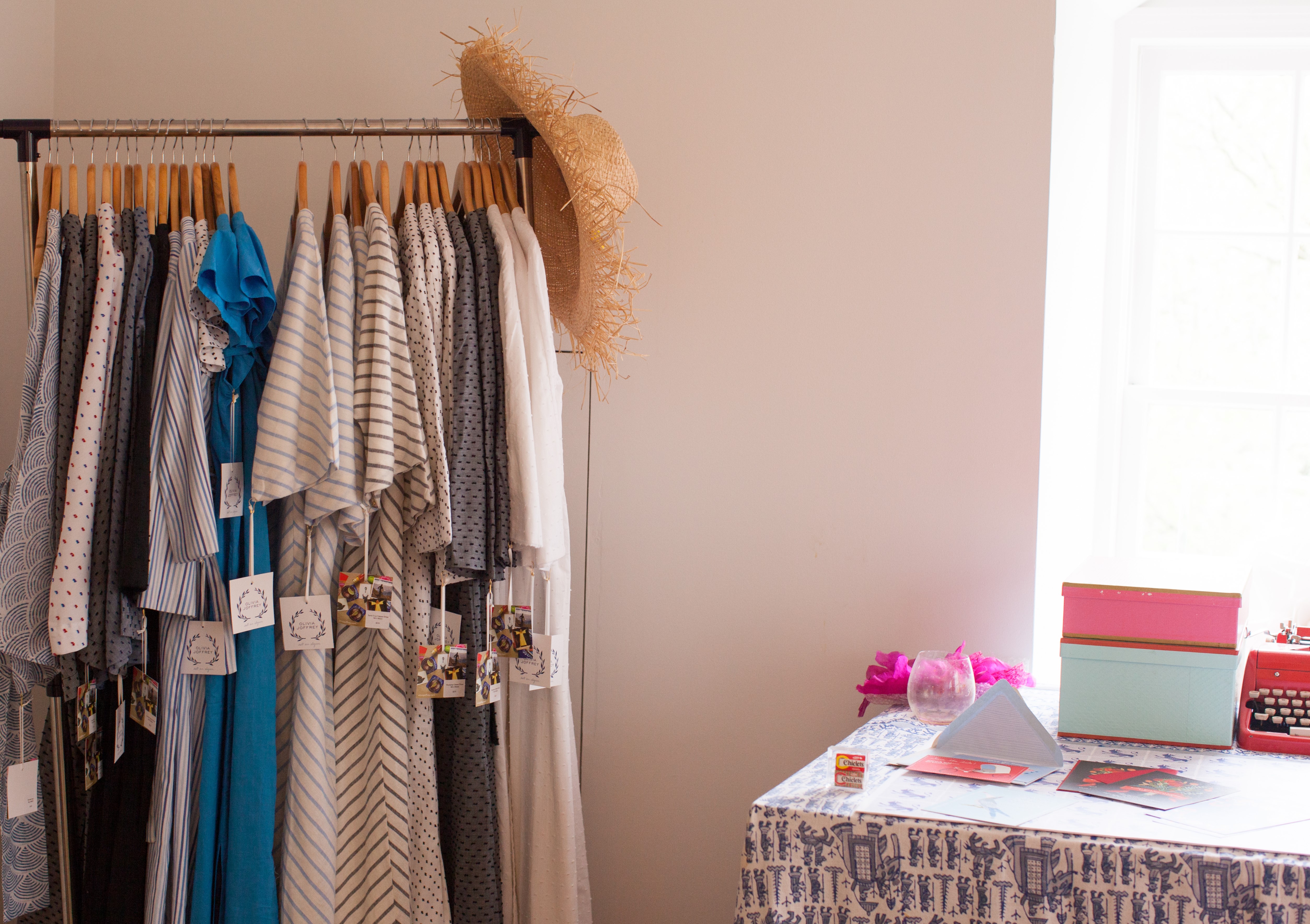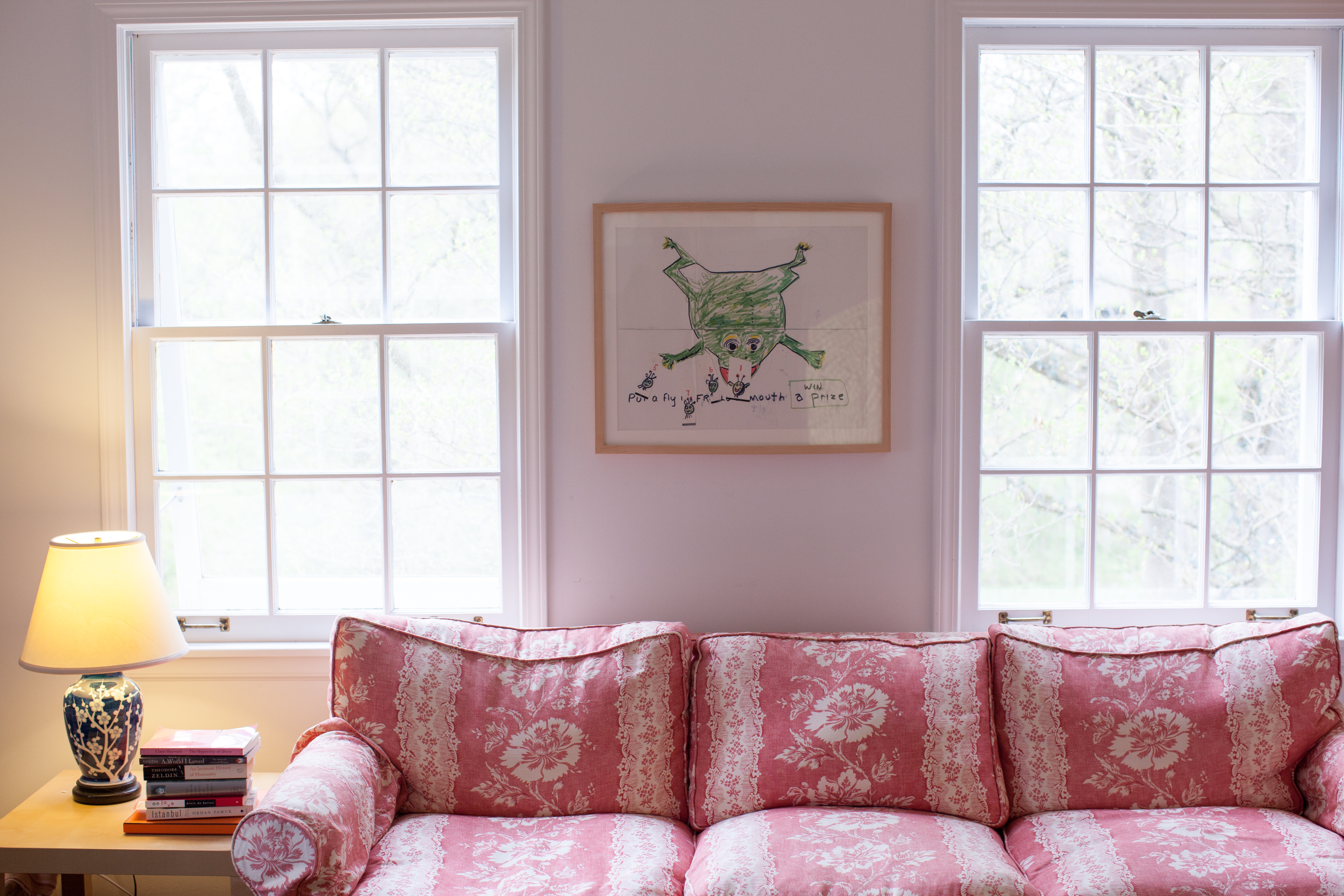 Thank you so much Olivia!
Images: Olivia Joffrey & Maggie Meiners photography